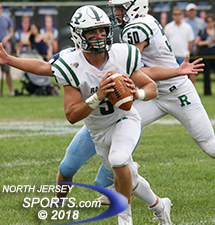 Senior QB AJ Wingfield accounted for over 250 yards of total offense for Ramapo, which opened its season with a 21-19 win on the road at Sparta.
SPARTA – No sport brings teammates together quite like football does. Coaches extend the idea that a football program is a brotherhood that thrives on playing for the man next to them. That concept is extended further when there is and actual blood relation like on the Ramapo football roster. When Noah Baker scored an early touchdown against budding rival Sparta in the season opener on Saturday against Sparta, his brother Max could not wait to celebrate with him.
Unfortunately, by the time Noah Baker reached the end zone both Baker brothers knew something was wrong. As Noah's right leg was immobilized and he was taken off the field in an ambulance, Max could not hold back the tears. All he wanted to do was be there for his brother; to honor him by making big plays and leaving every ounce of energy on the field.
After nearly blowing a 15-point halftime lead, Ramapo kept its composure and came up big down the stretch. Max Baker made a huge third-down catch and quarterback AJ Wingfield ran for a late fourth-down conversion as Ramapo held on for a 21-18 victory in Sparta.
"We've been waiting on this day since last December and we pulled out the win," said Wingfield. "When Noah went down we had to rally around him."
The game was highly anticipated as a rematch from last year's North 1, Group 3 state sectional semifinal. In that game Ramapo raced out to an early lead before holding on for a 21-14 win. It looked like a carbon copy as Ramapo grabbed a commanding lead just 80 seconds into Saturday's rematch.
Kenny Oelkers threw for one of Sparta's three touchdowns.
The Green Raiders took the opening kickoff and immediately upped the tempo. They raced 63 yards to paydirt in just five plays, capped by a 14-yard touchdown run from Luke Ragone. Aiden Labell tacked on the first of his three successful extra-point attempts, which would prove to be the difference on the scoreboard when the final whistle blew.
On Sparta's first offensive play from scrimmage the snap was mishandled and Ramapo linebacker Anthony Sargenti pounced on it. Wingfield made them pay on the very next play when he hit Noah Baker up the seam on a quick post up the seam and Baker dragged a defender into the end zone for a 22-yard scoring strike. The Green Raiders were fired up until they saw that Noah Baker was seriously injured. Although Ramapo held a 14-0 lead, it took some time for the Green Raiders, especially Max Baker, to process it all.
"I got real emotional and shed some tears when I saw my brother go down with a dislocated ankle, we had to play the rest of the game for him," said Max Baker. "So Noah goes down and then his backup gets hurt, but it's next guy up with us and our third-string slot guy stepped up and played great."
Midway through the first quarter at the Ramapo 45-yard line, Sparta tailback Austin Castorina broke into the clear with nothing but green in front of him for what looked to be a sure touchdown. Max Baker never gave up on the play and stripped the ball from Castorina at the one-yard line before recovering it in the end zone for a touchback.
The Spartans were reeling but caught a break when Carter Sheridan recovered a fumble deep in Ramapo territory. The Green Raiders stood up the Spartans inside the one-yard line on three straight plays before Castorina barely snuck over the goal line on fourth down to cut the deficit to 14-6.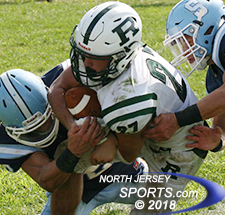 Max Baker helped win one for his brother, Noah, who went down with an ankle injury.
Ramapo answered right back with a pair of clutch throws from Wingfield. On a third-and-13, he hit his number one target Ty Jaten for a 17-yard gain. On the ensuing play, the Spartans bit on a playaction fake and Wingfield hit Ragone up the middle for a 47-yard TD and a 21-6 lead that the Green Raiders took into the locker room at halftime.
Sparta quarterback Kenny Oelkers struggled mightily in the first half but started to come alive in the third quarter. He avoided pressure and hit Ben McDonald for a 30-yard gain on a third-and-8 to keep a drive going before hooking up with Will Cisko on an eight-yard pass for a touchdown. The Spartans' euphoria was short-lived as a second missed PAT attempt kept it a two-possession game, 21-12.
With Noah Baker going down early and then both Ragone and Shane Campbell getting dinged up in the second half, role players had to take on more responsibility for the Raiders. Junior running back/cornerback Jake Tirone is only listed 5-foot-7, 145-pounds, but played way bigger in the second half. He had several hard-nosed runs, an interception and pair of huge hits on defense to keep the Green Raiders afloat.
"We prepared hard in the pre-season so we were ready for anything coming into this game," said Tirone. "Everyone is always ready to go and step in when they're needed to do the job."
The Spartans refused to go quietly. They put together a 13-play, 90-drive capped by an 11-yard TD run from Castorina to get within 21-18 with 5:12 remaining. The pendulum had clearly swung in Sparta's direction. There was only way for Ramapo to combat that momentum shift and that was to sure the Spartans never got the ball back.
It looked unlikely when Ramapo faced a third-and-seven from its own 49. With the pocket collapsing, Wingfield rolled to his right and threw a dart into double coverage that Max Baker wrestled away from two defenders for an eight-yard gain to keep the drive going. That forced Sparta to use all of their timeouts, but the Green Raiders still needed a first down to secure the win. On a fourth-and-two, Wingfield took the shotgun snap and faked a handoff before running off a big block by tackle Miles Shafir and around the left side for a game-clinching first down as Ramapo ran out the clock for win No. 1 on the season.
"I had some turnovers today, but I had to have a short memory," said Wingfield. "I think I have one of the best O-lines in the state and some of the best receivers, too. On that play I just went all out for my team."
Wingfield accounted for over 250 yards of total offense for Ramapo (1-0). Sargenti finished with seven tackles, a forced fumble, and a sack. Castorina had 100 yards rushing and a TD for Sparta (0-1).
While this was a big road win for Ramapo there is still a long way to go towards its ultimate goal of a North 1, Group 3 state championship.
"Obviously we're excited and we'll celebrate this one, but tomorrow it's back to work," said Baker. "Our focus is on Bergenfield and to get ready for 12 more games."
FOR MORE PHOTOS FROM THIS EVENT PLEASE CLICK HERE. TO BUY A COLLECTOR'S PRINT OF THIS STORY PLEASE VISIT 4-FeetGrafix.com.