Jazlyn Oviedo (left) celebrates after scoring the game-winner in DePaul's 2-1 win over Wayne Valley that gave the Spartans their first-ever Passaic County girls soccer title.
CLIFTON – The game was on the line, a county title at stake, the play was right in front of her and DePaul's Jazlyn Oviedo knew exactly what to do. With the Passaic County championship match against Wayne Valley knotted at 1, a through ball was delivered up the left flank into space with a streaking Oviedo running onto it. What she did next was not a result of quick thinking but more a calculated move that was three years in the making.
Oviedo cut back to her right to create space then ripped a shot inside the left post with 5:17 to play for the game-winner as second-seeded DePaul won its first-ever Passaic County championship with a 2-1 triumph over top-seeded Wayne Valley on Friday night at Clifton Stadium.
"This is what we've wanted the entire season and it feels great to win a county title," said DePaul's Bryana Pelayo. "We had to want this game more than they did. It was our time and our turn to something great."
Both teams came into the match with high-powered attacks but it was each team's defense that thrived throughout the first half. In the final 3:25 of the first half, Wayne Valley had a pair of scoring opportunities in the box but did not get off a shot on either attempt. Strong tackles from Spartan fullbacks Daniella DiBiase and Chloe Nardone kept the game scoreless heading into the second half.
After squandering possession on several occasions the first half by making one pass too many, the Spartans used the same blueprint they did in the Passaic County semifinal win over Lakeland. The Spartans made some halftime tweaks and became more direct in their approach in going to net. Less than five minutes into the second half that strategy paid dividends.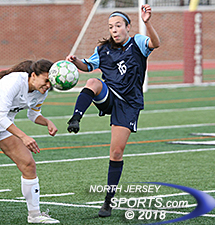 Ava Whisten drew Wayne Valley even with a goal in the 65th minute.
Oviedo drew a foul off of a clearing attempt that gave the Spartans a direct kick from 35 yards out. Pelayo bent one into the box near the six-yard box. Wayne Valley keeper Arden Lembryk and Oviedo met at the exact same time with the ball popping loose. Oviedo pounced on it and scored to put DePaul in front 4:35 into the second half.
"I knew were (Oviedo) was going to be and I just tried to get it to her head," said Pelayo. "We had to be more aggressive in the second half. We know we're pretty good in the air so any time we had a free kick we had to get it into the box and make something happen."
DePaul had momentum on its side but it took just one counterattack for the Indians to grab it right back. Sydney Rosenkrantz sent a cross in from the left side that skipped through the Spartan defense with Ava Whisten coming from the weak side to slam it into the back of the net to tie the game at one with just over 16 minutes left in regulation.
However, allowing the tying goal did not rattle the Spartans one bit. In a quick sequence during the 68th minute, backs Julianna Rigoglioso and Courtney Dellerba along with Lembryk all blocked shots along the goal line. The pressure kept coming from the Spartans and it finally popped thanks to the chemistry of Oviedo and Pelayo.
After Alyssa Winkler intercepted a pass, she fed Pelayo near midfield. After taking a few dribbles to force the Indians' back line to commit, she slipped a through ball up the left side that Oviedo collected with nobody in front of her. She carried it all the way to the top corner of the box but with two defenders charging hard to get a deflection, the junior striker cut back to her right then laced a shot across her body and into the lower left-hand corner with 5:17 left to put DePaul ahead, 2-1.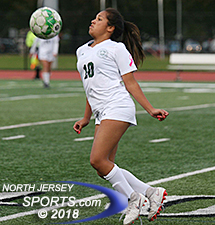 Bryana Pelayo assisted on both of DePaul's goals.
"That whole play was about staying calm, which is how our whole team played in the second half," said Oviedo, who has verbally committed to play at Monmouth University. "Once I got some space I knew I was going to my left side because it's easier for me to aim for that spot from where I was. I've been wanting this ever since I was a freshman and I just wanted to see that ball go in."
Wayne Valley pushed everyone forward and sent one last ball into DePaul's defensive third of the field with 1:15 left. DiBiase settled a tough ball and cleared it out of danger as the Spartans counted down the final seconds before celebrating wildly when the final buzzer sounded.
Oviedo scored her 11th and 12th goals of the season for DePaul (14-1). Kayla Bower made 17 saves in net for the Spartans.
Lembryk was under duress the entire second half and finished with a season-high 11 saves for Wayne Valley (14-4-1).
DePaul will face some adversity come state tournament time this week with two starters being sent off in the final 2:15 of the Passaic County final. Their status for the quarterfinal and semifinal rounds of the Non-Public North A state tournament is in limbo at the moment but none of the Spartans are thinking about that. They are merely enjoying the journey that this team and this program has gone through to finally call themselves Passaic County champs.
"DePaul has always had good teams but we've always been the underdog in big county and state games, and this was the game to change that," said Oviedo. "We wanted this from day one and it's an amazing feeling to prove to everyone that we're the number one team in the county."
FOR MORE PHOTOS FROM THIS EVENT PLEASE CLICK HERE. TO BUY A COLLECTOR'S PRINT OF THIS STORY PLEASE VISIT 4-FeetGrafix.com.