Feriha Toska was one of three Pompton Lakes goal-scorers as the Cardinals won their fourth straight game, 4-0, over Dwight-Englewood on Monday.
POMPTON LAKES – With a showdown against archrival Lakeland looming, the last thing Pompton Lakes wanted to do was look past the opponent right in front of them. Riding a hot streak coming into a game against Dwight-Englewood, those fears were quelled quickly as the Cardinals took control early.
Cameron Uriguen, Feriha Toska, and Jaclyn Wirth all scored first-half goals as Pompton Lakes won its fourth game in a row, the last three of those via shutout, 4-0, over Dwight-Englewood on Monday afternoon at Hershfield Park.
The Cardinals pushed forward right from the opening whistle and used sheer grit to net all four of their goals. Wirth sent in a short pass in front with Uriguen there to score for a 1-0 lead just 2:29 into the game. Just over 10 minutes into the opening stanza there was a scramble in front off of a corner. Kelly Wu got her stick on the ball and pushed it over to Toska at the far post, who slammed it home for a two-goal lead.
"We play as a unit and we have a connection that shows when we play together," said Toska. "We bounce off of each other and motivate each other to play hard every game. Last year we didn't have a lot of confidence. But we're playing with confidence now and it shows with the games we've been winning. We have a lot to prove this season and that keeps us going every day."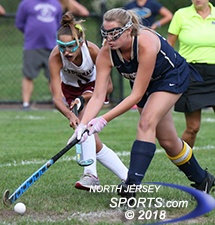 Ryan Roberts had two of the best scoring chances for Dwight-Englewood.
Dwight-Englewood was short-handed coming into the game, but did have a chance to make a comeback. Liv Pilot blasted a shot from inside the circle only to be denied by a kick save from Pompton Lakes keeper Madisyn DeFrancesco. Just over a minute later, Wirth collected a loose ball in front and slipped it past Dwight-Englewood goalie Lilah Gmyrek to give the Cardinals some breathing room with a 3-0 halftime lead.
"Once we score the first goal we know we can get another one and it drives us to play even harder," said Wirth. "It's a team game and we all rely on each other to put pressure on the other team."
The Bulldogs nearly got on the scoreboard early in the second half off a pair of blasting shots from the top of the circle by Ryan Rodgers, but both went just inches wide. Later in the second half Toska converted another pass from Wu, who leads the Cardinals in assists this season, with 8:35 remaining to close out the scoring.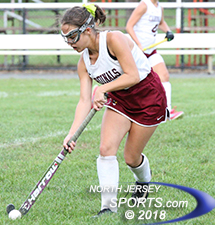 Jaclyn Wirth and Pompton Lakes will face off against Lakeland on Tuesday.
Uriguen scored for the fourth consecutive game, all wins, for Pompton Lakes (7-2). DeFrancesco needed four saves for her third shutout in a row and her sixth on the season. Gmyrek made nine saves for Dwight-Englewood (1-6-1).
The turnaround will be a quick one as less than 24 hours after this game ended Lakeland will be in town as both teams look to stay in the league title race behind current leader Northern Highlands. It is a chance for the Cardinals to show that after a disappointing 4-11-3 campaign last year that the 2018 squad can make some noise.
"Lakeland is one of the best teams that we're playing this season and we have to play our best," added Wu. ""Everyone will have that adrenaline going and we believe that we could play with those top teams now. We have the energy and the confidence, now we just have to bring it and show everyone that we can do this."
FOR MORE PHOTOS FROM THIS EVENT PLEASE CLICK HERE. TO BUY A COLLECTOR'S PRINT OF THIS STORY PLEASE VISIT 4-FeetGrafix.com.