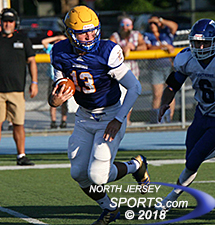 Brian Podolski completed 15 of his 21 pass attempts for career-highs of 280 yards and five touchdowns as Lyndhurst opened the season with a 35-32 win over Hawthorne.
LYNDHURST – Success on the football field starts with trust between teammates. It is a mantra that Lyndhurst head coach Rich Tuero has adopted for this season with the hopes of getting the Golden Bears back into the state playoffs.
In a pivotal season-opener against Hawthorne, which beat  the Golden Bears last year and kept them out of the state tournament play, Lyndhurst was down two key players before there was even a snap taken in the second half. Ben Franchino and Paul Cimicata missed most of the second half with leg cramps. However, both willed themselves back onto the field and each came up clutch when their team needed them the most.
Franchino made two big catches to set up Cimicata's game-winning 33-yard TD catch from quarterback Brian Podolski as Lyndhurst exacted a measure of a revenge in a wild 35-32 triumph over Hawthorne on Thursday night in Lyndhurst.
"In the past other teams knew that if you got Lyndhurst into the fourth quarter that you can beat them, but we believed in each other and we got the job done," said Tuero. "It's about believing in your brothers and playing like a family. I have two daughters and these kids are all like my sons. We looked out for one another, we picked each other up and we found a way to win."
Lyndhurst set the tone on the first drive of the game with an efficient eight-play, 70-yard drive. It was capped when Emmanuel LaLuz leaped between two converging Hawthorne defenders and hauled in a 21-yard pass from Podolski to make it 7-0.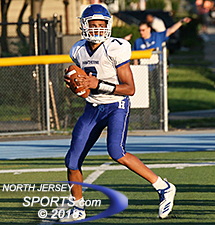 Hawthorne QB TJ Palmer accounted for 316 yards of offense and three of his teams' four touchdowns.
Hawthorne was forced to punt on its first possession, but the punt return was muffed and Jayson D'Errico recovered. The Bears capitalized on the second opportunity when athletic senior QB TJ Palmer scrambled for an 18-yard touchdown with Joe Aliano tacking on the extra point to tie the game at 7.
The score remained that way until Franchino took a wide receiver screen pass and went eight yards to paydirt to give Lyndhurst the lead. That sparked a high-scoring second quarter. Hawthorne answered with Mike Renzo bulling his way into the end zone from eight yards out to knot the score again at 14.
That lead only lasted 10 seconds as Podolski and Franchino used some deception to take advantage of Hawthorne's aggressive secondary. They faked a screen pass and then went over the top with Podolski hitting Franchino in stride as he went 65 yards untouched to the house before tacking on the third of his five PATs to make it 21-14.
"We saw something there and I took a shot," said Podolski. "I have all the faith in my line to protect me and my receivers to get open. Always believe in the system and your coaches and we came out with the 'W'."
The Golden Bears doubled their lead on their next drive when Podolski rolled out to his left, then his right before finding Franchino wide open along the sideline for a 63-yard scoring strike.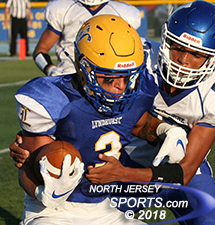 Ben Franchino made six catches for 170 yards and three TDs for Lyndhurst.
"We fell apart late against Hawthorne the past two years and we've been ready for this game all week," Franchino. "It's always next man up and everyone contributed to our win tonight."
Lyndhurst had momentum on its side until some tough breaks on the last play of the second half and the second-half kickoff changed all of that. With just over a minute left in the second quarter, Palmer stepped to avoid pressure and threw a laser up the seam to Kris Nelson for a 5-yard game. Then on the final play of the second quarter, Palmer eluded pressure once again and dove in for the touchdown to cut the Lyndhurst lead to 28-20.
Then, on the kickoff to begin the third quarter, Franchino pulled a hamstring kicking off and was forced to the sideline until the game's final minutes.
Palmer again showed off his big arm by throwing a long bomb right into the hands Nik Schenk for an 80-yard touchdown, but the two-point conversion was no good and Lyndhurst hung onto the lead. After burning the Bears on a variety of screen passes all night, an adjustment was made and Adam Deitrich was used as a spy on a huge fourth-quarter play. He read the screen pass all the way and went 55 yards for a pick-six to give Hawthorne its first and only lead of the game, 32-28, with 9:33 remaining.
With all hands on deck and the game hanging in the balance, Franchino and Cimicata returned to the field just in the nick of time. The Golden Bears were in crisis mode but never showed it. That poise was evident in the play of Podolski on the game-winning drive. He threw a bullet into a tight window that Franchino grabbed for a third-down conversion. Two plays later he hit Franchino again for a first down, but, faced with another third down and the secondary keying on the senior speedster, Cimicata broke off of his route and a big block from James Blake allowed Podolski enough time to find Cimicata in the end zone for a 33-yard TD that put Lyndhurst back in front, 35-32.
"The guy on me knew I was running a corner and when Brian had to move around I broke off of my route," said Cimicata. "I broke it back inside and Brian threw me a beautiful ball."
When Ismael Ay picked off a fourth-down pass it appeared that the game was all but over if Lyndhurst get a couple of first downs. However the Golden Bears decided to go to the air and it almost proved costly. TJ Palmer picked off the pass and returned it 40 yards into Lyndhurst territory with less than three minutes to play.
A 12-yard run by Palmer got Hawthorne down to the Lyndhurst 24-yard line with 1:25 remaining. On the next play, he attempted to go for the end zone but it was snuffed out. Anthony Lembo leaped in traffic to pull down the interception that clinched an all-important season-opening win for Lyndhurst.
Podolski completed 71.4-percent of his passes (15 of 21 attempts) for career-highs of 280 yards and five touchdowns along with two interceptions. Franchino was the biggest beneficiary with six catches for 170 yards and three TDs for Lyndhurst (1-0).
Palmer showed why he is one of the best dual threats in the NJIC with 182 yards passing and 136 yards rushing for Hawthorne (0-1). He accounted for three of the team's four touchdowns (two rushing, one passing). The Bears will try to get back on track next week against Elmwood Park.
For Lyndhurst this outcome means more than just a notch in the win column. It shows that despite all the Golden Bears went through in a game that took over three hours to complete that they fought through the adversity together to achieve a common goal.
"Never beat Hawthorne in my life and this definitely gives us a lot of confidence moving forward," added Cimicata. "We all played for each other and we got the job done. Now we have to turn the page next week and play even better."
FOR MORE PHOTOS FROM THIS EVENT PLEASE CLICK HERE. TO BUY A COLLECTOR'S PRINT OF THIS STORY PLEASE VISIT 4-FeetGrafix.com.