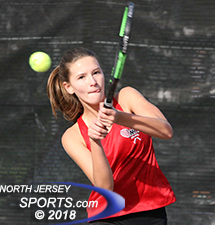 Hannah Apsey clinched the winning point for Northern Highlands, which captured its fifth straight state sectional championship with a 4-1 victory over Tenafly.
ALLENDALE – Creating a lasting championship legacy is no easy task. Even harder is maintaining that success with a huge turnover among the players in the lineup. Replacing four starters, there were more questions than answers coming into the season for the Northern Highlands girls tennis team, but with a winning tradition and high expectations in place for every campaign, the beat goes on for the Highlanders and the end result has was them once again hoisting a trophy.
Northern Highlands received straight-set wins at third singles and first doubles before Hannah Apsey scored the clinching point at second singles as the top-seeded Highlanders won their fifth consecutive North 1, Group 3 state sectional championship with a 4-1 win over second-seeded Tenafly on Tuesday in Allendale.
Despite the lineup changes, the Highlanders have been dominant all season. They only gave up four points total in their previous 14 matches with only one of those matches coming down to the final point. However, facing a young Tenafly team looking to pull the upset, the Highlanders could not take anything for granted and got in a groove early.
Senior co-captain Sarah Rimland led the way with a break of serve in the first game of the match at third singles. She followed that up with a high first-serve percentage and consistent play from the baseline in a 6-1, 6-3 win over Emma Kim.

Lulu Wu won at first singles to give Tenafly its team point.
"We wanted to come out strong and win the first few games to get us going," said Rimland. "We knew Tenafly was a pretty good team and it was important to set the tone to give us confidence. NHGT has a great legacy and we've worked hard all season to keep that going."
She was quickly followed off the court by the second doubles tandem of Victoria Chan and Amanda Pittman. They controlled the net throughout and reeled off the final nine games of a 6-2, 6-0 win.
Just a sophomore, Apsey showed the poise of a senior with her patient approach and moving her opponent around the court to a 6-1, 6-0 victory that locked up a fifth straight section title for Northern Highlands, which got its other point from Brooke Dann and Isabella Tonuzi in a 10-4 win in a third-set super tiebreaker.
Freshman sensation Lulu Wu kept the match from being a shutout for Tenafly (11-4) with a thrilling 1-6, 6-4, 11-9 victory at first singles over one of the state's best players, Riya Ravi. But with his top three players returning, head coach Anthony Zorovich feels the best is yet to come in the coming years for the Tigers.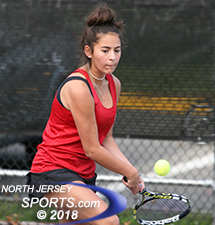 Sarah Rimland scored the first point for Northern Highlands, which will play staet power Millburn in the Group 3 semifinals.
"I think we have a very brought future and we've seen what it's like to play a team that's on a different level," said Zorovich. "We knew it would be an uphill battle against a great team like Northern Highlands. Our problem is we got in such a hole in all five matches right from the beginning and it was too big to climb out of."
Northern Highlands will take a 15-0 record into the Group 3 semifinals on Thursday at Mercer County Park in West Windsor. Looming there is the No. 1 ranked team in the state, Millburn. The five-time defending Tournament of Champions titlist has won a remarkable 142 straight matches. An even more eye-popping stat is that the Millers have swept all 20 of their matches this season. Millburn has handed the Highlanders a season-ending loss at Mercer County Park in each of the last three seasons. Although it is a daunting task, the Highlanders are looking forward to the challenge of taking on the best New Jersey has to offer.
"We're definitely the underdogs when we play Millburn, but we enjoy the opportunity to play them every year," said Rimland. "We have a section title so it's about just having fun. It will be a good match. We'll give it our all and hopefully things go our way."
FOR MORE PHOTOS FROM THIS EVENT PLEASE CLICK HERE. TO BUY A COLLECTOR'S PRINT OF THIS STORY PLEASE VISIT 4-FeetGrafix.com.