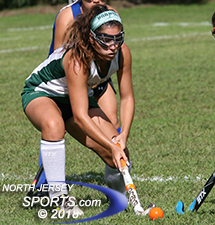 Ashley Martin's early goal put Passaic Valley in front for good in a 3-0 win over Demarest that got the Hornets back evan at 3-3 on the season.
LITTLE FALLS – Finding a rhythm in a field hockey game is a difficult task. Not only are there whistles blown by officials every few seconds, but when players are still trying to jell in new positions, the result is often going to be a slow start as a team needs time to find its groove. That is what Passaic Valley has experienced in its first five games of the season. Even though they had just two first-half goals in their first five games, the Hornets knew that the team was improving rapidly and their breakout was coming.
Ashley Martin and Sydney Cummings scored in the first 6:02 of the game as Passaic Valley took control early and remained in control throughout a 3-0 victory over Northern Valley/Demarest in Little Falls on Saturday morning.
"It definitely gave us a lot of confidence once we got an early goal and that carried us through the entire game," said Martin. "We've had some rough starts and communication has been an issue for us this season. Today we were much better at it and we saw results from."
The engine that makes Passaic Valley go is versatile senior Emily Hyde. She plays a defensive center midfield position but is also the Hornets' most dangerous player with the ball on her stick. The senior made her presence felt early, beating two defenders along the right side before delivering a centering pass. Sydney Cummings got a touch and Ashley Martin was there to collect it. The junior middie used a reverse-stick shot to sneak it past Norsewomen goalie Danielle Jacobson for her first varsity goal to give the Hornets a 1-0 lead 4:40 into the game.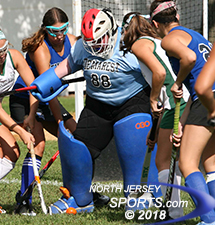 Danielle Jacobson made in saves in goal for NV/Demarest.
"It was pretty nerve-wracking because there are a lot of players around and the ball was coming my way," added Martin. "I play pads, which is being in front of the goalie in case the ball goes into that space in front. As I saw the ball come in I had to be aggressive and get to it first. I pulled the ball back, reversed it and it went in."
Just 82 seconds later the Hornets found the back of the cage for a second time. Another dribbling display by Hyde gave her some space for another pass into the middle. Cummings one-timed a low-liner through traffic and inside the left post to make it 2-0.
After being bottled up for most of the first half Demarest (0-5) started off the second half strong. They pushed forward earning their only corner and shot of the game, PV goaltender Kayleigh Keating was there to make the save and the Hornets went back on the attack from there.
"I thought our best stretch was late in the first half and the first few minutes of the second half, but we dug ourselves too big of a hole," said Northern Valley/Demarest head coach Mollie Kearns. "We lost 14 seniors from last year and we're a very young, inexperienced team. It's my job to teach them the game this year and we're getting better every game. The effort is there, but we are still trying to find that consistency to get us some wins."
Sydney Cummings scored Passaic Valley's second goal.
Passaic Valley (3-3) added an insurance goal 10 minutes into the second half. Off of a scramble in front, Isabella Guarente slammed it home for the final 3-0 margin. Zoe Weigele was credited with the assist.
Jacobson finished with 18 saves including a nice kick save on a penalty stroke in the second half for the Norsewomen.
With games coming up against Dwight-Englewood and Hackensack before a showdown with Lakeland, the Hornets feel like they are starting to jell at the right time.
"We lost six senior starters so now we have a lot of young blood, players who have never picked up a stick before this season," said Hyde, a senior captain. "Now we're coming together both on and off the field. We're creating a family bond and we're playing better because of it. This game was an eye-opener and we're starting to figure out how to play as a winning team."
FOR MORE PHOTOS FROM THIS EVENT PLEASE CLICK HERE. TO BUY A COLLECTOR'S PRINT OF THIS STORY PLEASE VISIT 4-FeetGrafix.com.