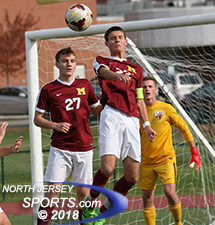 Jack Flanagan (right) and the Madison defense pitched a shutout in a 2-0 win over Rutherford in the North 2, Group 2 state sectional quarterfinals on Tuesday.
MADISON – When a team has a senior-heavy lineup the state tournament stirs up plenty of emotion. The end of a high school career is just one loss away and both Rutherford and Madison were in similar situations heading into their North 2, Group 2 state sectional quarterfinal showdown on Thursday. With 16 of out the 22 combined starters being seniors, the adrenaline ran high for both teams from first whistle until the last.
The result came down to which team executed their gameplan a little bit better and that happened to be Madison, which got a first-half goal from Lucas DiGiacomo and a rock solid defensive effort to make it stand up as the fourth-seeded Dodgers advanced to the semifinals with a 2-0 triumph over fifth-seeded Rutherford at Madison High School.
"We were able to move the ball as a unit and that's not easy to do against an organized team like Rutherford," said Madison head coach Rich Vazquez. "We kept our composure, we won a ton of 50-50 balls and got the ball out wide. That was the plan and our seniors really kept their heads in the game."
Rutherford was most dangerous off set pieces and had a pair of them early that could have easily ended up in the back of the net, but neither found the target. After a slow start, the Dodgers started to settle in by consistently winning 50-50 balls in the air and then playing them out of the back to create dangerous scoring chances.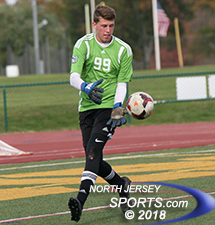 Jake Lemaire made nine saves for Rutherford, which finished its season with a 12-4-3 record.
Just past the midway point of the first half Madison broke through to take the lead. Brendan Mulcahy took a quick throw-in and switched fields to hit Jack Hanson in stride on an overlapping run up the left flank. With two defenders converging, Hanson calmly centered a pass to the penalty spot that DiGiacomo buried in the back of the net to give the Dodgers a 1-0 lead.
"Once we got the ball wide their defense had to spread out a bit, that opened things up for us through the middle of the field," said DiGiacomo. "It was about using the whole field and then finding gaps where we could make runs and get good shots off. Nobody thought we were going to be this good coming into the season and we're excited to prove people wrong every time there's a new challenge in front of us."
After struggling to mount an attack for much of the first half, the Bulldogs regrouped and started to pick up steam in the second half. They had two more quality scoring chances but a header went just inches wide and Jack Flanagan made a fantastic slide tackle in the box to prevent a point-blank scoring opportunity.
Madison received contributions from all over the pitch, including one from the lone freshman in the game for either team. Off of a long direct kick from midfield, Mattias Hendrickson was there to flick it past Rutherford keeper Jake Lemaire and inside the left post for his second goal of the season and a two-goal lead with 6:23 to play.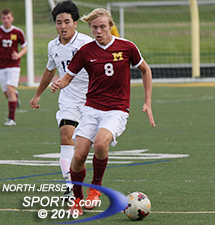 Jack Hanson assisted on the opening goal for Madison, which will play Harrison in the sectional semifinals.
The Bulldogs showed no sign of quit and had three point-blank scoring chances over the next 90 seconds. Flanagan blocked a shot at the six-yard box and junior goalie Brenden Armstrong followed with a pair of highlight-reel saves to preserve his eighth shutout of the season for Madison (17-2). Lemaire finished with nine saves for Rutherford, which finished the season with a 12-4-3 record.
"The message is the same every year we come in and we've gotten a taste of what it's like to play at a high level," said Rutherford head coach John Randazzo. "We played as hard as we could of today, we just ran into a real good team. We lose a lot of seniors but we have some talented, hungry underclassmen too who will be ready to go."
Madison will travel to face top-seeded Harrison, a 6-1 winner over Fort Lee on Thursday, for a berth in the North 2, Group 2 section final. Riding a seven-game winning streak with 17 seniors on their roster and a nothing-to-lose attitude, the Dodgers are looking to add another signature win to an already successful 2018 campaign.
"The path in our section is you have to go through Harrison if you want to be section champs," said Hanson. "It's about possessing the ball. We have to keep winning those 50-50 balls. The more we can possess the ball, the more comfortable we become, the easier the game gets for us. We know they are a very good team; but if we go and play our game we feel like we can beat them."
FOR MORE PHOTOS FROM THIS EVENT PLEASE CLICK HERE. TO BUY A COLLECTOR'S PRINT OF THIS STORY PLEASE VISIT 4-FeetGrafix.com.