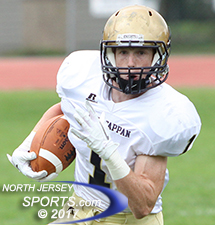 John Trainor turned a stellar high school career into a life-changing four years as a part of Army's football program.
HARRINGTON PARK -- "It's unlike any game I've ever played in," said 2013 NV/Old Tappan graduate John Trainor, speaking of last year's Army-Navy game. "The stadium is filled and you can feel the energy on the field. The whole school of both teams is there and the whole world is watching. It's hard to put into words."
Trainor will get one last opportunity to feel the excitement when the United States Military Academy senior plays in this 118th rendition of this historic rivalry on Saturday and this time with not just bragging rights on the line, but also the Commander-In-Chief's Trophy.
"We practice Thursday and then leave around noon for Philadelphia," he said.
Preparing for this big game is nothing out of the ordinary for the senior Black Knight, just watching film and practicing the game plan. It also helps that the two team know each other so well. Last December Army won, 21-17, and ended a streak of 14 consecutive victories for the Naval Academy. That means Navy will be looking for revenge.
"We are playing for the Commander in Chiefs Trophy," Trainor said of the prize sought by the three military academies, which also includes Air Force. "We have to bring it home."
Trainor is a member of the first recruiting class of head coach Jeff Monken and the program has shown marked improvement over the last four years. They were 2-10 in 2015 before last year's 8-5 record that included the win over Navy and a trip to the Heart of Dallas Bowl where the Black Knights beat North Texas, 38-31.
So far this season they are 8-3 and could get to double digits with a win over Navy and a victory over San Diego State in the Armed Forces Bowl on December 23.
"We felt it was a big change [with coach Monken], but we had a lot of work to do," Trainor said. "We have slowly progressed. Coach brought in a lot of recruits and we have great players. We're confident and we're playing together."
One of the three losses this year was to No. 5 ranked Ohio State, 38-7. What made it special for Trainor was that the Buckeyes have fellow NV/Old Tappan grad Jordan Fuller as one of their starting safeties. Jordan is the younger brother of Devin Fuller, an All-State quarterback who teamed up with Trainor for plenty of yards and touchdowns in two high school playoff runs.
"I saw him and said hi," Trainor said. "I blocked him a few times and joked with him as we walked back to the huddle."
Trainor chose to attend the USMA for a variety of reasons. He had a few offers to play college football, including one from Navy, but then Navy recruited a player at the same position (slot back) so he looked elsewhere.
"Army contacted me and on the official visit I got a good feel for the school. Also, I have an uncle who went here and he told me all about it. All around it's great. I'm playing Division 1 football, which was always a dream of mine."
As expected the jump from high school to college football was huge. The players are bigger and the speed of the game is something that needed some getting used to.
"It was a big transition for me," Trainor said. "You have to have a different mindset. The coaches and my teammates have helped me along."
Trainor rotates in at slot back and plays on the kickoff and punt return teams. His best game to date was against North Texas this past November. He caught a 27-yard pass from quarterback Ahmad Bradshaw and scampered 24 yards for a first down on a fourth down play.
"It was awesome," he said. "When your number is called you stick to what you practiced. It was a great throw by Ahmad and I came down with it. On the run it was a great read by Ahmad. He pitched it to me and I got great blocking. It was an incredible experience."
In the classroom Trainor is studying Systems Engineering and right now his branch of service is Field Artillery. After graduation in May he hopes to stay on as a graduate assistant for a year in order to help out the football team. In the meantime he continues to prepare for the final two games of his college football career.
"I have loved every second of it," he said. "I wouldn't give this experience back."
TO BUY A COLLECTOR'S PRINT OF THIS STORY PLEASE VISIT 4-FeetGrafix.com.