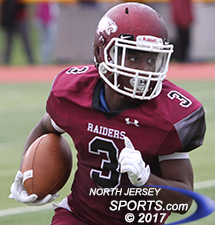 Malachi McFadden had TD runs of 33, 52 and 29 yards and also blocked punt and ran it in for Dwight Morrow, which got back on the winning track with a 46-29 win over Dumont on Homecoming on Saturday.
ENGLEWOOD – It does not matter the down and distance, the game situation, what the scoreboard says or where the line of scrimmage is. Every time Dwight Morrow quarterback Andrew Jones takes a snap he is looking for a way to get the Maroon Raiders into the end zone. With playmakers surrounding him and capable of doing it himself, Jones' ball distribution decisions revolve around which one of his guys has the best chance to make something happen in the open field.
"I have a lot of weapons to work with. For me to have this group of guys is a blessing," said Jones, the senior quarterback. "We can do it through the air or we can do it on the ground. We have an amazing running back, we have amazing receivers and, for our offense, the sky is the limit."

The 'amazing running back' that Jones referred to is senior Malachi McFadden, who was all over the place for the full 48 minutes against Dumont on Saturday. He blocked a punt, scooped the ball up and scored to give his team the lead before it had even run its first offensive play from scrimmage. Then he ripped off scoring runs of 33, 52 and 29 yards to pile up four of the Maroon Raiders' seven touchdowns on Homecoming at Winton White Stadium in Englewood.
With a 46-29 victory in front of an enthusiastic home crowd, Dwight Morrow (4-2) snapped a two-game losing skid and threw itself right back into the mix in the crowded North 1, Group 3 state sectional playoff race.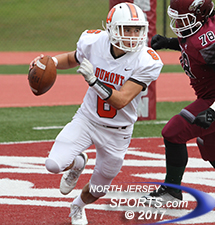 Dumont quarterback Jake Vietri threw three TD passes and ran for another score.
They did it with a host of explosive plays that not only eat up chunks of yardage, but also feed the need to go and get some more.
"We run on big plays. When they happen the kids get excited and they get the confidence to go out and do it again," said Dwight Morrow head coach Sean O'Connor. "We were coming off of two losses to two very good programs [Ramapo and Paramus], take nothing away from them, they are power programs, so we really needed to come out here and get some confidence back. We did that with big plays."
There was another one of Dwight-Morrow's second offensive possession, a 36-yard pass from Lewis to Quanzie Lumsden, that set up the Raiders' first offensive touchdown, a 12-yard keeper by Lewis that made it 14-0 after Lewis hit McFadden with a two-point pass with 5:15 still left in the opening quarter.
It looked like a blowout was in the cards, but Dumont is not the kind of team that is going to fold, not this year under new head coach Ricky Burd and an experienced staff that kept its team focused and fighting. Although the Huskies are now 1-4 through five games, they have been competitive in all of their outings except maybe in a 35-7 loss against Westwood, a favorite to win a sectional title.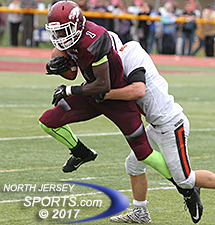 Quanzie Lumsden catch a 65-yard TD pass, made an interception and was generally all over the field for Dwight Morrow, which improved to 4-2 on the season.
On Saturday, the Huskies were opportunistic as took advantage of some Dwight Morrow mistakes, which included a facemask penalty on a Dumont punt on a fourth-and-19 that not only negated a long Lumsden punt return, but also gave Dumont a fresh set of downs. With the second chance, quarterback Jake Vietri scrambled in from 6 yards out and Peyton Leuck hit the extra point. Instead of staring at a 21-0 deficit, Dumont was within 14-7 with 37 seconds left in the first quarter.
Again, Dwight Morrow was undeterred in its never-ending assault on the end zone. Rather than taking its time and letting the first quarter clock run out, Lewis hit tight end Jihad Edmond for 24 yards and then McFadden went off right tackle for 33 yards and a score on the final play of the first quarter to make it 20-7. Dumont snuck back to within 20-14 at the break with Vietri hitting Ryan Cocciadiferro, who was running free down the seam, for 57 yards to set up a Vietri to Jesse Leuck scoring strike.
The teams traded third quarter touchdowns with Lumsden making another electrifying play, a 65-yard catch and run and Matthew Stewart answering with a 6-yard run for Dumont. Because Dwight Morrow is not comfortable kicking extra points and was just 2 of 7 on 2-point conversions, and because Peyton Leuck is solid in point-afters for Dumont, the exchange of scored was beneficial to the Huskies, who crept to within 26-21 heading into the final quarter.
If there is a negative to running up and down the field on big plays, like McFadden's 52-yard run to open the fourth quarter that made it 32-21 with 11:53 to play, it is all that running up and down the field. Dwight Morrow, like most public schools of its size, uses most of its players on both sides of the ball and fatigue became a factor for the Raiders while Dumont just kept plugging away. Cocciadiferro's 38-yard TD catch and Lucas Nallen's subsequent two-point conversion catch on which he was wide open after sneaking out of the back side of the formation, had the Huskies within 32-29 with 7:28 to play.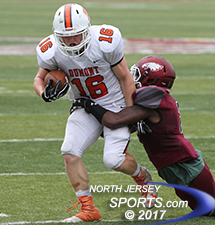 Ryan Cocciadiferro's 38-yard TD catch brought Dumont to within three points with just over seven minutes to play.
Dwight Morrow needed George Garrison IV's 24-yard touchdown catch with 6:53 to go and McFadden's 29-yard TD run with just under three minutes left to finally close out a scrappy Dumont team.
Now back on the winning track, Dwight Morrow will visit a Demarest team with which it has played two wild games in each of the last two seasons. In 2015 the Maroon Raiders won a thrilling 44-43 overtime shootout and last year they overcame a hefty deficit to win 42-34. Both teams have a bunch of players that were on the field for both of those classics and this year there is playoff positioning on the line in the competitive North 1, Group 3 bracket.
"We are very confident going into next week but it is going to come down to preparation. If we prepare the right way during the week I feel like we will have a good chance to come out on top just like the last two years," said Garrison, also a standout basketball player. "We know Demarest very well. A lot of on this team played against them in both of the last two years. There will be no surprises when we go up there and if we are prepared we know we can be successful."
TO BUY A COLLECTOR'S PRINT OF THIS STORY PLEASE VISIT 4-FeetGrafix.com. FOR MORE PHOTOS FROM THIS GAME CLICK HERE!