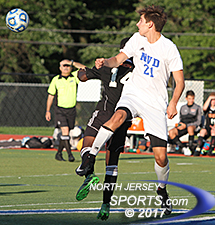 Sophomore Dan Mochkarov scored twice off of long throws to give Demarest the lead before it was a tracked down by Tenafly in a 2-2 draw in the season opener for both teams.
DEMAREST – After leading Group 1 Emerson to one of the best seasons in that program's history last season, Jeremy Truppi knew what he was getting into when he accepted the head coaching position at Northern Valley/Demarest this year. He entered a league that houses some of the most tradition-rich public school programs in the state and plays a cross-over schedule against many more.
"This is like Major League Baseball. Not to say that Group 1 is the minor leagues, there are good teams there, but you come up here and this is the best conference in New Jersey. Every team is really good. Look at Bergenfield yesterday, a 1-1 tie against B[ergen] C[atholic]," said Truppi. "Tenafly, Old Tappan and, of course, P[ascack] V[alley], which is always dialed in. This is the big leagues here and that is why I wanted to be here."
Truppi knows that no lead is ever same, not even the 2-0 advantage his team held with under 11 minutes to play on its own home field on Thursday afternoon in the season opener. Tenafly's Kodai Ueyama, a senior and a three-year starter, scored twice in a four-minute span late in regulation and the two overtimes passed in a stalemate as the sides split the points with a 2-2 draw at Norseman Stadium.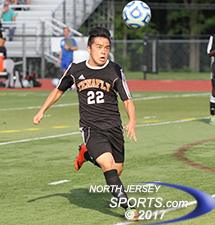 Senior Kodai Ueyama scored twice in a five-minute span late in the second half to get Tenafly even.
"To be honest, I do not think I played well at all. I am a senior and I am supposed to lead the team from the beginning of the game. I give credit to [Demarest]. They played with intensity, we did not do that early and they controlled the game," said Ueyama. "In the second half we played better, but we should have had more intensity and played better from the start."
While each team finished with the same amount of goals, the way each got theirs were in stark contrast. Demarest wants to swing the sledge hammer, while Tenafly prefers a few taps on the chisel. Demarest tries to force a defense to scramble for clearances and win restarts inside the last third. If that restart takes the form of Matthew Hefter with the ball in his hands behind the touchline, all the better.
Once in the 27th minute and again in the 65th, Hefter heaved long throws into the penalty area where sophomore Dan Mochkarov does his best work. Mochkarov turned free-for-alls inside the 18 into the goals that gave the Norseman their 2-0 lead.
"Matt Hefter's throws come in like bombs. On the first one, Donato Accardo flicked it on with his team and I just tapped it in. It was a simple goal. The second one Hefter threw it right to my head and I flicked it right in," said Mochkarov. "We had the lead and we should have won the game, but we lost it for those five minutes and give Tenafly credit. They used those five minutes to score twice and, even though we tied, it still feels like a loss for us."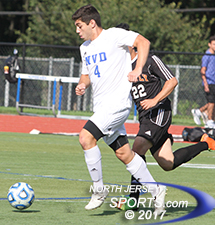 Donato Accardo assisted on Demarest's second goal, which came in the 65th minute.
Tenafly is at its best when it can get the ball on the ground and get it moving with short passes and then probing through balls. Fitness is also a positive attribute the Tigers have and while Demarest was trying to hang on in the final minutes, Tenafly never slowed down. With talented players like Ueyama, junior midfielder Alejandro Vesga and freshman center-mid Tapiwa Shumba getting comfortable on the ball and then distributing it, the Tigers found their way back into the game.
After a precision buildup, Vesga dropped a pass for Ueyama, who, with the Demarest defense collapsed to cut off Vesga's approach, had time to pick the lower left corner for Tenafly's first goal with 10:23 left in regulation. Tenafly's second goal was not as pretty as it came as a result of a chase into the box that ended with one player from each team flat on the ground.  A penalty kick was awarded and Ueyama hit it with enough pace to get through the gloves of Demarest keeper Alex Celenza, who guessed right and got low.
There was 7:15 left on the clock when Ueyama's PK tied the game and 1:20 remaining when Tenafly had what was the next and last real chance in regulation time, but Rod Bejarano's volley attempt from just outside the 18 had the proper line but too much altitude as it sailed over the bar.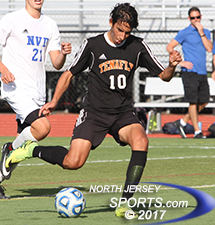 Junior Alejandro Vasgas was a force in the midfield and assisted on Tenafly's first goal.
Demarest just about found the Golden Goal midway through the first overtime session. In fact it nearly did so twice as Roee Maor's in-swinging corner kick got into the scrum and then onto the foot of Eren Karaburun, who hit a cracker that turned into the best by far of the five saves made by Tino Shumba, Tenafly's sophomore goalkeeper. There was still a rebound to contend with, however, and Mochkarov was one the doorstep of a hat trick only to be nudged out of position by Tenafly's Marc Vitenzon.
There was nothing especially dangerous either way for rest of the first overtime session and the second extra period passed without incident as both teams opened what promises to be a competitive league slate of games with the most competitive of results, a 2-2 draw.
"When we were playing real well when we scored the two goals, we were really in control, we were knocking it around, we were getting in behind them and the guys off the ball were making smarter runs. As it got closer and closer to the end, I think we were almost in a panic mode to score and we weren't nearly as composed or as good," said Tenafly head coach Bill Jaeger. "We have to learn to defend against the long balls and the direct play and we have to learn that when we get the ball on the ground and play our possession, we can be a very good team. I give credit to the kids on both teams today. At the end of the game they were all exhausted, they all gave everything."
TO BUY A COLLECTOR'S PRINT OF THIS STORY PLEASE VISIT 4-FeetGrafix.com. FOR MORE PHOTOS FROM THIS GAME CLICK HERE!