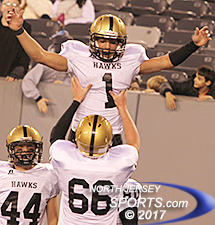 Dave Estevez ran for three TDs, threw for another, intercepted two passes and forced a fumble to lead River Dell to a 28-7 win over Ramapo and a second straight state sectional championship.
EAST RUTHERFORD -- It's a team sport and no one player wins a football game by himself, but one player can certainly control the action and few have been able to do it like River Dell senior Dave Estevez. It was Estevez that made the tackle on fourth down in overtime last year in the same round of the playoffs that sealed River Dell's first state title since 2007. It was Estevez who turned a fourth-and-21 in the semifinals two weeks ago into first down and eventually into a game-winning touchdown pass and there are more examples that are only not mention here for the sake of brevity.
The Golden Hawks' senior quarterback and safety has left an indelible mark on North Jersey high school football over the past two seasons and he capped his brilliant high school career with a virtuoso performance on Saturday in the North 1, Group 3 state sectional final.
Facing Ramapo, a team that handed River Dell its only loss of the regular season back on October 20, Estevez was determined to turn the tables and he did so by dominating all three phases of the game. Offensively, he ran for three touchdowns and threw for another, which means he had a direct hand in all four of River Dell's touchdowns. On defense he made two interceptions and forced a fumble and on special teams Estevez lined up in the shotgun on fourth down and dropped a pooch punt inside the two yard line on what was a night of celebration of his scholastic career and for his program.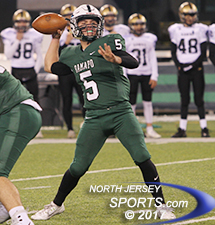 AJ Wingfield scored the touchdown for Ramapo, which finished the season with a 10-2 record.
With a 28-7 victory at MetLife Stadium, River Dell won its second straight state sectional title, closed out an 11-1 campaign and sent Estevez and the rest of the senior class out in style.
"It's crazy to think that a brand new team with 23 seniors gone [from the 2016 team] could come back with all of that character and pride and we could get another championship…it is just something special," said Estevez, a three-sports athlete who will play football at Wesleyan University next year. "It's just great to get the chance to play with all of my friends that I grew up with. There is nothing like that and I don't know if you do that anywhere else."
River Dell took control of the game right from the opening kickoff as it put together one of its signature drives. Covering 66 yards and eating up the first 9:29 of the game, the march ended when Estevez went in from three yards out on third and goal. Jack Gillies added the extra point to make it 7-0 and the Golden Hawks were ahead for good.
Even though the scored stayed that way for the rest of the first half, River Dell was already in complete control. Of the 24 minutes elapsed at halftime, the Hawks had the ball for 18 minutes and 33 seconds. Ramapo's three first half drives ended with two punts and the expiring of the second quarter clock. The Green Raiders got the ball to start the second half, but that drive ended with Estevez's first interception and then his one-yard run with 8:37 left in the third quarter gave River Dell a 14-0 lead.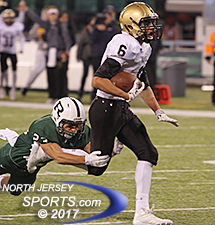 Jack Racine scoring the touchdown that turned a fourth-and-2 into a 21-7 River Dell advantage.
Ramapo (10-2) cut its deficit in half when junior quarterback AJ Wingfield scrambled in from 8 yards away and it was still within 14-7 early in the fourth quarter when it forced River Dell into a fourth-and-2 at the Raiders' 33. River Dell head coach DJ Nimphius took a time out to draw something up, he put Estevez under center for a rare instance and then ran a play-action pass that left Jack Racine running free in the secondary. Estevez delivered a strike; Racine shook off an ankle tackle near the goal line and toppled into the endzone to make it 21-7 with 11:08 to play in the game.
"We have run that play in practice, but we have never run it that way to that side. I told the kids that we are going to run 'Big Daddy' and I told them, 'This one walks," said Nimphius, who now has three state sectional titles as River Dell's head coach and back-to-back championships. "We didn't put the ball in [the endzone] twice when we had chances in the second quarter and we were kind of reeling a little bit. We had to settle down and come out and get a stop [to start the third quarter] and we did and it went from there."
Estevez added one more rushing touchdown, another one-yarder, with 2:40 left in the game to put a wrap on the festivities.
"This feels amazing. Going back-to-back, there is nothing like it. We came into this game knowing that we had a chance to do something that hasn't been done in years at our school and to go out and get it done against a great team like Ramapo is amazing," said Racine, a senior and first team All-County selection this year. "That first drive of the game was huge. We knew we had to come out and set the tone of the game and that is exactly what we did."
The Class of 2018 heads out now leaving behind a trail of six straight state tournament wins. The last time River Dell lost a playoff game was against Ramapo in the 2015 North 1, Group 3 final, so Nimphius knows that this year's version of the Golden Hawks earned everything they got.
"[Two in a row] means a lot, but one in a row means a lot to me. Winning the day is what it was about. We kept saying 'We have one to go,' and we got it," said Nimphius. "We knew we had to play better than we did the first time we played them this year and we thought we could do that. I say it all the time, Ramapo has a Hall of Fame coach [Drew Gibbs] and they have a bunch of great players that put in the work. But we think we have some pretty good players too, we are better up front than some people think and we can smack you a little bit on the defense."
TO BUY A COLLECTOR'S PRINT OF THIS STORY PLEASE VISIT 4-FeetGrafix.com. FOR MORE PHOTOS FROM THIS GAME CLICK HERE!