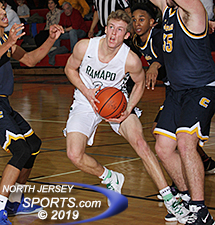 KC Hunt scored a game-high 17 points for Ramapo, which reached the state final for the first time in school history with a 35-32 win over Colonia in the Group 3 semifinals on Thursday night in East Orange.
EAST ORANGE – The last time that the Ramapo boys basketball program played in the Group 3 state semifinals at East Orange Campus High School its leading scorer, Shooter Hunt, scored 33 points in a shootout loss against Malcolm X. Shabazz. On Thursday night, in the first return trip since that entertaining game back in 2005, the Green Raiders scored a team total of 35 points.
Maybe this year's edition was not as easy on the eyes as the last one, but Ramapo certainly likes the result better. The Green Raiders held Colonia scoreless for the final 4:44 of the game and never let Colonia get off a final shot with a chance to tie in the final 11 seconds and held on for a 35-32 victory. Ramapo won a spot in the state final for the first time in the history of its boys basketball program and will play Moorestown for the Group 3 championship on Sunday at Rutgers University.
"We lost a game last year in the state sectional final when we only gave up 37 points and I thought we played a helluva game defensively. Tonight I thought we were even better defensively and the result is what we wanted," said Ramapo head coach Joe Sandberg. "Colonia is very much like us. They play tough, they play hard, but we dug in. We could have folded when we went down four there [midway through the fourth quarter], but we made a lot of good plays down the stretch at both ends."
Colonia had done its homework and came out in the same slumping zone as every other public school team that the Raiders have run up against. Opponents routinely pack it in against 6-foot-10 center Neal Quinn and dare Ramapo to make jumpshots. Unlike in the state sectional final on Tuesday against Teaneck, the Raiders did not do that as well this time around and it led to a slobber knocker of a contest in which the lead changed hands just about every time one of the sides had consecutive successful possessions.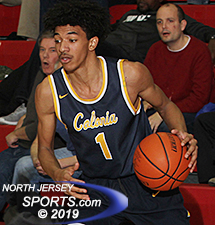 Chad Baker scored a team-high 14 points for Colonia, which finished its season with a 24-5 record.
Quinn's conventional three-point play to end the first quarter scoring put Ramapo up 11-6, but a 7-1 run to start the second quarter that included a Chad Baker dunk from the baseline gave Colonia its first lead of the game at 13-12. There were two ties and four lead changes in the second quarter, which ended with Ramapo in front, 18-15.
Quinn was clobbered just about every time he touched the ball. Some of the fouls were called, some were not and he had to battle for every inch with defenders hanging all over him.
"I had that tough stretch in the second quarter when I picked up two fouls and had two travels called against me in about 20 seconds. That almost had me losing it, but I knew my team needed me to keep my head in the game," said Quinn, who committed only one more foul the rest of the way and kept himself on the floor for more than 31 of the 32 minutes played. "If [opponents] are going to keep doing that (pack the middle) against me and we keep winning, I really don't care. Let 'em do it and we will keep playing."
Colonia had its best offensive quarter in the third when Jimmy Frage got hot. The junior wing nailed three three-pointers in the period to account of 9 of his 13 points in the game, but even with that the Patriots were never able to move in front by more than four points. Frage's final triple with 4:32 left in the third gave his team a 26-22 lead, but Ramapo responded with five straight points before Baker's second dunk of the game gave Colonia a 28-27 lead heading into the final quarter.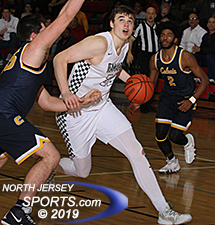 Neal Quinn and Ramapo will play Moorestown at Rutgers on Sunday in the Group 3 state final.
Back-to-back baskets by Baker, an elbow jumper and a follow of a missed shot, gave Colonia a 32-28 lead with 4:44 to go in the game, but the Patriots would not score again. KC Hunt's two free throws and three straight points by Quinn gave Ramapo the lead back, 33-32, with 1:04 to play and Quinn had the next two points as well, a layup in transition with 14 seconds left that made it a three-point game.
Colonia called timeouts with 11 seconds left and with 2.5 seconds to go, but could not get off a shot after either of them. Hunt got a piece of the Patriots final inbounds pass and the ball bounced unpossessed as the final horn sounded.
Colonia got 27 of its 32 points from Baker (14) and Frage (13), a three-pointer from Brandon Wasserman and two free throws from Lorezon Jackson and finished its season with a 25-4 record. Ramapo got 30 of its  35 points from Hunt (17) and Quinn (13) while Max Pernetti chipped in with 3 second half points. In addition to his usual stifling defense against the opponent's best player, John Whooley, who was also battling illness, had the other two points for Ramapo (26-3), which is making history as it continues it march to The RAC.
And Hunt is racking up family bragging rights.
"My brother Shooter can say that he scored more points when he played in this game [in 2005]. He had 33, almost as much as our whole team tonight, but they lost that day and that is the key. We won and I have that on him," said KC Hunt. "This is an awesome experience…history made for the school. We just want to keep rolling. Survive and advance, that's it."
FOR MORE PHOTOS FROM THIS EVENT PLEASE CLICK HERE. TO BUY A COLLECTOR'S PRINT OF THIS STORY PLEASE VISIT 4-FeetGrafix.com.