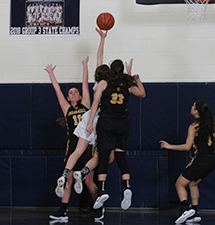 This is what it looked like from the opposite end of the gym as Old Tappan's Noelle Gonzalez made the layup that gave the Golden Knights a 35-34 win over Cresskill in the Bergen County Tournament's Round of 16.
OLD TAPPAN – Northern Valley/Old Tappan senior Noelle Gonzalez swooped down the lane to score a game-winning layup as the buzzer sounded, giving Old Tappan a 35-34 victory over Cresskill Saturday afternoon in the Bergen County Tournament.
"We practice those last-minute plays once or twice a week," said senior Jaclyn Kelly. "This time it worked out. We came out, saw what they were doing, called timeout, ran our play, executed it and it worked great for us."
Cougars senior Jennifer Garcia had given Cresskill a 34-33 lead on a free throw with 6.5 seconds to go in the game. It was the first time since late in the first quarter that Cresskill led.
The dramatic sequence leading up to Garcia's clutch foul shot began after Cougars sophomore Colleen McQuillen had tied the game at 33-all with 1:09 to go. A Cougar defender tied up a Knights ball handler to earn a jump ball. The possession arrow favored Old Tappan so it kept possession, but was unable to inbound the ball. The Cougars took possession thanks to a five-second violation.

Cresskill missed a shot and Old Tappan pulled down the rebound before junior Elley Wells stole the ball and passed it over to Garcia, who was fouled, earning the Cougars a trip to the free throw line with 6.5 seconds to go. Garcia canned the second free throw and both teams called for a timeout before the ball was inbounded to kick off the fateful sequence.
When play finally resumed the referee handed Gonzalez the ball behind the endline underneath the Cresskill basket.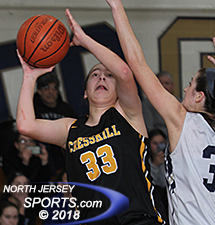 Cresskill sophomore Colleen McQuillen was brilliant all game long and scored the 1,000th point of her career on this fade away jumper in the third quarter.
"Noelle was the in-bounder," said Knights coach Brian Dunn, "and we set up a reverse play to her and had her push down. We had a couple of kick-out looks if she couldn't get to the rim, but she put her head down, got her shoulder into it and finished and knocked it down."
"I passed it in to [senior] Megan Weis and I cut down the middle," added Gonzalez. "She passed it back to me on a give-and-go and I went to the basket. I looked to pass off to Jackie (Kelly), Gianna [Saccoccio] or Izzy (sophomore Isabella Giampaglia), somebody who could shoot from the outside. They were all in position, but I saw that I had the lane to take the layup so I did that."
Midway through the second quarter the Knights jumped out to a 17-8 lead thanks to Kelly, the senior sharpshooter who went over the 1,000-point mark last week. She broke open an 8-8 first quarter tie with a pair of three-pointers and a three-point play.
"My main goal when I'm out there is to see their defense," Kelly said. "Recently a lot of teams have had one girl face guard me so that's when I have to learn how to adjust. Sometimes it takes a quarter, which is not what we want, but in this game it did.
"In the second quarter I tried to step up my game and did a lot of things I wasn't doing in the first quarter to get myself open so we could start running the offense to get everyone else involved."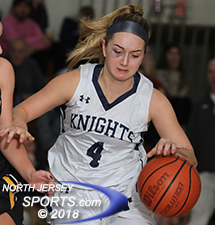 Jackie Kelly and Old Tappan will take on Ridgewood, the No. 11 seed, in next weekend's quarterfinal round.
McQuillen drained a long three and Cougars senior Sophie Green drove to the basket twice to trim the lead to five heading into the halftime intermission.
"They're outstanding," Dunn said of Cresskill. "They're a really good team. It was hard-nosed defensive basketball where both teams are hard core, tough defensive teams. It ends up 35-34, but it was good basketball. There were kids getting on the floor, kids blocking out and it was good fundamental basketball.

"I haven't seen anybody play better than that kid (McQuillen). I know Saddle River Day has Michelle Sidor but she's (McQuillen) a Top 2 or Top 3 kid in Bergen County. She's a complete kid; she plays both sides of the floor, is big and can go in and out. Noelle (Gonzalez) played her butt off playing the kid for 32 minutes. It was a ridiculous effort given by both those kids the entire time. That was an unbelievable matchup."
McQuillen, who led all scorers with 24 points, including career point No. 1,000 early in the third quarter, tallied 17 points in the third quarter as Cresskill pulled within one, 27-26. A put-back by Kelly off a missed free throw beat the buzzer and gave Old Tappan a three-point lead heading into the fourth quarter.
McQuillen scored seven more points in the final frame but it was not enough to get the No. 14 seeded Cougars past the No. 3 Golden Knights. Nevertheless, Cresskill coach Mike McCourt was inspired by the play of his team against a Group 3 team.
"It's tremendous," he said. "I keep telling the girls if you work hard in practice and you do your job in practice games like this become a little easier. Obviously games are not easy but it prepares them for game tests like this one. We just came out on the short end. I know they're upset but it didn't hurt us in the league or the states. We're just going to regroup and get back to it.
"The first thing we have to do is get this game out of our heads. I think they now feel that they can compete and when they get into Group 1 [competition] we don't see pressure like this. We don't see teams like this. Hopefully it helps us in the long run."
Old Tappan moves on in the tournament and will play Ridgewood next Saturday at Pascack Valley High School.
"We love playing games like this," said Kelly. "That's our style. We were in games like that last year and we're always prepared because we practice those plays. Like Coach Dunn always says, 'I'd take our team down by one with six seconds left because we're always there to execute the things that we need to do.' That's what our team is all about."
FOR MORE PHOTOS FROM THIS EVENT PLEASE CLICK HERE. TO BUY A COLLECTOR'S PRINT OF THIS STORY PLEASE VISIT 4-FeetGrafix.com.