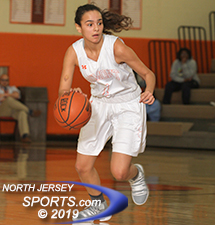 Senior Yakira Rosa scored a team-high 17 points for Dumont, which won for the 10th time in its last 13 games with a 51-49 victory over Fair Lawn on Thursday.
DUMONT -- With a lead midway through the fourth quarter and with Fair Lawn's defense chasing in a mad dash to give away the fouls in needed to put Dumont in the bonus, the Huskies were not really interested. If the open shot was there, Dumont was going to take it and it is just that kind of unorthodoxy that just might make the Huskies a tough out in the upcoming North 1, Group 2 state sectional tournament.
Senior Yakira Rosa knocked down a three-pointer with 4:09 left in the game and when Fair Lawn was finally able to put Dumont in the bonus with under a minute to go, senior Jenna Mazzone made both ends of the one-and-one for her team's final points of a 51-49 victory on Thursday afternoon. After starting the season at 5-7, Dumont has now won 10 of its last 13 games and is on a roll heading into its regular season finale on Saturday. Then it is off to the state playoff where, as the No. 10 seed, the Huskies will visit No. 7 Lenape Valley in Stanhope for the opening round on Monday night.
"When you look at today, we did a good job defensively and it is on that end that we have really turned things around. We have been playing a lot of 1-3-1 and the kids have been working their tails off," said Dumont head coach Dave Cieplicki. "The great thing is that everybody is contributing. I think I played 10 kids today and all of them did something to help. A lot of those plays were made by three freshmen – Kelsey Boyhen, Julia Angeles and Meghan Heaney – and the senior class led us in points. It was a full team effort."
Natalie Mileski scored 15 of her team-high 17 points for Fair Lawn, which will host East Orange in the opening round of the North 1, Group 4 sectional tournament.
The week before the state tournament starts makes for whacky match-ups. With most league schedules finished there is a scramble for independent games that coaches think might help them get ready for the postseason. That is how you end up with Group 4 Fair Lawn visiting Group 2 Dumont on a Thursday with a 4:00 p.m. tip. And it was entertaining throughout as Kira Meerholz scored four straight points to end the first quarter and put Fair Lawn ahead 16-11.
Rosa canned the first of her three three-pointers with 4:40 to go in the second quarter to tie the game at 18, but Fair Lawn reclaimed the lead the next time down the floor with a Natalie Mileski three and the Cutters held it almost all the way to the half. Dumont, however, close the second period on an 8-0 run and Jenna Mazzone's three from the wing with 53 seconds to go gave the Huskies a 26-25 lead at the intermission.
"Even though this game didn't really count for anything we wanted to play really hard going into it. We have five seniors on the team and we want to finish strong," said Mazzone, one of those five seniors. "It was a good way to get ready for our state game and we had to play it out the whole way. We don't have too many games left no matter what happens from here so we were going to play hard. Fair Lawn did, too."
There were three ties and two lead changes in the third quarter with neither team taking more than a three-point lead. Angeles, one of the Huskies' talented freshmen, scored inside with 15 seconds left in the third quarter to wipe out Fair Lawn's last lead and give Dumont a 39-38 advantage heading into the fourth where it made a decision run early in the period. Rose finished a drive to the basket, sophomore Brianna Perez hit a three in transition and Boyhen scored from the baseline all inside the first two minutes of the fourth to give Dumont a 46-38 edge.
Sophomore Brianna Perez made fourth quarter three-pointer for Dumont, which is now 15-10 on the season.
Fair Lawn, the No. 8 seed in the North 1, Group 4 state sectional bracket, made a spirited charge of its own to get back in the game. Dumont's reluctance to take the air out of the ball added enough possessions to allow the Cutters to go on a 9-3 run in a two-and-half-minute span. Mileski made two free throws and made a steal and a lay-up in a six-second spurt to draw Fair Lawn back to within 49-47 with 1:30 left in the game.
Rosa's three-pointer with 4:09 to play had Dumont up by eight, but the Huskies did not score again until Mazzone's free throws upped the cushion to 51-47 and stabilized the game with 57 seconds to go. Kellie Martinez scored on a cut to the basket to make it a two-point game with 30 seconds left and, after Dumont missed the front end of a one-and-one one second later, Fair Lawn put together a quality final possession that lasted for the remainder of the game, but ended with a missed lay-up at the buzzer that would have sent the game into overtime. Instead, the final buzzer sounded on Dumont's 10 win in its last 13 tries.
"The good thing about our team now is that we are not stopping. We started off the season not so hot, but now it is getting better every time with play," said Rosa, who finished with a team-high 17 points. "Unfortunately it is coming to an end, but we are going to keep on going and keep fighting until it is over."
Fair Lawn put three starters in double figures as Mileski (17 points), Kellie Martinez (14 points) and Meerholz (12 points) combined to score 43 of the Cutters' 49 points. Hailey Conklin added 3 points off the bench, Zeev Shalom with 2 of 2 at the free throw line and Bailey Hartman made one shot from the charity stripe to round out the scoring for Fair Lawn.
Mazzone (13 points) joined Rosa in double figures, but Dumont spread the rest of its scoring around as seven different players each made at least on field goal. Angeles scored all 6 of her points in the middle two quarters, Perez scored all 5 of her points in the second half, Nicole Allgor and Boyhen scored a couple of two-point baskets each and Heaney had the other two points for the Huskies.
"We have been best friends since seventh grade and we are both seniors now. This is the last hurrah," said Mazzone, standing next to Rosa. "We have never won a state game before in our four years here. This is our last chance and we know we have a good chance against Lenape [Valley]. It's a far ride and hopefully we go out there and get a state win."
FOR MORE PHOTOS FROM THIS EVENT PLEASE CLICK HERE. TO BUY A COLLECTOR'S PRINT OF THIS STORY PLEASE VISIT 4-FeetGrafix.com.