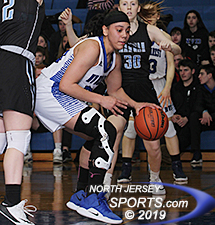 Junior Dayna Tirado scored a game-high 19 points for Demarest, which raced out to a 17-5 lead and never looked back in a 57-26 win over Mahwah in the opening round of the North 1, Group 2 sectional tournament.
DEMAREST – Northern Valley/Demarest jumped out to a 17-5 first quarter lead and coasted to a 57-26 victory over Mahwah in the opening round of the North 1, Group 2 state playoffs Monday night. The win marked the first state tournament win for the Demarest girls team since 2016 and improved their record to 21-6.
"I think it's the best record in school history for the girls team," said Demarest coach Jenny Jurjevic. "They've done some good things this year. They won the Christmas Tournament, they won the league outright - they're not sharing it with anyone - and the best record."
Norsewomen junior Dayna Tirado got hot in the second quarter, scoring nine of her game-high 16 points, many of them from in close.
"It's definitely from my teammates," Tirado said. "They find the open pass and just get it to me. It's easy buckets for me. I just find the right hand and I go up."
"She was really crushing that low block today," Jurjevic said of Tirado. "She's good at identifying that. When she's isolated one-on-one she has a green light. She recognizes very well when she's doubled to just kick out to somebody else. She moved the ball as best as I could have asked her today."
Demarest outscored the Lady Thunderbirds 14-2 in that second quarter to essentially put the game out of reach, 31-7.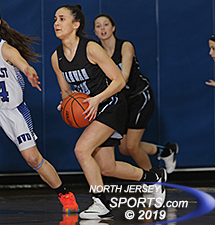 Julia Almonte and the rest of the Mahwah roster, which does not include a single senior, will be back next year.
"It's really a new team when you think about it," said Jurjevic. "We have three returners (seniors Gabi Cammalleri and Meadow Garcia and junior Kate Slowikowski) from the last two seasons. You add Dayna (Torado) and two freshman (Liz Argenziano and Casey Sullivan). So it's taken us a while to gel and fit in the pieces."
Garcia took a pass from Slowikowski and scored to open the third quarter. After sophomore Erin Van Alstyne and junior Kayla Himpele scored five quick points for Mahwah, Garcia answered by hitting a three, scoring off a steal and driving to the basket for another two points in a two-and-a-half minute spurt to help propel Demarest to a 45-17 lead. Garcia finished with 15 points in the game.
"We just work as a team," Tirado said. "We're always looking for the open player. We're not selfish and we have confidence in each other."
Sullivan tallied 12 points, Cammalleri added 8, Argenziano 4 and Slowikowski 2.
The Lady Thunderbirds lost a lot of players to graduation last June and the current team has no seniors. As a result they are young and have had an up and down season.
"We actually started out pretty well," said Mahwah coach Scott Papetti. "We were 3-0, which was a surprise to me a little because we have no seniors. At New Year's we were 4-1. For some reason it didn't click the way I thought it would click. We did some good things early, but then we had some rough times in the middle of January. We bounced back a little bit in February. We had a great win against Ridgefield Park, a 20-win team.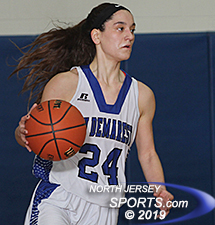 Meadow Garcia and Demarest will welcome the defending section champ High Point in the quarterfinals.
"Demarest has Garcia and Tirado and everyone else feeds off them. We don't have that right now. A lot of it has to do with them not being used to playing varsity basketball and they're not used to playing with each other. The confidence in themselves on the floor is not where it needs to be. We have some talent but they need to get stronger and they need to work more in the off season. Hopefully they'll want to do it."
Demarest will welcome High Point, 73-40 winners over Kittatinny, to its gym Wednesday for the next round of playoffs.
"A lot of our wins are maybe we're better than the other team or maybe we had better games," said Jurjevic. "But these last few games is because we're a force to be reckoned with. We're sharing the ball, there is complete ball movement. There is no role identity crisis - we're all one. No one is playing like an individual and I do think that's going to be our biggest asset going forward. It's easy to shut down one or two players; it's not easy to shut down six.
"Hopefully we'll keep the momentum going for states. It's not easy to play this time of year. Anyone can lose at any time. There is no chance to bounce back. There is no 'we'll get them next time' because [if you lose] there is no next time."
FOR MORE PHOTOS FROM THIS EVENT PLEASE CLICK HERE. TO BUY A COLLECTOR'S PRINT OF THIS STORY PLEASE VISIT 4-FeetGrafix.com.