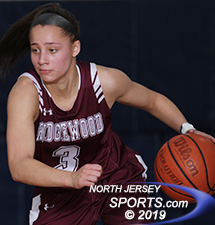 Ridgewood point guard Jackie Wolak ran Demarest ragged in a 36-26 win that seconds the Maroons into the Bergen County Tournament quarterfinals.
OLD TAPPAN – Northern Valley/Demarest girls basketball coach Jenny Jurjevic has been around Bergen County basketball for the better part of two decades now so she has a good sense of its history. She was an All-County player at Pascack Valley, a Division 1 recruit who went on to play at Iona and was the head coach at Emerson before taking the NV/D job. In short, Jurjevic knows a good player when she sees one and she saw one in Ridgewood point guard Jackie Wolak in Saturday's Bergen County Tournament Round of 16 game.
"Number 3 is the fastest kid I have seen in a very long time," said Jurjevic, speaking of Wolak, who transferred back to Ridgewood from Saddle River Day last season. "She reminded me of when I was in high school playing against Tobi Petrocelli, who went to Holy Angels. She did to us my sophomore year exactly what [Wolak] did to us today. She was literally dribbling around in circles and we could not catch her to get a foul or a steal. Kudos to that kid because she has speed and she is one heckuva an athlete."
When the opposing coach talks about a player in such glowing terms it is not too hard to decipher the outcome of the game. With Wolak at the controls and a defense that contested everything Demarest tried to do, Ridgewood, the No. 11 seed, advanced to the quarterfinals with a 36-26 victory over the sixth-seeded Norsewomen.
"Jackie Wolak played a great game controlling the ball and we tried to focus on their two best offensive players [Meadow Garcia and Dayna Tirado] and limiting their touches," said Ridgewood head coach Karen Keyes. "I thought our defense really bothered them. Most of their games and our games have been low-scoring so we kind of knew it would be that way, but we did enough on the offensive end and our defense was good the whole way through."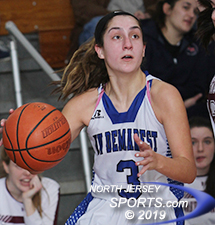 Senior Gabi Cammalleri made both of Demarest's 3-pointers.
Points were at a premium as evidenced by Ridgewood's 4-1 lead after the first quarter. A Maddie Sullivan three-pointer closed the first half scoring and put the Maroons up 16-8 and they were up 8 yet again when Wolak made a steal and a layup to make it 21-13 with 4:31 left in the third quarter. That was where Demarest made its stand as Garcia and Tirado scored back-to-back baskets for one of the rare times in the game for the Norsewomen and they were right back within four points, 21-17, with 2:34 left in the third quarter.
And then, in the span of just 22 seconds, Megan Gorman scored inside and Wolak completed a conventional three-point play and Sullivan added a jumper from the corner with 1:36 left in the period to push the Maroons' lead into double digits at 28-17. They had a 30-18 lead at the end of three quarter and Demarest never got closer than eight points in the final period.
'That [7-point run] was definitely the turning point. We knew that we had to bring a lot of energy going into that third quarter and we brought it," said Wolak. "We know our defense turns into good offense and that is what we rely on most. Demarest is a good team. We scouted them, but we mostly focused on us because we had to focus on playing our best and doing well together as a team."
While the seeds suggest that this result was some type of stunning upset, it was not that big of a surprise when everything is taken into account.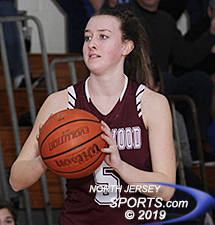 Annie McCarthy finished with 9 points for Ridgewood, which will play third-seeded Old Tappan in the quarterfinals.
"Our league is very different than their league. Theirs is the tougher league. They play Old Tappan, Northern Highlands, Teaneck and Ramapo in there. Our league is a little watered down this year and that is cool for me because I was getting by butt kicked by those teams the last two years," said Jurjevic. "There is no way around it. We lost and I feel like we didn't give Bergen County its money's worth today and I wish we could have given them a better game. But it is okay for kids to lose a game. It is okay for kids to fail at something that they have put a lot of work into. Today we failed and the kids need to realize that it is okay. We will get right back in the gym and get back at it on Monday."
Tirado, also a transfer from Saddle River Day, finished with a team-high 12 points. Garcia and Gabi Cammalleri, two of Demarest's three seniors along with Emma Miller, added six points apiece freshman Liz Argenziano's two free throws rounded out the scoring for the Norsewomen.
Wolak finished with 12 for Ridgewood, Annie McCarthy added 9, Gorman had 8, Sullivan had 5 and Molly Dunphey had the other two points for the Maroons, who will get a chance to sweep the Northern Valley school district next week in a quarterfinal matchup against third seeded Old Tappan.
"It is exciting," said Keyes. "This tournament has such tradition in Bergen County. I am glad we are still a part of it and our girls are really embracing the opportunity."
FOR MORE PHOTOS FROM THIS EVENT PLEASE CLICK HERE. TO BUY A COLLECTOR'S PRINT OF THIS STORY PLEASE VISIT 4-FeetGrafix.com.