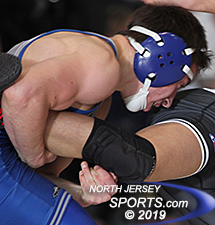 Senior Nile Matter got a pin at 132, the night's penultimate match, to clinch Kittatinny's 36-33 win over Emerson/Park Ridge in the North 1, Group 1 state sectional final on Friday night.
EMERSON – Sussex County has long been the hotbed of high school wrestling in New Jersey. Three of the county's storied programs were wrestling for state sectional titles on Friday night, including Kittatinny, which was trying to grab the title back from Emerson/Park Ridge, Bergen County's small school powerhouse.
Kittatinny freshman Brycen Mafaro has a theory on what makes Sussex County this state's wrestling epicenter.
"There are a lot of farm boys up here and they have the grip strength," said Mafaro. "Grip strength works the best in wrestling."
Mafaro, who was giving up 50-plus pounds when he took the mat for the heavyweight bout, got his grip on his much-larger opponent and picked up one of the four pins that Kittatinny earned in the span of five matches in the upper weights that were key to a 36-33 victory that gave the Cougars they North 1, Group 1 state sectional title against defending champion Emerson/Park Ridge.
"I have actually wrestled more at 195 and I have wrestled some at 220, but in the beginning of the year I did wrestle a lot at 285. I weighed in a 200 today and I had to chug a water bottle before I hopped on the scale," said Mafaro. "The dude I wrestled was a big boy and in those situations I just try to wait for them to make a mistake. He tried to do a monkey roll, so I just posted, half-nelson and pin."
Having won the coin flip, Kittatinny could dictate the matchups it wanted in the upper weights and came out the other side of it with a net gain. Emerson had won three of the first four matches of the night with Jonah Schechtman (152) and Casey Allen (160) earning first period pins followed by Brendan Hughes decision at 170 to give the Cavos a 15-3 lead after Kittatinny's Brian Hanna had won the first bout of the night at 145 pounds.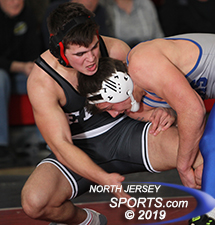 Emerson/Park Ridge's Zach Lewis gave his team an 18-15 lead with a 10-4 win at 220 pounds.
The Cougars turned things around starting with senior Zach Mafaro, a sixth place state finisher last year, who pinned in less than a minute at 182 and sophomore Jackson Crawn, who ended the 195-pound match via pin midway through the second period. Jacob Mafaro and Brycen Mafaro were both eligible to go at 220 and Kittatinny head coach John Gill got to make the decision of which Mafaro he wanted to take on E/PR standout Zach Lewis, who was sent to the scorer's table first.
Lewis opened a 4-0 lead after the first period and proceeded to earn a 10-4 win at 220, but when Brycen Mafaro followed that up with his pin at 285, Kittatinny had come out of the exchange with a plus-three in team points, which was also the final margin of victory.
"The heavyweight match was a gamble. We were putting a light guy out there and it could have backfired. If Brycen would have lost at heavyweight and I used Jacob against their star [Lewis], it could have been a minus-nine there four us, instead it turned out a plus-three points there," said Gil, who is in his 41st season with the Kittatinny wrestling program and his 39th as head coach. "They got three because Jacob Mafaro wrestled tough and only gave up only three points against their star and we got six because Brycen pinned at heavyweight. It was a gamble and it paid off."
Kittatinny kept the momentum as the lineup flipped to the little guys and Shane Nelson pinned at 106 and Connor Hanna won by decision at 113 to up the Cougars' lead to 30-18 with four matches remaining. Emerson had the advantage in the lower weights, but it could have been more of one had Logan Mazzeo been available. The Cavos' standout was suited up and used a decoy a few times, but he was unable to go after being injured in the semifinals on Wednesday. He will wrestle in the districts, but his absence certainly changed the nature of the final few bouts.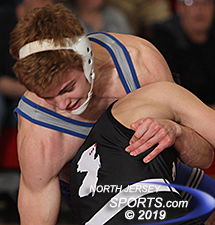 Brian Hanna scored the first points of the night for Kittatinny, which will wrestle Shore Regional in the Group 1 semifinals on Sunday in Toms River.
"He is going to wrestle in districts, but to put him out there tonight would have put that at risk," said Emerson assistant coach Joe Mazzeo. "And when you look back at it, the toss was it. The toss was whole thing and we knew we were in trouble when it went the other way. It's not an excuse; it is just that when you are up against a team as good as Kittatinny, you need every advantage you can get."
Junior Nick Babin pinned in the first period at 120 and senior Caiden Brouwer's 8-1 decision at 126 had Emerson back to within 30-27, but senior Nile Matter ended the drama with a second period pin at 132.
"I knew that they had the two Mazzeo brothers, who are both very good, but the one was hurt and I didn't know who I was going to wrestle. They were both up [behind the bench] before my match," said Matter. "When I saw the kid they put against me it wasn't like a relief or anything. I knew I still had a job to do and I had to do that job. I did and I am happy."
Gil, a wrestling lifer, was happy, too.
"They are such a quality team and I know they have an injury and that will certainly be a 'what if' for them. I get that, but coming in here and beating a quality team is such a big thing for us. They have been head and shoulders above us for several years and we have closed the gap. They clobbered us two years ago" said Gil, who has led Kittatinny to eight outright Group championships. "We have gotten better. We have improved week by week and we have peaked at the right time. I hope we can match this kind of effort on Sunday."
Kittatinny is the No. 2 seed and will take on No. 3 Shore Regional in the Group 1 semifinals on Sunday in Toms River. The winner of that match will take on the winner of No. 1 Paulsboro against No. 4 Delaware for the Group 1 state title also on Sunday in the same spot.
Meanwhile, Emerson/Park Ridge will turn its attention to the district tournament having closed its team season with a 16-5 record.
"We are young. We have a lot of new faces and the way we coach, everybody has to be ready to go. All of these kids are ready whether it is varsity of JV and we will keep building," said Joe Mazzeo. "We have a great group of kids that put the work in. We are proud of them through the ups and downs and now we will try to get them ready for the districts as best we can."
FOR MORE PHOTOS FROM THIS EVENT PLEASE CLICK HERE. TO BUY A COLLECTOR'S PRINT OF THIS STORY PLEASE VISIT 4-FeetGrafix.com.