Junior Gabriela Castellanos the target of many of Hawthorne's looks inside, scored 10 points in the Bears' 55-25 win over Mahwah at the Brian Long Classic played in Ridgefield Park on Saturday.
RIDGEFIELD PARK – Back in the old days (think pre-2009 before Steph Curry entered the NBA), Hawthorne's offensive approach would have been nothing out of the ordinary. The Bears look for mismatches, throw the ball inside with regularity and are even willing to do it multiple times in a single offensive set in search of a high percentage shot. With three-point mania now the norm, Hawthorne's offense looks kind of retro, but it still works.
"We get the ball inside, we try to make something happen in the paint and get the defense to close in on us so we can open stuff on the outside. Whatever the defense gives us, we are going to take," said Hawthorne head coach Jaclyn Peene. "[Three-point shooting] is not our game. We want to get the ball inside and get as close to the basket as possible."
After a 55-25 win over Mahwah on Saturday morning at the 3rd Annual Brian Long Classic at Ridgefield Park High School, Hawthorne is now 6-1 on the season. The only loss the Bears have suffered this season came against Weehawken when it played without junior Gabriela Castellanos, the post player who her teammates are determined to get the necessary touches.
Despite not starting and playing just 2:11 in the second half because of foul trouble and then the lop-sided score, Castellanos finished with 10 points, which included four field goals from in the painted area and two made free throws earned on two different trips to the stripe.
Junior Mackenzie Cariddi scored a team-high 11 points for Mahwah.
"My team relies on me to produce points down there [in the post]," said Castellanos. "It's my job to score down low and get those rebounds and that is what I try to do."
While Hawthorne's preferred style is to play through its bigs, it is certainly not a plodding group just hoping to drag its opponents into half-court sets and low scoring games. The Bears will push the ball at every opportunity to try to keep the defense from setting up and it has the athletes to be effective in the open floor. Two of them are senior point guard Heather Bertollo and freshman Briana Andreolli, both of whom were key contributors to the Bears' run to the North 1, Group 1 state sectional final during the soccer season.
"A lot of us played soccer. Our whole starting lineup played soccer, the six that usually rotate in all played soccer and we all went on that run together and we are still hyped up from it. We have such good chemistry because of it," said Bertollo. "We are a fast team, we are an athletic team and we are unselfish and we use all of that that to our advantage."
The only advantage that Mahwah had on Saturday came at 2-0 when Veronica Mertz hit a jumper from the corner to put the Thunderbirds out in front. Sofia DiFillipio's fastbreak basket off an assist by Bertollo kicked off a 15-0 Hawthorne that ended Castellanos' bucket with 1:04 left in the first quarter. The Bears led 20-4 after the opening quarter and by 31-12 at halftime while allowing just four made field goals in the first half and just 10 in the game.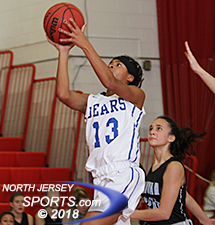 Frehman Briana Andreolli scored 7 of her 10 points after halftime for Hawthorne.
Bertollo scored 10 of her game-high 17 points in the opening quarter and Hawthorne pulled away. She hit the game's first three-pointer to make it 7-2 4:18 into the game and hit another with 39 seconds left in the opening stanza to make it 18-4.
Mahwah (4-3) had its best run of play early in the second quarter when it snuck back to within 13 points, but it could not sustain its offensive production long enough to make more of a dent in the Hawthorne lead. Junior Mackenzie Cariddi scored 5 of her team-high 11 points in the second quarter, but she was the only Thunderbird to not only finish in double figures, but also the only one to finish with more than one made field goal. Julia Almonte, Mertz, Lauren Curley, Hannah McNamara, Caroline Fruscione and Rachel Moss all made one for Mahwah, a young team that does not have a single senior on the roster let alone in the starting lineup.
Hawthorne had three players finish in double figures with Bertollo, Castellanos and Andreolli (10 points) all getting there, but the Bears got contributions from everyone they ran out there. DiFillipio made one field goal in each quarter to finish with 8 points, and Alejandra Castillo and Keiran McAlister each added 4 points. Castillo, an excellent interior passer, also handed out three assists.
With six wins to show for its efforts in its first seven games, Hawthorne is staring down the barrel of what could be a special season for the small Passaic County public school.
"We came into this season with four returning starters. We have an established lineup and we are just trying to play our game and executing what we do best," said Peene. "Hopefully, our best is going to take us far."
FOR MORE PHOTOS FROM THIS EVENT PLEASE CLICK HERE. TO BUY A COLLECTOR'S PRINT OF THIS STORY PLEASE VISIT 4-FeetGrafix.com.