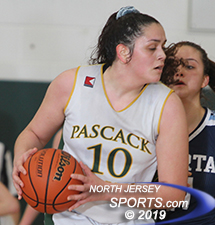 Sofia Battista scored 10 points for Pascack Valley, which led for all but 19 seconds in a 46-33 win over Sparta in the North 1, Group 3 state sectional semifinals.
HILLSDALE – Sparta tried to be deliberate on the offensive end. The Spartan won the opening tip-off, ran through their stuff and ate up 43 seconds on the game's opening possession before it ended in a turnover. After that, it was all Pascack Valley.
Brianna Smith's three-pointer from the top of the key with 4:46 left in the first quarter broke the game's only tie as Pascack Valley, the No. 2 seed, was never caught thereafter. The Indians scored 7 of the game's first 9 points, took their first double digit lead late in the second quarter on another Smith three and coasted home in a 46-33 victory in the North 1, Group 3 state sectional semifinals on Saturday afternoon in Hillsdale.
Next up is Northern Highlands, the No. 4 seed that took out No. 8 Montville in the other semifinal, in Monday's championship game. Pascack Valley has been to the section final in each of the last three seasons and won it and the whole Group 3 state championship in 2017, but not too many people could have seen this year's return trip coming.
Gone are three three-year starters who are now playing college basketball and the Indians' season was supposed to be over by now. Instead, they are not only playing for a sectional championship on Monday, they are hosting the game.
How the heck did this happen?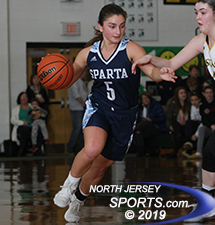 Bri Flaco scored a team-high 13 points for Sparta.
"I was hoping you could tell me," said Jeff Jasper, the only girls basketball coach in state history with over 1,000 career victories.
Smith, the lone holdover from the successful teams of the past two years, had a pretty good explanation.
"Everyone on our team has a role to play, even the ones on the bench. In huddles Brenna Collins does something like this [wiggling her fingers] and says something about fire. Jasper says, 'Let's Go!' and that is what gets us going," said Smith, who went from the little sister the last two seasons to the mother hen this year. "I learned from the past and the players that were here before how to compete and communicate on the court and that is what I try to teach the girls that are here now. I always tell them, 'You got this,' and I try to support them all the time."
Smith, a 1,000-point scorer who will play next year at Bloomsburg University, is not only a willing leader, but also an outstanding player and she was in the middle of everything. She crashed the glass, pushed the ball up the floor to keep Sparta's defense from getting established and handed out four assists in the game and took 10 of the 12 free throws that PV was awarded in the game and made eight of them, including all 6 that she took in one-and-one situations in the second half.
Sofia Battista provided the inside presence that the Indians needed to keep the Sparta defense honest. Battista finished with 10 points, 8 rebounds and played right through foul trouble. She picked up her second foul three minutes into the second quarter and her third inside the final minute of the second half, but she never went to the bench and picked up just one foul in the second half in the battle against Sparta's stout front line that included Emily Dilger and Alexa Ecker.
Paige Skene and Pascack Valley will host Northern Highlands in the state sectional final on Monday afternoon.
Battista is one of Pascack Valley's four new starters that have played a key role in getting the Indians all the way back to the state playoff round in which their season ended in 2018.
"Everybody thought last year that we were going to be the team to get [the section title] and we didn't. Now we are the underdogs and it means a lot that we have put ourselves in the position to win it. Last year it was expected, this year it is not and it is amazing to be a part of it," said Battista. "Most of us were not a part of it last year, but now we are and this is fun. It's awesome."
Pascack Valley held Sparta to just four first half field goals and nine first half points as it opened a 22-9 halftime lead. Sparta never got to within single digits in the second half. Bri Falco (team-high 13 points) and Dilger combined to score 23 of the Spartans' 33 points whole Liv Bouma-Hannon (6 points) hit two second half three-pointers and Acker had the other four points for Sparta.
Smith and Battista combined for 28 of Pascack Valley's 46 points but they had help from Paige Skene (6 points), whose two first quarter fastbreak buckets helped the Indians establish tempo, Kelly Anderson added 7 points and Olivia Jones made a pair of third quarter free throws. Jules Vassalle (3 points) was the only player from either team to chip in offensively off the bench.
So now it is on to the section final where, weather permitting, the Indians will host Northern Highlands on Monday in a 4:00 p.m. tip.
"The word that we always use is, 'Next," said Smith. "Next play, next game, just next and we always look forward. I am so glad that we get to keep playing."
FOR MORE PHOTOS FROM THIS EVENT PLEASE CLICK HERE. TO BUY A COLLECTOR'S PRINT OF THIS STORY PLEASE VISIT 4-FeetGrafix.com.