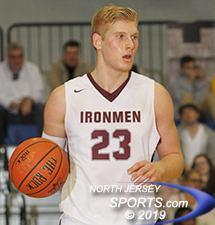 Victor Knopka did a little bit of everything and top-seeded and banged up Don Bosco Prep needed all of it in a 51-45 win over St, Joseph in the Jambo semifinals on Sunday.
HACKENSACK – With two starters out of the lineup through injury and at the end of a tough week in which it lost twice, top-seed and two-time defending champion Don Bosco Prep looked like a sitting duck heading into the Bergen County Jamboree semifinal round.
Miles Ruth, the talented junior point guard, missed the losses to Bergen Catholic and Teaneck this past week and was in street clothes again when the lineups were announced at Rothman Center on the campus of Fairleigh Dickinson University of Sunday.
It is weird to say that Don Bosco Prep, the non-public power wearing the white uniforms signifying its status as the higher seed, was an underdog against No. 4 St. Joseph Regional, but that was the case.
"People doubted us because we have a lot of injuries. We have a lot of guys out right now, but we know that injuries are not an excuse," said Bosco senior Victor Konopka. "Nobody on this team is quitting, so people can doubt us all they want, but we are going to keep showing up and working hard in practice to rise to the top."
Looking back on it now, it was obviously silly to count out the Ironmen, who are coached by Kevin Diverio, who has won more Jambo titles (8) than any other coach in the tournament's 63-year history and Diverio's troops delivered another virtuoso performance. Don Bosco Prep advanced to the Jambo final with a 51-45 victory in which it trailed for only 39 seconds after halftime.
Konopka, the 6-foot-7 senior who will play at Army next season, went from back-to-the-basket, low post option, to the whatever-the-offense-needs-to-be-efficient guy in a revamped attack that successfully took the pressure off the rebuilt Bosco backcourt.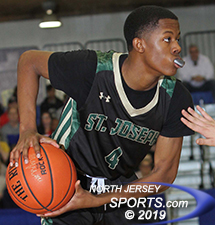 Dyree Rogers made four three-pointers and finished with a team-high 14 points for St. Joseph Regional.
Konopka helped the Ironmen beat the pressure by being a sure-handed safety valve in the middle of the floor, he was a handful in both the high and low pick-and-roll, he made two three-pointers, cashed in five of his six free throw attempts and crashed the boards at both ends of the floor. Konopka and Kyle Maurer each had 17 points to account for 34 of Bosco's 51-point total.
"We can use him in a variety of spots and we had to tonight. [Konopka] is up for anything we want to do and I thought he had the game of his life today," said Diverio. "I don't know how many points he scored, I have not looked yet, but the other things he did were more important."

St. Joseph came out firing with Nazir Williams scoring the game's first points, Dyree Rogers making a three-pointer to make it a 5-0 run to start the game and Rogers then scoring five points in 34 seconds midway through the opening period. When Rogers scored off an assist by Chris Manon with 3:19 left in the first quarter, the Green Knights moved in front 12-4 and it looked like the undermanned Ironmen might be in a heap of trouble.
Instead, Don Bosco Prep responded with an 8-0 run that ended with a tough fall away shot at the buzzer by Devan Sharma, who finished through contact. Although he missed the accompanying free throw, Sharma, who is soaking up the minutes as the starting point guard in Ruth's absence, got himself and his team settled into the game with 12-12 deadlock after the first quarter.
Mauer then hit the first of three second quarter Ironmen three-pointers to put his team in front for the first time at 15-12 and it would stay there for just about the rest of the game. SJR led for a grand total of 15 seconds in the second quarter at 19-17 after a Williams three from the wing. Bosco led 25-24 at halftime and then tried to pull right after the Knights took their lone lead of the second half. After Daniel Lans' gave SJR its lone lead of the second half on consecutive three-pointers that put the Knights ahead 31-30 with 3:59 left in the third quarter, Bosco answered with a 7-1 run and led 40-34 heading into the final period.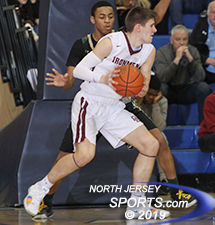 Kyle Mauer tied for game-high honors with 17 points for Don Bosco Prep, which will play rival Bergen Catholic in the Jambo final for the third straight year.
Bosco then scored three straight points on one-of-two trips to the free throw line to open the fourth quarter to go up 43-34 with 5:34 left in the game. From there, it was all about clock management. Lengthy possessions, even if they ended in dead-ball turnovers were acceptable and Sharma kept battling to keep his team in front.
"Devan Sharma does anything you ask, he would run through a wall for you and so would Pat O'Gorman. Those guys would do anything they can to win a game and they got it done for us," said Diverio. "We have been bitten by the injury bug a little bit, but this team has stuck together. They like playing with each other, they play for each other and when you do that you can accomplish anything."
Konopka drew three charges in the second half, two in the fourth quarter, to help Bosco get stops, but SJR still made it interesting. Rogers' pull-up three in transition followed by two free throws by Lans had the Knights within 45-44 with 2:47 to go, but Konopka's third-try putback and Sharma's two free throws extended the lead back to 49-44 with 1:10 left and, down four with 48 seconds left, SJR did not foul until there were only eight seconds left and McGlashan made both free throws to salt away the win.
Konopka, Maurer and McGlashan (8 points), a University of Denver commit, combined for 42 points. Isaiah Williams (5 points) provided Bosco's only bench scoring and Sharma had the other four points for the Ironmen. Rogers made four three-pointers and finished with a team-high 14 points and Lans, who scored all 11 of his points in the second half, also finished in double figures for St. Joseph, but it is Bosco that is moving on to play rival Bergen Catholic in the Jambo final for the third straight year on Friday night at the Rothman Center.
"It is always fun to play them. It is a great rivalry and it is a great display of skill by everybody that steps on the floor," said Konopka. "We are just going to come to work and try to come out on top."
FOR MORE PHOTOS FROM THIS EVENT PLEASE CLICK HERE. TO BUY A COLLECTOR'S PRINT OF THIS STORY PLEASE VISIT 4-FeetGrafix.com.