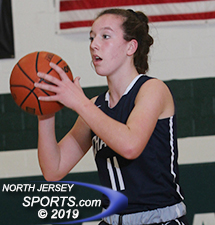 After missing a layup late in regulation, Shannon Donohoe made one off the offensive glass in overtime to give Chatham the lead for good in a 41-38 win over Pascack Valley in the Group 3 state semifinals on Wednesday night.
FRANKLIN LAKES – It was a layup. Not a contested layup, not a reverse, not a hurried opportunity with a hand in the face. It was a layup line kind of layup, a take-one-dribble-and-score-uncontested kind of layup and, in a tie game with less than five seconds to play in the fourth quarter, Chatham's Shannon Donohoe missed it. Because Pascack Valley still had time to go the length of the floor and get off a final shot in regulation, Donohue's miss could have been the mistake that ended the Cougars' historic season.
Instead, it was just the starting point in the story of a quick shot at redemption and Donohoe took full advantage of a second opportunity. With less than one minute left in overtime in Wednesday night's Group 3 state semifinal against Pascack Valley, Donohoe pulled a missed shot off the offensive glass and this time made the layup, a putback basket with 44 seconds left that finally put her team in front for good.
Chatham added two free throws and a late steal to clinch a 41-38 victory at Ramapo High School that sends the Cougars into the state final for the first time since it went back-to-back in 2009 and 2010.
"[Michaela Ford] gave me a really good pass and I missed the layup [at the end of regulation] and I was pretty disappointed, but my team picked me right up," said Donohoe. "I have such great teammates and they were telling me, 'You'll get the next one.' It was true because the next one I made and I owe it all to them because I would have been all in my own head if they hadn't talked to me to get me refocused."
Donohoe's four-minute roller coaster ride that ended on a high also ended the out-of-nowhere playoff run and a brilliant season for Pascack Valley, which was an afterthought at the start of the state tournament before bowing out just a couple of points short of the state final.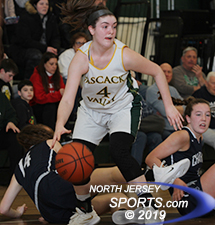 Pascack Valley senior Brianna Smith scored a game-high 19 points in her final high school game.
The subplot is well know by now as Pascack Valley, then the defending Group 3 state champion, was upset in last year's state sectional final by Northern Valley/Old Tappan and lost four starters who went on to play college hoops.
Has there ever been such an extensive rebuild in the 46 years under head coach Jeff Jasper, let alone one that leads to this kind of season?
"Yes, the very first team I ever had because I am the only [girls basketball] coach at this school. The very first team that was 2-13 was a total rebuild, but I have never had a team that has been a total rebuild since," said Jasper. "I went home after our first day of practice [this year] and my wife Lois asked me, 'How did it go?' I said this is the second worst practice that I have ever been a part of. The only one that was worse than this was the very first one I ever had."
With little in the way of playoff experience and with even less hoopla, the Indians set off on another thrilling postseason run that included Monday's state sectional title clinching win over Northern Highlands. The good times seemed over, however, when after trailing 21-15 at halftime, Pascack Valley gave up 7 of the first 9 points scored in the third quarter to fall behind by double digits.
The first of Maddie Hartnett's three third quarter three-pointers and Donohoe's runner in the lane gave Chatham what looked like an insurmountable 28-17 lead in a game in which points were hard to come by for either squad. The Cougars were still up 11 after Hartnett made threes on consecutive possessions before a Brianna Smith three-point play got Pascack Valley back to within 34-26 heading into the fourth quarter.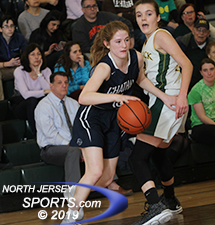 Maddie Hartnett scored a team-high 14 points for Chatham, which will play Mainland for the Group 3 state title in Saturday in Toms River.
Ford went 1-for-2 from the line 1:03 into the final period to put Chatham up by nine, but that was the last point that the Cougars could muster in regulation as they tried to control the clock only to wind up with too many possessions that did not end with shots at the basket. It took Pascack Valley nearly six minutes to catch up even though it did not allow a point over that time, but the Indians eventually were able to pull even.
Smith made a driving layup with 6:45 left, Sofia Battista scored inside with 5:51 to go, freshman Jules Vassallo, who got extensive minutes, made two nailed a three-pointer with 3:31 remaining to make it a two-point game and Battista then made two clutch free throws with 1:07 left to tie the game at 35.
Chatham held the ball out until there were 11 seconds left and then took a timeout where head coach Joe Gaba designed the perfect play, Ford's drive that drew the defense and the dish to Donohoe, who missed the bunny. Smith had the final shot of regulation, an on-the-move, contested 25-footer that was off the mark and Chatham quickly grabbed the lead right back on Ford's driving layup 25 seconds into overtime.
Pascack Valley scored the next three points, the last two on a pretty under-handed flip by Smith, to take the lead, 38-37, with 1:08 to play in the extra session, but the next time down the floor Donohoe got her redemption with the putback with 44 seconds remaining.
It took Pascack Valley 30 seconds to give away the fouls it needed to put Chatham on the line and Ford made both ends of the one-and-one with 14 second left to put the Cougars up by three. Pascack Valley never got off a final shot attempt as Hartnett made a steal and dribbled out the final few seconds on the Indians magical postseason run.
Smith, in her final game before heading off to Bloomsburg University, finished with a game-high 19 points. Battista (9 points) and Olivia Jones (4 points) were the other two PV starters to record points. Vassallo, the freshman, had 6 points off the bench and sophomore Ella Giambona did not score, but did make her mark defensively as she drew an offensive foul and made a steal during PV's spirited fourth quarter comeback.
"I feel bad that we did not win, but I feel great that this team grew up this way. They started as a little bean and then grew into this great beanstalk. As the season went, they just kept growing," said Jasper, whose team finished its season with a 22-9 record. "They are sensational. They so overachieved. They learned how to play together. The biggest thing for me is that they reached around and they lifted up the person next to them. That to me is the community of playing that game and the life lesson that grows out of this."
Hartnett (14 points) and Michaela Ford (11 points) each finished in double figures for Chatham. Donohoe and Tess Ford each added 6 points and Olivia Mathern's second quarter three-pointer rounded out the scoring for the Cougars, who got all of their points from their starting five and improved to 23-6 heading into the Group 3 state final where it will play Mainland on Saturday in Toms River, a trip down the shore that might as well be a family vacation.
"This team does everything together. I hate to sound like a cliché, but they are a family. They leave practice and go to the New Providence Starbucks to do homework together, on weekends they hangout and watch movies together. These 11 kids do everything together," said Gaba. "Our chemistry on the court and off the court is the same and I think it shows in crunch time. We don't get down on each other and we just pick each other up."
FOR MORE PHOTOS FROM THIS EVENT PLEASE CLICK HERE. TO BUY A COLLECTOR'S PRINT OF THIS STORY PLEASE VISIT 4-FeetGrafix.com.