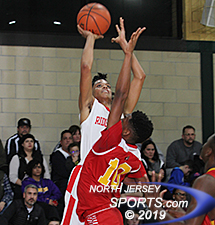 Romel Camilo scored a game-high 25 points for Ridgefield Park, which won its first ever county title in boys basketball with a 48-43 victory over Bergen Catholic in the Junior Jambo final on Saturday.
MONTVALE – The Ridgefield Park boys basketball program had a decision to make before this season started. The rule is that any freshman that played even one second on the varsity level is ineligible to play in the Bergen County Freshmen Basketball Tournament, the Junior Jambo which has grown into a marquee event on the local sports calendar. A couple of members of Ridgefield Park's talented freshman class could have helped on the higher levels, but Nico Velez knew what was possible if the group was kept together as one team.
"I told anyone who asked me how my team was before the season started, I said this is a special group," said Velez, a Ridgefield Park alum and the freshman coach. "I truly believed that if we kept them together that, at the end of the season, we would have a chance to win the whole freshman county tournament. People looked at me like I was crazy, but now you see why I was so confident."
Velez is a soothsayer. His team trailed by 12 points just past the midway point of the third quarter, but came storming all the way back to claim Ridgefield Park's first-ever outright county title at any level of boys basketball. The Scarlets, the No. 4 seed, beat No. 6 Bergen Catholic, 48-43, on Saturday night in front of a packed house at St. Joseph Regional in Montvale.
"We were down 10, but coach told us to keep our heads up. We couldn't start listening to what was happening in the crowd, we couldn't lose our focus, we just had to keep a positive vibe," said Romel Camilo, who is certainly one of those players that could have played meaningful varsity minutes for RP this season. "I was nervous. I have never played in front of this many people, but it was fun. Coach told us to stay focused and it worked."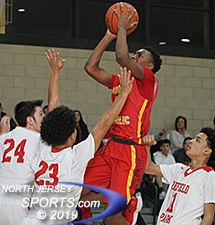 Chase Jackson finished with 7 points for Bergen Catholic, which was the No. 6 seed.
Bergen Catholic has a well-established championship pedigree at all levels. The Crusaders' varsity team won the Bergen County Jamboree on Friday night in impressive fashion and the freshman looked well on their way to doing the same. Chase Jackson hit a three-pointer with seven seconds left in the first half to give BC a 27-21 lead at the intermission and a 10-2 third quarter run put the Crusaders in control. Henry Belin scored five straight points during the spurt and Jackson's bucket with 2:48 left in the third quarter gave Bergen Catholic its largest lead of the game for either team at 37-25.
Camilo kept his team within reach with a personal 5-0 run to end the third period. He hit a three-pointer from just astride the top of the key and then put back his own missed shot to pull Ridgefield Park back to within 37-30 after the third quarter and the fun really started when Jalexin Pimental opened the fourth quarter scoring and Camilo flipped in a layup to make it a three-point game, 37-34, with 6:46 to go.
"It was crazy. Every time one of our shots went in you could feel the whole gym shake," said Ridgefield Park point guard Jose Muniz. "Our fans were so loud and that really kept us going."
Bergen got a three-pointer from Gianluca Phelan to double its lead with 6:30 to go, but the Scarlets were undaunted. Fredy DeLaCruz and Muniz got all the way to the basket for layups to bookend a BC free throw and DeLaCruz then hit the shot that changed everything, a three-pointer from the top of the key that gave Ridgefield Park the lead, its first since 16-15, at 42-41 with 2:30 left to play. Muniz made it a three-point game with a finger roll.
Jose Muniz hit this finger roll to help put the game away for Ridgefield Park, which finished with a 23-3 record.
Jackson kept BC in the game with a layup on which he was fouled, but a missed free throw left the Crusaders trailing by a point with 44 seconds left before Camilo made both ends of the one-and-one to bump RP's lead back up to 46-43 with 29 seconds left.
The end came on BC's next possession that ended in a travel and Camilo added another 2-for-2 trip to the line to seal what really might have been the biggest win in the history of Ridgefield Park boys basketball, or certainly since 2012 when the varsity team won the North 2, Group 2 state sectional title.
"In practice all we do is work on free throws and end-of-game situations, so we were prepared for anything down the stretch," said Camilo. "It's amazing. It's the first time in Ridgefield Park history and it feels really good."
Camilo led all scorers with 25 points. Muniz added 8 points, Tyler Colon finished with 6 and DeLaCruz scored all 5 of his points in the fourth quarter in which Ridgefield Park outscored BC 18-6 to win going away. Eric Wilson and Pimental split the other four points for the Scarlets, who finished their historic season with a 23-3 record. Belin finished with a team-high 15 for Bergen Catholic.
"Like I said, this is a special group and if you have Romel Camilo playing on this level than you always have a chance to win a game. He took over in the second half and the great thing about all of these guys is they never got rattled," said Velez. "We talked to them all season about how they were going to deal with adversity. We had the talk every day and when we broke the huddle down 10 the kids recognized the situation. They knew they were facing adversity and they went out there and defended the way they had to and gave themselves a chance to go out and win it at the end. They got it done and this was a great way to end it."
FOR MORE PHOTOS FROM THIS EVENT PLEASE CLICK HERE. TO BUY A COLLECTOR'S PRINT OF THIS STORY PLEASE VISIT 4-FeetGrafix.com.