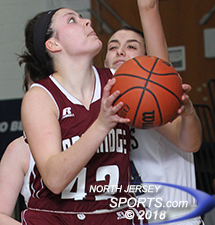 Park Ridge's Shannon Burns led all scorers with 10 points as the Owls, the No. 17 seed, went on the road and picked up a 34-29 win over No. 16 Indian Hills in the opening round of the Bergen County Tournament on Saturday in Oakland.
OAKLAND – In addition to playing a road game against a quality team, Park Ridge had to find a way to stay in the moment. If the Owls chose to look back, their performance might have been compromised by the memory of a 24-point loss to Cresskill on Thursday. If they looked too far ahead they might see top seed and three-time defending Bergen County Tournament champion Saddle River Day waiting in next weekend's Round of 16. Park Ridge needed to focus on just the 32 minutes it had to make its stay in this year's Bergen County Tournament a successful one.
"We had a tough loss on Thursday night against Cresskill and we talked to the girls about coming here and bouncing back. We preach playing really good defense, working together as a group and moving the basketball," said Park Ridge head coach Ryan Dennis. "We couldn't look back at the Cresskill game and we couldn't look ahead and that is what I love about these kids. They work hard, they stay focused and they really were intent on bouncing back here on the round in a county tournament game."
Park Ridge, the No. 17 seed, was methodical in its approach and fundamentally sound from start to finish. Lexie Vanderlieth's jumper from the baseline with 2:27 left in the first quarter gave the Owls their first lead and they never trailed the rest of the way in a 34-29 victory on the road over No. 16 Indian Hills. Because of the creation of Bergen County Invitational Tournament for this season, there were only two first-round play-in games with Hackensack and Rutherford playing the other.
With this win Park Ridge did itself plenty of good as it picked up a nice haul of power points as a Group 1 playing at a Group 3 and will exit the tournament with no worse than a 1-1 split. Plus, they will get to see one of the state's best teams and one of its all-time great players, Saddle River Day senior Michelle Sidor, in the Round of 16 next weekend.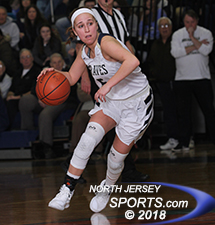 Savannah Aboyoun finished with 7 points for Indian Hills, which fell to 8-6 on the season.
"We are excited about that challenge. We got to play [Saddle River Day] my first year here and we were not a very good team. We were at a starting point of our development and we got to see where we stood," said Dennis. "I wanted to play them then and I want to play them now. I would love to play them every year because. I don't care how by how much we might lose by; I don't care where it is. I only think it is going to make us better. I think the challenge is always good for a Group 1 school. It's a great experience for our kids. They are going to see those [SRD] kids on TV one day and they will be able to say, 'Hey, I played against that girl."
To get there Park Ridge won the battle in the paint against Indian Hills. This was an old school contest with only three made three-pointers total between two teams that are most successful when making sure that the ball finds its way to the post on just about every possession. Indian Hills was slowed in that regard by the second foul picked up by junior center Calli O'Neal just 3:31 into the game and she sat for the rest of the first half. Meanwhile, the Park Ridge interior combination of Shannon Burns and Vanderleith, a pair of juniors, scored 13 of the Owls' 18 first half points as they held an 18-12 advantage at the intermission.
"Coming off a loss we were just so motivated and we knew that we had to play good defense, not turn the ball over and be able to rebound," said Chloe Collister, Park Ridge's senior point guard who did a good job of getting the Owls into their offensive sets. "We look inside and if nothing is there we pull it out and start again."
Indian Hills, which was coming off a victory over Pascack Valley on the Thursday, the first over the Indians in seven years, just could not get into an offensive groove. The Braves found themselves trailing 20-12, after Burns scored inside for the first points of the third quarter and Park Ridge was also up by 8, 30-22, when Collister went coast-to-coast for a layup to open the fourth quarter scoring.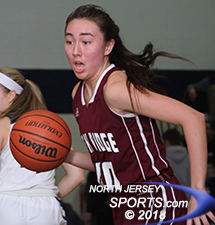 Lexie Vanderleith finished with 9 points for Park Ridge, which will play top-seeded and 3-time defending champion Saddle River Day in the Bergen County Tournament Round of 16 next week.
O'Neal scored inside with 4:48 to play to get Indian Hills to within 32-26 and the Braves were close to getting all the way back in the game. Two open looks at three-pointers on the same possession straddling the 3:00 mark were both off.
"It came down to our shooting. We probably took twice as many shots as them, but nothing would fall. I don't know what our shooting percentage was today, but we went from 59-percent on Thursday [against Pascack Valley] to probably not even half that today," said Indian Hills head coach Julie Haledjian. "You have to bring the energy all the time. Everybody in this county is playing three games a week so exhaustion is not an excuse. Our legs looked tired, fouls hurt us with Calli O'Neal and Kaela [Desiderio] going down [with a second half injury], but Park Ridge played well and our shots were not falling. That is on us."
When the Braves finally got a shot to fall with just under two minutes to play, they got themselves right back in the game. Savannah Aboyoun hit a three-pointer to give Indian Hills its first points of the game, but the Braves did not make another one until Kristina Rainey nailed one from the wing with 1:57 left to get her team back to within 32-29. When Park Ridge committed a rare turnover with 59 second left, Indian Hills got another open look from behind the arc, but could not connect and an Indian Hills turnover with 13 seconds left and still trailing by three pretty much sealed the win for Park Ridge. Collister made it official by sinking both ends of the 1-and-1 with seven seconds left.
Only one player for either team, Burns (10 points), finished in double figures. Vanderleith added 9, Collister, Kira Mitchell and Ella Madden all added 4 points and Maggie Meyer had the other 3 points for the Owls. O'Neal led Indian Hills with 8 points, Aboyoun had 7, Desiderio and Cipriani finished with 4 and Rachel Logatto and Rainey evenly split the other 6 points for the Braves.
"We go right back into the regular season. Old Tappan is right in front of us and our focus has to be there," said Haledjian, whose team is now 8-6 on the season. "We have to play well and that means passing and catching, the fundamentals of basketball, and if we play well everything else will fall into place."
Park Ridge will have to play more than well to keep itself in the game against Saddle River Day in the Round of 16 next weekend, but the Owls are not really obsessing about the result. They are going to go in there, give it their best shot and have some fun.
"It's a great opportunity and I think we will learn a lot about our team by playing them," said Meyer, one of two senior starters for Park Ridge. "Whatever happens, we will go in there and do our best and try to play as well as we can as a team."
FOR MORE PHOTOS FROM THIS EVENT PLEASE CLICK HERE. TO BUY A COLLECTOR'S PRINT OF THIS STORY PLEASE VISIT 4-FeetGrafix.com.