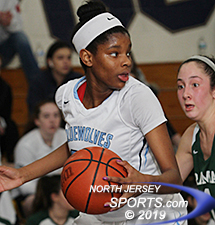 Elanor Robinson finished with 10 points for Immaculate Conception, which held off Ramapo, 44-38, in the Bergen County Tournament's Round of 16
OLD TAPPAN – Immaculate Conception is tough to get a read on because it does not play a traditional NJIC schedule and had played only one Bergen County team all season. Ramapo is also a tough team to gauge as it has one of the youngest starting lineups in all of North Jersey and is playing a schedule as tough as any public school in the area. Maybe Immaculate Conception was under-seeded when the No. 8 was placed next to its name and maybe Ramapo could have been something other than a No. 9.
Those kinds of debates happen every year in tournament basketball, but the result this time was a bonus to the impartial observer: a quality matchup in the Round of 16 in the Bergen County Tournament.
Immaculate Conception led just about the whole way, but Ramapo managed to pull into a tie twice in the fourth quarter, the second time with 2:51 to play in the game, before the Blue Wolves scored eight of the next 10 points down the stretch and pull out a 44-38 victory in the first of the eight games played on Saturday at Northern Valley/Old Tappan High School.
"We have been this way all season. At times we play really well and do some really great things and at times we just decide to go away from it. Why? We have no idea," said Immaculate Conception head coach Jeff Horohonich. "We had good ball movement early and we were doing what we needed to against [the Ramapo zone], but when we fatigued, when we got tired and didn't communicate all the time on defense and Ramapo hung right in there. But, a win is a win in the county tournament and we will take it."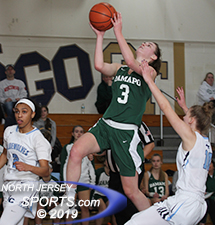 Sophomore Lauren Achter finished with 12 points to lead Ramapo.
With Ramapo using a lot of zone defensively and working for good shots on the offensive end, the Green Raiders were able to keep the game from becoming a track meet. They trailed just 6-5 after the first quarter and 18-13 at halftime with a rotation that includes two freshman, two sophomores, two juniors and a senior.
"I don't want to sell my kids short and tell them that they could not match up in man, but I know how athletic IC is and how good they are off the dribble. We can guard man, but I thought we could go to the zone and hope they weren't going to shoot particularly well," said Ramapo head coach Sandy Gordon. "They scored in bunches, but I knew my team was going to show up and compete. They always do and it came down to free throws and decisions down the stretch of a tight game."
It looked like the Blue Wolves had seized control for good right out of the locker room as Kelina Menard nailed a three-pointer for the first points of the second half and Rosie Sandford followed with a free throw to put IC up 22-13, but Ramapo, which never fell behind by double digits in the game, got a pull-up jumper from freshman Madison Schiller and two free throws from Olivia Webb to reel the Wolves back in. When IC went up by 9 again with 39 seconds to go in the third quarter on a foul line jumper by Elanor Robinson, Schiller responded with a jumper from the wing that pulled Ramapo back to within 30-23 heading into the fourth quarter.
Schiller's bucket also kicked off a 9-0 Ramapo run that continued into the fourth quarter. Julia Corella, Ramapo's other freshman guard, sandwiched two free throws and a fastbreak basket around a Schiller floater that made it 30-29 and Lauren Achter's free throw with 5:41 left in the game made it 30-30, the first tie since the score was 6-6 one minute into the second quarter. It was tied for the last time at 34-all when Ramapo sophomore Savannah Nowak canned a three-pointer from the wing with 2:51 to play, but Immaculate Conception kept its composure down the stretch.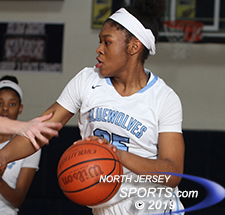 Jeriah Paterson finished with a game-high 13 points for Immaculate Conception, which will play top-seeded and defending champion Saddle River Day in the quarterfinal round next weekend.
Lauren Garofolo, who scored 7 of her nine points in the fourth quarter mostly by maintaining proper spacing while her teammates broke down the defense off the bounce, hit a baseline jumper with 2:39 to play that gave Immaculate Conception the lead for good. Garofolo added a decisive three-point play that took IC from up two to a 41-36 lead with 1:24 to go. Garofolo and Robinson combined to score 11 of the Wolves' 14 fourth quarter points.
"This season has just been so up and down for us; some good games, some bad games, but we wanted to put that all behind us and we came out here on a mission to win today. We did that and I am proud of my team," said Robinson. "Today I feel like our defense was good, our ball movement was good and we played all together as one unit today."
Paterson (13 points) and Robinson (10 points) each scored in double figures, while Garofolo and Menard, who made three of the Wolves' five three-pointers, each finished with 9 points for IC, which improved to 10-5 on the season. Next up is top-seeded and three-time defending champion Saddle River Day in the quarterfinals next weekend at Pascack Valley High School.
"We have nothing to lose. We will come up with a gameplan and try to figure out what might work best for us," said Horohonich. ""We'll give it our best shot. We know that [Saddle River Day] is very talented, but it is what it is."
What it is is the end of the road in the county tournament for Ramapo, but its brief appearance was productive nonetheless. Achter, who went hard to the basket all game long from her station at the foul line, finished with a team-high 12 points, Schiller added 8 and Nowak and Corella each added 7 points. Olivia Webb had the other four points and all five of those players will be back next season, four of them even beyond that.
"Our schedule has been ridiculous. Who will have played tougher schedule than us come state [tournament] time? Between our conference, the crossovers, playing IHA and now Immaculate Conception, no one has played a tougher one and it is only going to make us better," said Gordon, whose team is now 9-6 on the season. "We have young kids learning on the fly and you can see the improvement. They are starting to play like seasoned veterans."
FOR MORE PHOTOS FROM THIS EVENT PLEASE CLICK HERE. TO BUY A COLLECTOR'S PRINT OF THIS STORY PLEASE VISIT 4-FeetGrafix.com.