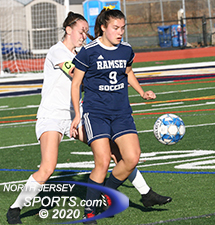 Alexis Barrow got Ramsey on the board after halftime and the Rams rolled to a 4-0 victory over Mahwa in the North East C sectional semifinal on Friday afternoon.
RAMSEY – Just because the result was not as desired does not mean that the process is wrong. Locked in a scoreless battle with Mahwah, it is a message Ramsey head coach Drew Strohmeyer preached to his players at halftime.
Fortunately for the Rams they had another half to get on the scoreboard, and in turn, move them one step closer to their goal of being section champions once again.
Lexi Barrow opened the scoring and Kimmy Creegan closed it out with two late goals as top-seeded Ramsey moved into the North East C section final with a 4-0 semifinal win over fourth-seeded Mahwah on Friday afternoon in Ramsey.
"Our conditioning and persistence really contributed to us playing so well in the second half," said Barrow.
Ramsey is a team that loves to push forward out of the back and was effective getting into the attacking third. The first goal proved to be elusive as nearly all of the Rams' shots in the first half were off-target and the Thunderbirds were able to get their way to halftime without conceding a goal.
"Mahwah is a strong team defensively and they're always a tough opponent," said Ramsey's junior standout Helene Tyburczy. "We knew we had to come out stronger in the second half. We didn't want this to be our last game together. We're just so thankful for the administration for being able to keep athletics open after the shutdown we had recently."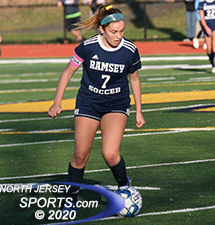 Kim Creegan scored twice in the final 13 minutes for Ramsey, which will play Lyndhurst for section title.
After being more direct in their attack during the first 40 minutes the Rams used the entire width of the field to create easier passing lanes and it proved to be effective. On a deflected cross from the wing with a defender right on her hip Barrow got to the ball first. She hit it first-time and it was a perfect strike that bent over the outstretched hands of Mahwah keeper Micaela Tracey (11 saves) and dipped under the crossbar in the 54th minute to give the Rams a 1-0 lead.
They added to it six minutes later off of a corner kick. Tracey attempted to punch the ball away but it hit off of a sea of players in front and right to Tyburczy, who volleyed it home to give the Rams some breathing room. Creegan, a senior captain, provided the knockout blow with two goals over the final 13 minutes, the latter of which she cut back along the top corner of the box to elude a defender before blasting a left-footed shot inside the right post.
"We made some little adjustments for the second half and our intensity picked up," said Creegan. "Instead of just bombing it up the field like we did more often in the first half we started connecting passes better and using the whole field. This was an opportunity we had to take advantage of. Especially during these times we don't take anything for granted."
Emily Peters made four saves in net for her third consecutive shutout for Ramsey (9-1). The Rams will gun for their third straight section title on Sunday when they face off against third-seeded Lyndhurst, a 1-0 winner over No. 2 seed Pascack Hills in the other semifinal. After getting shut down for two weeks prior to the state tournament, the Rams did not know if they would even get the opportunity to play for a section title.
Now with the opportunity directly in front of them, Ramsey's nine seniors want to go out as champions.
"We really click together as a team and we have great chemistry on and off the field," said Barrow. "The intensity we had in the second half we have to come out with the same intensity for a full game. It's going to be a tough team on Sunday, but we're going stay calm and play our game. It's all about us working together as a team, playing relaxed and coming out with a 'W'."
FOR MORE PHOTOS FROM THIS EVENT CLICK HERE. TO BUY A COLLECTOR'S PRINT OF THIS STORY PLEASE VISIT 4-FeetGrafix.com.