Freshman Lia Cruz scored her first-ever hat trick to lead No. 11 North Arlington to a 4-2 wpset of Saddle Brook on Monday in the opening round of the North East A state playoffs.
SADDLE BROOK – The fall season in 2020 has been more difficult to navigate for both coaches and players than any high school season in the history of New Jersey high school sports.
Making adjustments and handling tough situations on the fly has become the norm. Like any other coach in the state, North Arlington head coach Mike Vivino knows that all too well. So when his team allowed a late first-half goal against Saddle Brook to tie game he saw his halftime speech as a teaching moment and a chance to switch things to give his team the best chance to succeed.
"We reminded ourselves at halftime what a crazy year this has been for everyone involved, we have to get back to playing to our strengths and shore up our weaknesses," said Vivino. "Challenges don't mean it's a dead end. You just have to tweak some things to find a solution. Our midfield was more composed in the second half and Lia [Cruz] did a great job of being a threat up top."
Moving Cruz, a freshman, out of her usual center midfield slot and into a striker role quickly paid dividends. She netted a pair of second-half goals to notch her first career hat trick, lifting 11th-seeded North Arlington to a 4-2 upset over No. 6 seed Saddle Brook.
Saddle Brook put the pressure on throughout the first half. They had numerous scoring opportunities but were turned away each time by Vikings' athletic senior goalie Ashleigh Chaing. North Arlington had only one true scoring chance in the first half but made it count. Fellow freshman Daliana Rojas won a ball along the left flank and centered a cross for Cruz. She settled the ball then tucked a 25-yard blast into the side netting put the Vikings ahead, 1-0.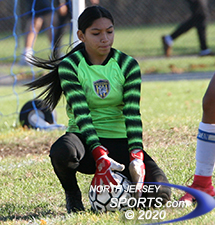 Yanci Zea had six saves for Saddle Brook, which finished the season with a 10-3 record.
The Falcons kept on the attack and broke through in the 37th minute. Anna Memija had a fantastic individual effort to squeeze between two defenders then volley a shot past Chaing and inside the far post for the equalizer.
The Vikings caught a break when a long shot from North Arlington captain Jordyn Nelson slipped through the fingertips of the Saddle Brook keeper and rolled over the goal line that put the Vikings back in front before getting a big boost from an unlikely source. With Chiang having to come out of the game for a moment junior Kelly Perreira (normally a marking back or in the midfield) had to take over in net. The Falcons saw this as a golden opportunity to get back on track but Perreira was up to the task. She made a pair of big saves to preserve the lead.
Two minutes later, Cruz cleaned up a rebound in front to make it a 3-1 lead. The freshman was a nightmare for the Falcons' back line throughout the second half and was dangerous every time she touched the ball. She finished off the hat trick with another pinpoint shot from the top of the box.
"I just tried my best to get to the ball first, get my shot off, and get it on net whenever I could," said Cruz. 
Chaing finished with eight saves for North Arlington (6-5).
Dakota Valverde scored Saddle Brook's other goal for and Yanci Zea had six saves for the Falcons, who finished the season with a 10-3 record.
The win was an exhilarating one for North Arlington. After losing by a combined score of 14-3 in two games against Saddle Brook last year and losing by a combined score of 18-1 in their last two state tournament games, the Vikings are relishing the fact that the hard work they put in throughout the season is finally paying off. They advance to the North East A section quarterfinals where they travel to face third-seeded Emerson.
Playing with house money, the Vikings are excited to see just how far they can go.
"We're very excited that we beat Saddle Brook, a team we haven't beaten in a while and we get to keep playing," said Nelson. "I thought everyone stepped it up today. We're a young team but we have a lot of weapons offensively. When we play together we feel confident that we can play with anyone."
FOR MORE PHOTOS FROM THIS EVENT CLICK HERE. TO BUY A COLLECTOR'S PRINT OF THIS STORY PLEASE VISIT 4-FeetGrafix.com.