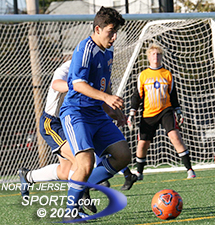 Alejandro Pena scored the first of three goals in a 10 minute span of the first half for Lodi, which improved to 3-1 on the season with a 4-0 win over previously unbeaten Eastern Christian on Friday.
LODI – Finding a collection of talented players has never been the issue for Lodi, but the chemistry and the ability to put the ball in the back of the net has been a thorn in the Rams' side for a few years now.
That has not been the case this season under first-year head coach Mark Fritsch. With a new wide-open style, the Rams have pulverized defenses to the tune of 11 goals over their first three games. Facing an Eastern Christian team that had not allowed a goal through its first four games, the Rams made it a point to prove their scoring woes of the past are well in the rear-view mirror.
They did just that with an offensive flurry late in the first half. Alejandro Pena, Christopher Vasquez, and Zein Hassan scored in a 10-minute span late in the first half as Lodi was in control from whistle to whistle in a 4-0 victory over previously unbeaten Eastern Christian on Friday afternoon at Kennedy Park in Lodi.
"Eastern Christian didn't allow a goal and we put four in today, pretty impressive what we can do when we play together and play our game," said Fritsch. "I have faith in our team because of our speed and our depth. When we started to play the ball out wide that's when we started being successful. Every game is our biggest game of the year. One game at a time, one job at a time."
Through the first 15 minutes, the defenses were dominant as neither team could muster up much offensively. As the game wore on, the Rams began to spread out and play the ball wide to use their speed to their advantage.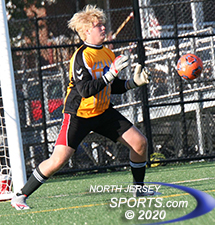 Daniel Buckles had a busy day in net for Eastern Christian (3-1-1), which lost for the first time this season.
Eastern Christian's Evan Hopeck worked a give-and-go with Ben Visbeen with Hopeck getting off a shot from the top of the box. Lodi netminder Samir Mumenka dove to his right to make the save. It was the Eagles' only true scoring opportunity of the match with Lodi's Bryan Ramirez anchoring the back line by consistently winning balls in the back, both in the air and on the ground.
Using the entire field paid dividends for Lodi on a counterattack. Hassan played the ball into space that Pena ran down. He then attacked the net and used a nasty stepover to deke the defender and create a one-on-one opportunity with Eastern Christian keeper Daniel Buckles. There was not much Buckles could do as Pena ripped a shot that grazed the left post and went in to give Lodi a 1-0 lead.
Vasquez was in control of the midfield throughout the match by facilitating the attack and setting up his teammates for scoring opportunities. But when an scoring chance for the heady senior captain came to his feet he knew exactly what to do. As a failed clearing attempt rolled to her feet from 35 yards out, he one-timed a shot that bent over the outstretched arms of Buckles and dipped just under the crossbar for a two-goal advantage. Three minutes later, Hassan created enough space at the top corner of the box and laced a shot into the lower left-hand corner to put the Rams firmly in control by halftime, 3-0.
"I saw the goalie off his line a bit so I tried to hit it with accuracy and it went where I wanted it to go," said Vasquez on his goal. "When we opened up the field it gave us more space and more options offensively."
Juan Perez found the back of the net midway through the second half to cap the scoring for Lodi (3-1). Thomas Vartalone and Mateo Angosto Ventura also had assists. Mumenka made four saves for his second consecutive shutout.
Buckles finished with nine saves for Eastern Christian (3-1-1). The Eagles have a tough week coming up with Pompton Lakes and Glen Rock with first place in the NJIC-Division 3 standings on the line.
Lodi will try to carry over its three-game winning streak over the next ten days. They face Manchester Regional before taking on Elmwood Park and Garfield, who are currently tied atop NJIC-Division 6 with the Rams just a game behind. Now that they are clicking on all cylinders, this experienced squad feels their best soccer is still ahead of them.
"As long as everyone played their position well and won their 50/50 balls then we feel confident that we'll play well," said Hassan. "We dug deep today and played our best game so far. But we have to keep pushing now in practice to get even better and push ourselves when we get tired. If we keep this form for the rest of the season we feel like we can contend for a league title."
FOR MORE PHOTOS FROM THIS EVENT CLICK HERE. TO BUY A COLLECTOR'S PRINT OF THIS STORY PLEASE VISIT 4-FeetGrafix.com.