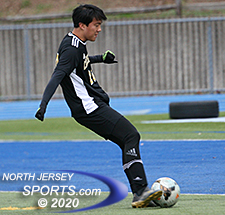 Jacob Lee scored twice for Cresskill, which advanced to the North East A semifinals with a 4-0 win in Ridgefield.
RIDGEFIELD – On paper, the decision was a difficult one for Cresskill head coach Tim Serbe. Having fought hard to get a high seed and thus home-field advantage, the Cougars earned the No. 4 seed, which meant a home game in the quarterfinal round of the North East A state sectional tournament. But when the brackets came out and they were on the same side as rival, top seed and defending champion Waldwick, Serbe knew what he had to do.
Facing a Ridgefield team that plays on a big turf field (exactly like Waldwick does) he elected to play the game on the road to get his team some experience on the fast surface if they were fortunate enough to move on. After losing to Waldwick in the North 1, Group 1 section final last year and splitting with the Warriors in the regular season, Cresskill showed that it is ready for the challenge.
Jacob Lee scored twice and Robert Boiardi also found the back of the net in a dominant first half as fourth-seeded Cresskill cruised to a 4-0 triumph over No. 12 seed Ridgefield on Tuesday at Willis Field in Ridgefield.
"Knowing we may have Waldwick next we knew playing on the turf again would help us prepare for them better," said Serbe. "Coming into this game we had only played on turf three times all season. So I wanted us to get more used to playing wide and using space instead of having to grind out games as you have to do sometimes when playing on a grass field."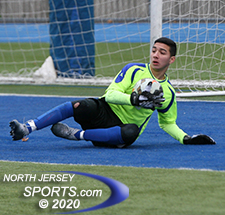 Mohammed Zubi made 15 saves for Ridgefield, which finished the season with a 7-10 record.
Ridgefield came in confident fresh off of an upset in overtime over fifth-seeded Weehawken. They had a quality scoring chance in the game's opening moments but from there it was all Cresskill. The Cougars played the ball wide and attacked the gaps to consistently beat the Royals' offsides trap.
Haesung On and Jean Paul Solano dominated the midfield and kept the Ridgefield back line on its heels the whole game. The Cougars broke through in the 13th minute when Solano slid a ball through to Lee. The striker walked in alone up the left flank and slid a shot past Ridgefield keeper Mohammed Zubi to take the lead. Solano and Lee teamed up again for the second goal before Boiardi got in the act by finding the back of the net with less than five minutes remaining in the half to put the Cougars in complete control by halftime, 3-0.
"Coming off of a loss against Waldwick we wanted to come out and set a tone," said On. "It was a wake-up call for us. Our goal is to win a league title and win a section title. Today we got into a flow of the game quickly. Our guys knew what to do and we attacked the gaps when the opportunity presented itself."
Ethan Martin tallied a second-half goal to cap the scoring for Cresskill (9-1). Speedster Brandon Tilp was solid in the back and goalie Christopher Raymond made five saves to earn his fifth shutout of the season.
Zubi finished with 15 saves for Ridgefield (7-10).
The Cougars now will play Waldwick for the third time in 11 days on Thursday. Only this time there will be much more at stake for the two senior-laden squads, an opportunity to keep their seasons alive and a berth in the North East A section final.
"We just have to stay focused, keep it simple and play our game," said Lee. "We've beaten them once and we know we can do it again."
FOR MORE PHOTOS FROM THIS EVENT CLICK HERE. TO BUY A COLLECTOR'S PRINT OF THIS STORY PLEASE VISIT 4-FeetGrafix.com.