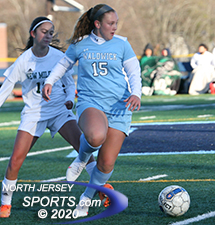 Freshman Ava Incorvaia erased an early deficit and Waldwick went on to a 3-1 win over New Milford in the state sectional quarterfinals on Wednesday afternoon.
WALDWICK – In a season that has been less than ideal, Waldwick was dealt its biggest scheduling challenge as it headed into the state tournament.
Having not practiced in a week, the Warriors were hoping to ease their way into a flow in the opening minutes of their North East A section quarterfinal against New Milford. That plan quickly went awry when Waldwick conceded a goal on the first shot of the game. It turned out to be the wake-up call that was needed.
Freshman Ava Incorvaia tied the game in the 9th minute and junior Julie Baker scored on a penalty kick a minute later as fourth-seeded Waldwick advanced to the section semifinals with a 3-1 triumph over fifth-seeded New Milford on Wednesday at Waldwick High School.
"I think we all realized after that first goal that this was the state tournament, we were in a battle and we responded well," said Incorvaia. "We just had to play our game and get the ball on the wings where we have a lot of speed. As a forward I just have to get in the box in a position where I can score."
Less than three minutes in, New Milford (12-3) grabbed the lead when Abby Petrolla converted a feed from Emily Akguc. With their season on the line, Waldwick got back in the game by getting the ball to their best playmaker. Hanao Nakamoto is the latest sibling in her family to be an impact player in a Warrior uniform. The sophomore outside midfielder was the best player on the field throughout and her pace helped create the first goal. She sent a ball up to Sage Rizzi then got it back before hitting cross first-time towards the top of the box. With a defender on her back Incorvaia was able to bring the ball down, keep the defender on her hip and slide a shot underneath New Milford goalie Mary Seriani to knot the score a 1.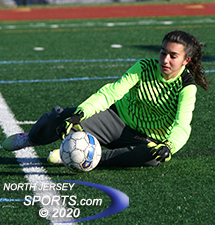 Mary Seriani making a save for New Milford, which finished its season with a 12-3 record.
The Knights received a tough break just over a minute later. On Nakamoto's next touch she broke loose on a run into the box and was given a questionable foul call near the top corner of the box and awarded a penalty kick. Baker stepped to take the kick and drilled it into the lower left-hand corner to put Waldwick ahead, 2-1, in the 10th minute.
"I always have a spot in my mind when I'm going to take a penalty kick," said Baker. "I just took a look at the goalie to see how she was leaning, looked back down and just hit it."
Behind the stellar play of Nakamoto the Warriors had numerous chances to increase their lead. Seriani stood on her head for the remainder of the half, making a pair of one-handed saves to keep the Knights within striking distance going into the second half.
The score was still 2-1 when New Milford had two chances to tie the game from long-range on shots by Emma and Abby Petrolla. But both were right at Waldwick goalie Emma Timochko before another Nakamoto helped provide the knockout blow. She ran down a long ball in the corner before sending a low cross along the six-yard box. Jill Zuzeck was at the back post to knock it home in the 64th minute for the final 3-1 margin.
Hanao Nakamoto and Waldwick will play top-seeded Glen Ridge in the semifinals on Friday.
"Waldwick is more athletic than we were and they seemed to be first to every ball, that always makes a difference," said New Milford first-year head coach Courtney Snyder, a former standout at both River Dell and then at Monmouth University. "We came out of the gate hard and got the first goal but we couldn't keep the momentum. It forced to play more kick-and-run instead of possessing the ball and building an attack.
Waldwick (9-2-1) advanced to the North East A semifinals on Friday. They will travel to take on top-seeded Glen Ridge. The Ridgers have been the most consistent small-school force in New Jersey with eight straight section titles. Having lived up their seed and with nothing to lose the Warriors are excited about the opportunity to end that streak.
"We're excited to go play Glen Ridge and we feel we have a good chance if we can play a full 80 minutes and we want to get this one for coach (Tommy Schultz)" said Incorvaia.
FOR MORE PHOTOS FROM THIS EVENT CLICK HERE. TO BUY A COLLECTOR'S PRINT OF THIS STORY PLEASE VISIT 4-FeetGrafix.com.