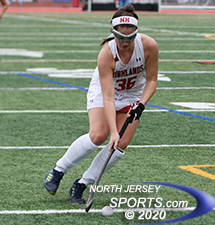 Julia Salerno scored twice for Northern Highlands, which improved to 5-0-1 with a 6-0 win over NV/Old Tappan.
ALLENDALE – With the program's all-time leading scorer having graduated, a first-year head coach not all that far removed from her college playing days, and, oh yeah, a pandemic that has reeked havoc on the high school sports landscape as well as the rest of the world, it would have been understandable for the Northern Highlands' field hockey program to step back after decades of success. Jordan Paton, the new head coach and former NH standout under previous head coach Rich Smith, saw things differently.
She saw the senior leadership and the togetherness of her squad as catalysts to a special season. Not just special in terms of merely getting the chance to take the field but to become one of the best field hockey teams ever to wear a Northern Highlands uniform.
Julia Salerno and Kaiden Canariato each scored twice with Shannon Flatt and Molly Bennett pacing a stout defensive effort as Northern Highlands did not allow shot on net and took control early in a 6-0 win over Northern Valley/Old Tappan on Wednesday in Allendale.
"Coming into this season we have a different perspective and we don't take anything for granted," said Salerno. "We're aware that this could all end at any time. So every rep in practice and every game we give it everything we have. We get hyped for every game and it's important to set the tempo. The biggest things on our team are communication and spacing, which we did well today."
Strong starts have been a strength of the Highlanders so far this season with this game being no different. Northern Valley/Old Tappan goaltender Kara Silverman made a bevy of nice saves throughout the game's opening minutes. That did not slow down the Highlanders as they kept knocking on the door before finally breaking through. 
Senior Maggie Batenhorst centered a pass through traffic for Salerno. Her initial shot was stopped but Salerno collected the rebound and tucked it home to put Northern Highlands in front. Batenhorst, the team's leading scorer, then got in the act on a well-played set piece. Canariato sent a pass into the box that Batenhorst one-timed into the back of the cage for her ninth goal of the season and the 50th of her career. Canariato, a junior, finished off an impressive first period by scoring on a scramble in front to give the Highlanders a commanding three-goal lead.
"For us seniors, most of us have been playing together for three years so we know where we're supposed to be," said Batenhorst. "That trust is really important and we're really good at cheering each other on so that everybody is involved."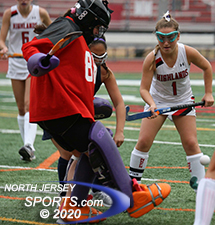 Kara Silverman made nine saves for Northern Valley/Old Tappan (2-5).
The torrid pace they set from the opening whistle continued in the second quarter. Salerno scored the lone goal of the period on a fantastic individual effort. She carried the ball up the right flank before cutting across the goal line. The senior then made a nifty move to touch the ball around a defender and send a reverse-stick shot past Silverman as Northern Highlands grabbed a 4-0 halftime lead.
In the third quarter, Canariato added another goal for her first multi-goal game. Another first happened minutes later when sophomore Lauren Flatt scored on a rebound for her first varsity goal to cap the scoring.
"I think this is the group to take us to the next level," added Batenhorst. "We have a new coach, a different system with new corners, and we've worked really hard to get to this point. It helps that we're all friends on and off the team so we have that motivation to go as far as we possibly can."
Amidst the scoring outburst was the stellar play of the both the midfield and the back line. Led by Flatt, Bennett, and fellow senior Nicole Garibaldi they moved the ball well throughout the game and helped facilitate the vaunted attack for Northern Highlands (5-0-1). Bennett and Kiki Riley also had assists. Remarkably, it was the fourth time in six games this season that the Highlanders did not allow a shot on net.
Silverman made nine saves for Northern Valley/Old Tappan (2-5). The Golden Knights will look to bounce back against a tough Westwood squad on Friday.
With no Bergen County Tournament this season the de facto county championship for the Highlanders will come in a showdown with archrival Ramsey on October 31st. The two teams tied, 1-1, in their first meeting and are the only blemishes on each other's ledger. With the season now in full swing the Highlanders reaching their potential earlier than expected the challenge is now to raise their already lofty level of play to new heights.
"This season has been a total team effort and we want to be as strong of a team as we've been in the past, if not stronger," said Paton, who was an All-County forward before playing and graduating from The College of New Jersey. "We're so proud of this team and how hard they work every day. The intensity they bring every single day is something we have not seen before. Everybody contributes in some way every day. The difference maker is that we practice at game speed every day and that's translating to the success we're seeing on the field."
FOR MORE PHOTOS FROM THIS EVENT CLICK HERE. TO BUY A COLLECTOR'S PRINT OF THIS STORY PLEASE VISIT 4-FeetGrafix.com.