Liana Nativo set up her team's first goal and scored its second as Pompton Lakes snapped a two-game losing streak with a 3-2 win on the road in Saddle Brook.
SADDLE BROOK – After suffering two straight losses and with time winding down in a deadlock with Saddle Brook something needed to happen for Pompton Lakes to get its season back on track.
Amidst the darkness late in the NJIC crossover game at Saddle Brook High School with overtime not an option, the Cardinals looked to the shining light of the program over the past four years and she delivered.
Senior tri-captain Cristina Miller scored from a tough angle with 54 seconds remaining to give Pompton Lakes a hard-fought 3-2 victory over Saddle Brook on Monday afternoon.
"I thought we played tighter and there was more communication in the second half and that is what sparked our comeback," said Pompton Lakes' head coach Tom Clarke. "We felt like if we kept possession and kept grinding that we could create our own luck in a way."
The Cardinals got off to a good start with a goal in the 4th minute. Liana Nativo lofted a shot from the right flank that drifted and hit off the far post. Samantha Dakake was right there as the deflection off the post bounced off of her and rolled in to put them ahead, 1-0.
They appeared to be in control of the match but it took just 88 seconds for that to change. Anna Memija hit a perfect shot into the upper left-hand corner from the top of the box to tie the game. Then senior center midfielder Mia Lopez slid a ball into space to give a breakaway chance for Isabella Sarra. Her shot was saved but she was there to knock the rebound into an open net, giving Saddle Brook a 2-1 lead. The Falcons nearly added a third goal a minute later when a Lopez banged off the crossbar and the Cardinals escaped the first half down a goal.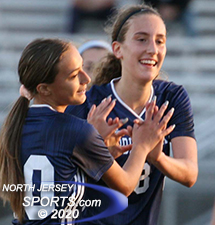 Anna Memija's goal got Saddle Brook even at 1.
Pompton Lakes came out more organized in the back to start the second half and that allowed it to eventually regain control in the midfield through another of the Cardinals' senior captains, Diana Zuta. Midway through the half the Cardinals netted the equalizer when Nativo used her left foot to chip a shot through traffic in front and into the net to tie the game at 2.
With no lights at the home field of Saddle Brook darkness became a factor. It became apparent in the final minutes of regulation that there would be no overtime. It was weighing on  Miller's mind knowing that if she got an opportunity with the ball at her feet that she needed to be in attack mode. Nativo carried the ball over midfield and played the ball down the left flank where Miller ran it down. The senior striker cut across the goal line to create just enough to fire off a ripping volley that went underneath the crossbar with 54 seconds left for the game-winner.
"It was the final burst of energy that we had and I knew I had to put the ball in the net," said Miller. "It was frustrating at times during the game because we were playing well but still down a goal and it's always a scrappy game when you play on a grass field. But we kept pushing and kept finding a way. It's been a bumpy road lately but I think will get us going again and get us ready for a run in the states."
The goal was the tenth of the year for Miller. She now has at least 10 goals in all four of her varsity campaigns for Pompton Lakes (7-3).
After ripping off 10 straight wins to start the season Saddle Brook (10-2) has now lost two straight. It will look to regroup before taking on North Arlington in the first round of the state tournament next week.
The Cardinals are also is looking ahead to state tournament play where they are the No. 4 seed in the North West A section. Now back to their winning ways they hope to make a deep run.
"Good teams make adjustments and find ways to win," added Clarke. "Certain players stepped up and made plays to carry their team. Liana's goal to tie it with her weak foot and Miller creating enough space in the box and finding a way to hit one in the box was exactly what we needed to make it out of here with a win."
FOR MORE PHOTOS FROM THIS EVENT CLICK HERE. TO BUY A COLLECTOR'S PRINT OF THIS STORY PLEASE VISIT 4-FeetGrafix.com.