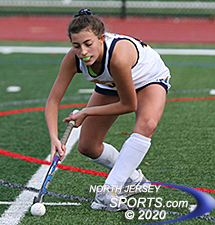 Molly Henry scored a pair of goals for Ramsey, which advanced in the North East A state sectional tournament with a 6-0 win over Mt. St. Dominic on Friday.
RAMSEY – After a roller coaster season, Ramsey's field hockey seniors know their time playing together will soon come to an end. The joy they get from practicing and playing games and merely being around one another is what they cherish knowing that each time they put on a Rams' uniform could be their last. With the state tournament finally upon them, those seniors have banded together to try and prolong the season for as long as possible.
Astrid Corcoran busted out with her first career hat trick, Molly Henry added a pair of goals and Claire Corriston capped the scoring as seniors combined for all of the goals as fourth-seeded Ramsey used a late second-quarter surge to pull away from No. 13 seed Mount St. Dominic for a 6-0 victory in the first round of the North East A state section tournament on Friday afternoon in Ramsey.
"We were actually threatened with a shutdown this week, so we are taking every opportunity to enjoy these last few games together as a team," said Corcoran.
After a slow start, Ramsey started to pick up the tempo late in the first quarter. Led by midfielders Libby Solleder and Janey Ratto, the Rams methodically moved through the Lions' back line to what seemed like an endless array of corners. While they often produced quality scoring chances, Mount St. Dominic goalie Isabella Lacapra was up to the task. She single-handedly kept the Lions in the game. But the Rams kept their attack coming in waves before finally breaking through. Once that door was open there was no closing it.
Astrid Corcoran scored her first career hat trick for Ramsey, which will play rival Northern Highlands in the next round.
Off of a corner, a long shot from Corcoran made its way through traffic in front and past a screen Lacapra to get Ramsey on the scoreboard. On the Rams' next corner, it was Henry redirecting a Corriston shot into the back of the cage for a two-goal lead. Corcoran added another goal from nearly the identical spot as her first goal as Ramsey scored three times in a 2:37 span to grab a 3-0 halftime lead.
"We did a good job of keeping our heads up even when we weren't scoring and kept pushing towards the cage until we got one in," added Corcoran.
The ten-minute intermission did little to slow down the Rams' onslaught. Less than a minute into the third quarter Henry netted her second goal. Corcoran, who had just two goals in her career coming into the game, surpassed than in less than three quarters slamming home her third goal of the game before Corriston capped the scoring.
It was the tenth straight game in which Corriston scored for Ramsey (8-1-2). Lacapra finished with 18 saves for Mount St. Dominic (2-10).
Although there was no Bergen County Tournament this season the de facto Bergen County final will happen when Ramsey plays on its home field one last time against fifth-seeded Northern Highlands, a 2-0 winner on Friday over Montclair Kimberley Academy, in the North East A quarterfinals. The teams played earlier in the season to a 1-1 tie. This time there will be no tie with the winner keeping their season alive and the loser seeing their season come to an end at the hands of their rival.
"Northern Highlands is always a very talented team and it's a great test for us," said Ratto. "We take every day as it goes and we try to have as much fun as we can because every day could be our last one together. If we keep our heads up and play as a team it's going to be a really fun game." 
FOR MORE PHOTOS FROM THIS EVENT CLICK HERE. TO BUY A COLLECTOR'S PRINT OF THIS STORY PLEASE VISIT 4-FeetGrafix.com.