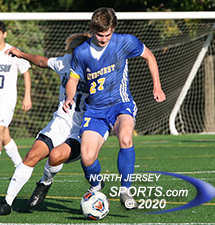 Thomas Zurkowski, a four-year starter, assisted on the lone goal of the game in Lyndhurst's 1-0 win over Harrison that gave the Golden Bears sole possession of first place in the NJIC's Division 1.
LYNDHURST – Over the past decade, Lyndhurst has been consistently in the upper echelon of the NJIC-Division 1, formerly the NJIC-Liberty Division, but winning a league title seemed was a tall order due to the presence of perennial state power Harrison being in the same division.
Showing that this is a crazy year by any and all standards, Harrison's upset loss to North Arlington on Tuesday left the Golden Bears alone atop the division and on Wednesday the two teams met with sole possession of first place on the line. For the first time in seemingly forever, it was Lyndhurst that had an edge in terms of experience and it was Harrison that took the field with a youthful look. That experience led to a savvy play on the most important one of the game.
Late in the first half, Lyndhurst four-year starter Thomas Zurkowski noticed an opening and took a chance. After getting fouled near midfield, he took a quick restart before the defense could get set. He played a perfect ball to speedster Enrique Mutsoli, who scored on a breakaway in the 35th minute. Zurkowski moved back to sweeper for the second half and fellow senior Jake McCann was rock solid in net as Lyndhurst created some distance in the NJIC-Division 1 league standings with a 1-0 triumph at the Lyndhurst Recreation Center.
"We've put in a lot of hard work and we're seeing that pay off," said Mutsoli. "Our coaches preparing us in the preseason, all the captain's practices that makes a difference. Our team has a lot hustle, a lot of determination and fight."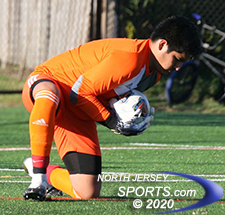 Harrison keeper Bryan Yllescas made a brilliant stop just 40 seconds into the match.
The first half featured a flurry of activity with both teams having legitimate scoring chances in the game's opening minutes. Lyndhurst nearly scored less than a minute in when Harrison keeper Bryan Yllescas made a diving stop on Yura Kanyuk's shot just 40 seconds into the match. Harrison had the better of play over the next 20 minutes with four scoring chances from inside 20 yards. Two of them were headers in the box that went over the crossbar and the other two were stopped by McCann.
The Golden Bears survived that stretch and started to settle in later in the half before one restart changed the entire complexion of the game.
Zurkowski made a heads-up play when he saw the Harrison marking backs walking back with their heads down after a foul. Mutsoli saw this and made a diagonal run with Zurkowski playing him perfectly into space. The Blue Tide's sweeper tried to react but it was a split second too late as the junior striker touched the ball around him to create a breakaway opportunity. Mutsoli made the most of it by blasting a shot inside the left post with 5:19 to play in the half to give the Golden Bears a 1-0 lead.
"I had a little bit of time so I was able to look far post and beat the goalie with my eyes," added Mutsoli on the game's lone goal. "Once I saw him lean in that direction I went for the near post."
With Zurkowski moving back to sweeper for the second half and impressive sophomore Thomas Rogan moving up to stopper, Harrison (2-2-1) struggled to move the ball through the middle in the second half. With time winding down, the Blue Tide used the flanks more and had some success getting the ball forward but could not break through once they got within scoring range. Senior marking back Dylan Sousa made two big tackles in the final three minutes as Lyndhurst held on for a huge win.
"It was a little nerve-wracking going into the game but the whole team in every aspect worked really well together today," said McCann, who alternates starts in net with another senior, Andrew Fernandez. "It's very nice having a lead like we did at halftime. We're a team that does a good job at parking the bus and keeping other teams out of the box." 
After not beating Harrison for 20 years, the Golden Bears have two wins over Harrison in two years. Things do not get any easier for Lyndhurst (4-0-1) though with three tough games over the next eight days. They face a hungry Wallington squad before facing a vastly improved North Arlington side, which tied Lyndhurst last week, before a tilt against undefeated Garfield. But with this win now in their pocket the Golden Bears control their own destiny in hopes of an elusive league title.
"In past years, we've struggled against teams the second time through the league schedule," said Zurkowski. "We won 50/50 balls, we won second balls, and we played smarter today. This year, we're more confident and we'll be fine. We'll watch film from this game, we'll learn something from it and use that to get better towards winning the league this season."
FOR MORE PHOTOS FROM THIS EVENT CLICK HERE. TO BUY A COLLECTOR'S PRINT OF THIS STORY PLEASE VISIT 4-FeetGrafix.com.