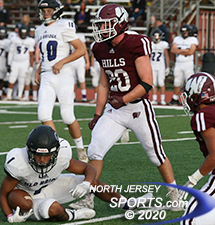 Dan Daly and the Wayne HIlls defense were dominant in a hastily arranged 35-8 victory over Old Bridge on Friday evening.
WAYNE – The Wayne Hills' football program has become one of the most successful in New Jersey through hard work, dedication, a familiar routine, and detailed preparation for its opponents. This was season was no different as the Patriots won their first three games and prepared for a showdown with Northern Highlands. But when the Highlanders were shut down due to a Covid-19 situation, the Patriots were left scrambling.
Wayne Hills rustled up a game with Old Bridge, not only an out-of-area and unfamiliar team, but one that was also 3-0 and ran a triple option offense that the Patriots have not seen before. That proved to be tricky at times but Wayne Hills figured it out.
Wayne Hills scored on its first two possessions with Noah Abida's TD pass late in the second quarter providing the necessary breathing room en route to a 35-8 win over Old Bridge on Friday night in Wayne.
"We found out at 1:45 on Thursday that Northern Highlands wasn't able to play and we were just happy to get a game tonight no matter who the opponent was," said Abida. "They couldn't prepare for us and we really couldn't prepare for them either. It just came down to us trusting each other and making sure we wanted this game more than they did."
The Patriots got the ball to start the game and needed just 1:55 to reach the end zone. Abida used a play-action pass to hit Joe Daskus for a 50-yard gain down to the Knights' 2-yard line. Chris Brutofsky plowed over a defender and over the goal line to give Wayne Hills a seven-point lead.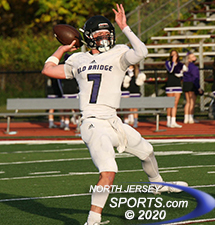 Owen Haughnsey and threw a 43-yard TD pass for Old Bridge's lone score.
Stan Oseback was a dominant two-way force on the line of scrimmage all night with his third-down sack forcing an Old Bridge punt that Dean Imparato returned to set the Patriots up with good field position. They cashed in with Abida hitting do-everything senior Dan Daly on a quick slant for a six-yard scoring strike to double the lead to 14-0.
After a slow start Old Bridge started to settle in behind the play of junior quarterback Owen Haughney. They drove the ball inside the Patriots' ten-yard line, but a penalty backed them up and forced a field goal try that was missed. Three plays later on a third-and-ten, Abida faked a screen then hit Imparato on a slant with the senior wideout racing 80 yards to paydirt.
"We always want to set the tone and we executed well today on our first few drives," added Abida.
Old Bridge (3-1) played hard throughout and finally broke through with a big play of its own. On a nearly identical one that produced the Patriots' third touchdown, Haughney faked a screen then hit Jake McAleavey for a 43-yard TD. McAleavey then faked the PAT try and flipped to Ethan Myers for the two-point conversion that trimmed the lead to 21-8.
Wayne Hills caught a break late in the second quarter. An Old Bridge punt hit the heel of a Patriot player. Had it bounced one way, two players were right there for what would have been an easy scoop-and-score. However, it ricocheted right into the hands of Imparato, who returned it 15 yards into Knight territory before finding the end zone four plays later. Abida, a left-handed quarterback, rolled out to his right. Despite throwing across his body he was able to throw a perfect strike to Matt Geraghty in the end zone for a 17-yard TD pass. It was Abida's career-high third touchdown pass of the half. The luck continued as Jordan Thiel's PAT try hit the crossbar (he hit all five of his attempts) and popped over as the Patriots regained control by halftime.
"Our program is built off of hard work," said Daly, an All-County goalie in lacrosse who is verbally committed to play for the U.S. Naval Academy. "We practice hard every day, we lift hard every day. Every week when we come out here we expect that hard work to show on the field."
The Knights continued to drive the ball in the second half but never found the end zone. Daly, a middle linebacker, made a huge fourth-down stop then later forced a fumble, both in Patriot territory to snuff out any potential scoring threats. Brutkofsky capped the scoring for Wayne Hills (4-0) midway through the fourth quarter with a 58-yard scoring jaunt.
Now that the craziness of this week in the rear-view mirror, the Patriots will have a chance to lock up a Big North-Freedom Red Division title with a win over Hackensack on Friday night. With a league title in their sights and a chance at a section title soon to follow, the Patriots feel they are peaking at the right time.
"Coach (Wayne) Demikoff told us that we have a lot of work to do and some little things we need to clean up," added Daly. "We just got to the halfway point of our season. We're still building as a team. We'll keep working to get tougher and stronger as the season goes on."
FOR MORE PHOTOS FROM THIS EVENT CLICK HERE. TO BUY A COLLECTOR'S PRINT OF THIS STORY PLEASE VISIT 4-FeetGrafix.com.