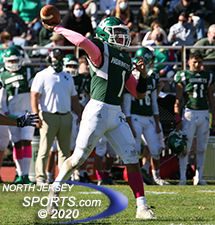 Nick Vasta threw for 171 yards and a TD for Passaic Valley, which improved to 3-0 on the season with a wild 27-20 win over West Milford on Saturday in Little Falls.
LITTLE FALLS – Passaic Valley football playing seniors have been making progress in their four years in the program even if that growth has not translated into wins on the field. The Hornets have been getting incrementally better and with one last shot at returning the pride to the program, this group has its eyes set on a league championship and thus far has refused to let any team stand in their way.
One of the Hornets' biggest rivals provided a stern challenge and a threat to their unblemished season. While the offense picked up the slack for most of the game it was the defense that provided the knockout blow. Zander Timothy and Matt Ciarlo picked off passes in the final four minutes as Passaic Valley moved to 3-0 on the season with an exciting 27-20 triumph over West Milford on Saturday afternoon in Little Falls.
"Our senior class is all about sticking together and changing the culture at PV," said Passaic Valley senior linebacker Antonio Bargiel. "It's taken four years of hard work to get to this point but we're here now. We want opponents to be nervous about playing PV because we're a physical team that plays hard every snap."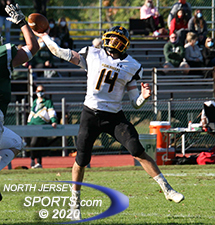 West Milford's Dylan Connors ran for more than 200 yards from quarterback position.
West Milford quarterback Dylan Connors was a handful all game. He busted loose for a 54-yard score on the opening drive for what proved to be the Highlanders' only lead of the game.
Passaic Valley had a dynamic quarterback of its own in senior Nick Vasta. He dropped a dime on Angel Rodriguez for a 33-yard score then hit Ciarlo over the middle for a 13-yard strike to give PV a 13-7 lead. The Highlanders answered with a 54-yard strike from Connors to Chris Coyle to tie the game only to watch the Hornets quickly respond.
Andy Bula plunged in from two yards out to put PV back in front then picked off a Connors pass and returned it to the West Milford one-yard line with five seconds remaining in the half. But they could not tack  onto their lead with West Milford interior linemen Ralph Turre and Shane Yodice providing a goal-line stand and keep it a one-score game, 20-13, at the half.
That did not last for long though as Vasta showed off an accurate right arm throughout the contest. He hit Timothy for a 50-yard scoring strike with Dmytro Sosnovskyy providing the PAT for a 27-13 lead.
On the ensuing possession, Connors broke two tackles and raced 14 yards to paydirt to trim the lead to 27-20. Then on the final play of the third quarter, he made an incredible play to evade a sack and turned into what seemed to be the tying touchdown pass. However, it was called back on a penalty and the Highlanders were forced to punt.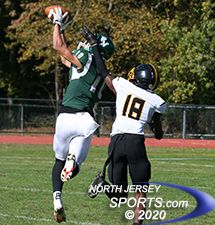 Angel Rodriguez (left) hauling in a pass for Passaic Valley, which will play fellow unbeaten Sparta next weekend.
West Milford kept coming in waves and had two chances late to tie or go ahead with a touchdown and a two-point conversion. The best of those chances came with a solid drive inside the Hornets' 20-yard line. Connors rolled out to his left and looked to the end zone but Timothy was there waiting. He read the quarterback's eyes and drifted back to the goal line to pick off the pass with 3:50 to play.
"Since it was a late-game situation I had a hunch they weren't going to throw the hitch route and were going to take a shot deep," said Timothy. "I kept my eyes on the quarterback and sat back waiting to make a play on the ball."
The Highlanders had one last shot when they got the ball back with 1:07 remaining. Connors got them over midfield only to have the Hornets provide one final sting. Ciarlo picked off a pass over the middle and slid down to ice the game as the Passaic Valley resurgence under former PV standout and first-year head coach Max Wassel continued with a huge win.
"We all had to stay calm and just make plays when we needed them," said Ciarlo. "I thought we played sloppy today but we came together at the right time. We've started off 3-0 but we're not happy with just being 3-0."
Vasta threw for 171 yards and a TD for Passaic Valley (3-0). Timothy did a little bit of everything with five tackles, two interceptions, and a touchdown catch for the Hornets.
"This is a big win for us but we know we have a lot to clean up," said Vasta. "We took some dumb penalties today, I took one myself that was a bad one. That has to get fixed or it will cost us in a big game. We feel like if we clean that up that we can't be stopped."
Connors ran for a game-high 220 yards and two TD's for West Milford (2-1).
The ultimate test for Passaic Valley will come on Saturday when they face fellow unbeaten Sparta. With first place in the Super Football Conference-Patriot Blue Division on the line, the Hornet seniors finally see their long journey toward being a league champ coming to a dramatic ending.
"We know Sparta is a big game coming up," said PV two-way lineman Matthew O'Neill. "We're 3-0 but we aren't finished and we still have a lot left to do. There is no joking around in practice because there is still a job left to do. We'll enjoy this win and get right back to work on Monday."
FOR MORE PHOTOS FROM THIS EVENT CLICK HERE. TO BUY A COLLECTOR'S PRINT OF THIS STORY PLEASE VISIT 4-FeetGrafix.com.