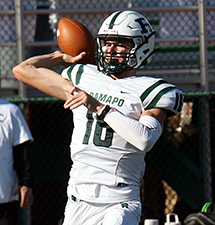 Ramapo quaterback Charles DePrima finished had 333 passing yards and four touchdown passes as the Green Raiders handled East Orange Campus 27-6 on Saturday afternoon.
EAST ORANGE – Going into this week Ramapo seniors Charles DePrima and Sean Clapp eagerly anticipated a showdown with rival Wayne Hills. But with the Covid-19 pandemic shutting down Wayne Hills for two weeks the Green Raiders had to shake off their disappointment about the cancellation and shift their focus towards an unfamiliar, but talented opponent in East Orange Campus. Learning to appreciate that at any moment could be their last time in a Ramapo uniform DePrima and Clapp put on a clinic to show why they are considered one of the best quarterback-wide receiver combinations in New Jersey.
Clapp was unstoppable all game long and DePrima kept hitting him in stride. Clapp finished with career highs of nine catches for 240 yards and three touchdowns as Ramapo methodically picked apart East Orange Campus en route to a 27-6 win on Saturday afternoon at Paul Robeson Stadium in East Orange.
"We were all jacked up for Wayne Hills but we adapted and that's what we're good at," said Clapp. "East Orange is a great team. We knew they'd be physical and we had to execute. Coach (Drew) Gibbs came up with a great gameplan and we did what we could to carry that out."
The duo set the tone early with a long completion to get within striking distance. Then on a third-down play, Clapp ran a corner route and DePrima threw a perfect pass over the Jaguars' defensive back and dropping right into the hands of Clapp for a 15-yard touchdown. It was a recurring theme all game long with Ramapo coming with numerous third and fourth-down conversions to either keep drives alive or get into the end zone.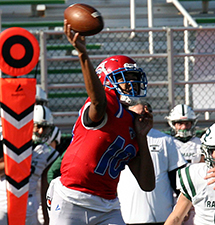 East Orange QB Raeden Oliver was 15 for 24 passing for 143 yards.
That reared its head again late in the first half when the Green Raiders went for it on a fourth-and-five from the Jaguars' 38-yard line. It looked like the East Orange defensive back had a chance to knock DePrima's pass down or even intercept the pass. But he could not locate the ball on the out route and it fell right into the hands of Clapp for a walk-in touchdown with J.J. Miller tacking on the extra point for a 14-0 lead with 2:24 to play in the first half.
East Orange Campus then put together its best drive of the game. Junior quarterback Raeden Oliver marched the team down the field with a big completion down to the Ramapo 2-yard line with 21 seconds remaining in the half. The Green Raiders came up with big plays whenever they needed them. None were bigger than the one made by Richie Sica. On the ensuing play, he intercepted a pass in the end zone as Ramapo had both the lead and the momentum going into halftime, still up two scores.
"I thought we played them even in the first half but you have to execute when you have chances to make big plays against a team as fundamentally sound as they are," said East Orange Campus head coach Rae Oliver. "Two plays (Clapp's second touchdown catch and Sica's interception) were the difference of it being a tie game and us being down 14."
The halftime intermission did little to slow down DePrima and the Green Raiders. Faced with a fourth-and-goal, the heady senior found John Skead on a quick slant for a six-yard scoring strike and a 20-point lead.
East Orange Campus got on the scoreboard just seconds later. Rutgers commit Al-Shadee Salaam showed off his speed when he took a kickoff 82 yards to the house to trim the lead to 20-6. The Jaguars had some momentum with two big stops on Ramapo's next possession to force a third-and-eight. DePrima never wavered and he knew if got time that Clapp would find a way to get open. Offensive lineman Jack Brady, Tristan Pernetti, and Mike Terranova helped create a pocket and a clear throwing window. DePrima took advantage and hit a wide-open Clapp over the middle for a backbreaking 74-yard touchdown.
"The O-line was great today and we had a lot of tempo today," said DePrima. "We have some really experienced guys in our receiving corp and I have the trust of those guys. We talk about third and fourth down situations all the time. So that when the time comes we feel confident that we can execute."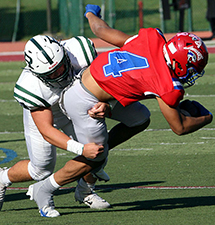 Ramapo linebacker Tyler Cosgrove.
Great things came in threes for DePrima and Ramapo (5-1). He finished with 333 passing yards and 33 rushing yards with with three of his four touchdown passes going to Clapp. The defense was equally as dominant. Led by two sacks from Dan Goldberg and a slew of huge textbook hits from linebacker Tyler Cosgrove, the Green Raiders allowed just 150 yards of total offense.
With the season winding down, the Ramapo seniors are looking to finish the season strong and trying to soak in the time they have left together.
"The season could be over tomorrow so we play like there's no tomorrow," said Clapp. "A lot of other places nationally are unfortunately unable to play. So we're grateful for every day we get to step on the field. We know how important this is to us and we want to keep building on what we've accomplished so far."
FOR MORE PHOTOS FROM THIS EVENT CLICK HERE. TO BUY A COLLECTOR'S PRINT OF THIS STORY PLEASE VISIT 4-FeetGrafix.com.