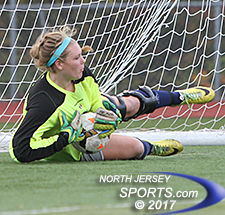 Indian HIlls keeper Ann Wray saving a penalty kick in the shootout that went the Braves way in a 1-1 (4-1 PKs) upset of Ramapo in the North 1, Group 3 state sectional quarterfinals in Franklin Lakes.
FRANKLIN LAKES – The combined score of the two regular season matchups between sister schools Indian Hills and Ramapo was 9-0 in Ramapo's favor. The first 10 minutes or so of Thursday afternoon's rematch in the North 1, Group 3 state sectional quarterfinal was more of the same. The Green Raiders came out on the front foot and created a host of early chances that, had any of them been finished, might have put the doubt in Indian Hills and reinforced the idea that it was just not meant to be this year against its natural rival.
Then, when the opening barrage was over, Indian Hills found itself no worse for wear and, surprisingly, never had to chase the game again. Megan Chesney opened the scoring with 13 minutes left in the first half to give the Braves the lead and they were able to withstand Ramapo's equalizer, two overtimes in which they played much more defense than offense and a penalty kick shootout which they took control of in the second round.
Brianne Given buried Indian Hills' second shot in PKs into the right-hand side of the net while Ramapo's second shooter hit the left post flush. Braves' goalkeeper Ann Wray snuffed out Ramapo's third attempt and Baylie Gerber converted in the fourth round to give Indian Hills the upset of the No. 2 seed on the road in Franklin Lakes. The seventh-seeded Braves will visit No. 3 Roxbury, a 4-0 winner over Montville, for Monday's North 1, Group 3 state sectional semifinal. Top-seeded Northern Highlands and No. 4 Pascack Valley also advanced in the top of the bracket to make up the rest of the Final 4.
MaryClare Langan scored early in the second half to get Ramapo even at 1.
How big a win is this for Indian Hills? Head coach Joseph Gyulay got emotional even talking about it.
"So proud of these girls. Nobody really gave us a chance and why would they? It was 9-0 during the regular season, but we stayed together and today we showed what 'together' really is," said Gyulay. "High school sports is all about emotion. It's what it is about; this feeling when you are on the positive side and the lessons you learn even when you lose. It's how you learn from it and these girls can carry the lessons into their lives. From a nine-goal deficit in two games, to come back through the pressure of PKs and rise to the occasion…I can't say enough."
Ramapo had a chance to take the game by the throat in the opening moments. A save by Wray on a point blank volley off a well-placed rolling cross from Danielle Zerbo in the fourth minute and a header by Nikki Butler off a corner kick by MaryClare Langan that went just wide in the eight minute left the game scoreless. Ramapo built up quite an advantage in possession and it felt like just a matter of time before it broke through, but one quick counter and one aggressive surge by senior Megan Chesney changed the tenor of the game.
Ariana Drury sent a long ball up toward the edge of the penalty area, the spot where chaos often happens. A goalie is forced into the decision of whether to come out or stay back, the defender or defenders are faced with the dilemma of trying to play the ball out while facing in the wrong direction or hoping the keeper swoops in and the offense has the advantage because it needs just some hustle one good touch.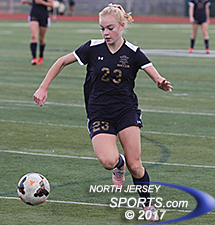 Senior Megan Chesney scored the game's first goal for Indian Hills, which will play third-seeded Roxbury in the North 1, Group 3 semifinals on Monday.
Chesney provided both as she went airborne to get over the bouncing ball and launched it just inside the near post to give Indian Hills the 1-0 lead with 13 minutes left to play in the first half.
"I just remember the ball bouncing and then sliding it past the goalie. It happened so fast and I just tried to take advantage of that opportunity," said Chesney. "Ariana played that ball up, I saw it bounce and I went for it."
Indian Hills (9-8) carried that lead into the half, but it was still not panic time for Ramapo, despite losing the services of senior central defender Emma Kinney, who limped off late in the first half and did not return. The Green Raiders covered for that by maintaining their possession advantage and it finally paid off in the equalizer when Langan got a clear look from Wray's left and went back across the face of goal to make it 1-1 with still more than a half-hour to play in regulation.
Ramapo was the more fluid side offensively with chances created through the run of play while Indian Hills was most dangerous on set pieces, which it won with by staying aggressive on every counter attack opportunity that came its way. Gerber flew the bar on a free kick from 27 yards out with 27 minutes left in regulation, Chesney had a chance on a loose ball that went just wide right off another Gerber free kick two minutes later and Jessica Weir gave it a go on the second ball off a corner kick only to see her effort tick off a defender and be redirected wide in the 74th minute.
Ramapo had the last real chance of regulation as Mia Suchora let one fly with pace from long distance that was saved by Wray and the Green Raiders kept up the pressure in both overtimes. Wray kept out shots by Lauren Chin and Langan in the first extra session and Butler hit the outer panel of the side night early in the second, but Indian Hills never budged and overtime turned into a shootout to decide the winner.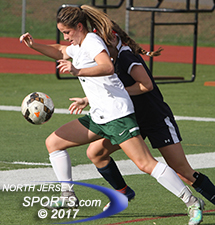 Nikki Butler helped create many of Ramapo's best chances.
"The first thing I had to do was just try to stay calm," said Wray, the Braves' senior keeper. "All of the girls on Ramapo are so talented and I knew it was going to be hard to make a save, but I just tried to watch the ball, do what I was taught to do and then try to find a shot that I could get a piece of."
Indian Hills went first with Chesney converting and she was matched by Ramapo's Erica Madley. Brianne Given then hit her PK to move IH in front and it stayed there as Ramapo was left with only the sound of the ball pinging off the post on its second round shot. Kelly Yadoff made her third-round kick, Wray saved Ramapo's third round attempt and Gerber then put the game away with her goal to lead off the fourth round.
And then bedlam in the middle of the field as Indian Hills secured it spot in the sectional semifinals while Ramapo saw a tournament run end in a penalty kick shootout for the second time this season.
"Our motto for our team is 'Together,' so when we are in those moments all we are thinking about is working for each other," said Yadoff, one of 10 seniors on the Indian Hills roster. "Every practice we work on penalty kicks so, really, all year we have been getting ready for a situation like this. We got there and then we knew that we had a good chance to finish this game and move on."
TO BUY A COLLECTOR'S PRINT OF THIS STORY PLEASE VISIT 4-FeetGrafix.com. FOR MORE PHOTOS FROM THIS GAME CLICK HERE!