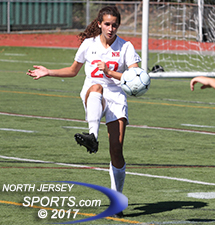 Junior Claudia Mischler scored with 23 seconds left in regulation to give Northern Highlands its sixth straight win to start the season, 2-1, over rival Ramapo on Saturday afternoon in Allendale.
ALLENDALE – There were less than 30 seconds to go in regulation. The sun was beating down on the artificial surface, the two teams had expended a lot of energy over the previous 79-plus minutes and Northern Highlands junior midfielder Claudia Mischler could have just as easily decided to save a few steps and get ready for the looming overtime session. Instead, she decided to make one more run at it.
Joanna Kelly went in hard on a tackle near the center stripe and knocked the ball free to Mischler, who then played it wide to the left and started her sprint. Claudia Dipasupil took over the attack as she carried toward the corner and when she found an angle to send in a cross, Mischler's effort and her back post run were rewarded. Dipasupil's left-footed service was brilliant and Mischler's free header with just 23 seconds left in regulation was the game-winner in a 2-1 victory over rival Ramapo on Saturday afternoon in Allendale.
"Ramapo is a very physical team. They were on our backs the whole time, they were always there and we knew that we had to work hard the whole time, for all 80 minutes, if we wanted to win this game. Right down to the last second, we had to give it our all," said Mischler, who did just that before showing poise in front of goal with a chance to win the game. "I knew I had to keep my composure and not panic when the ball got to me. It was a great ball from Claudia and I just had to put it in."
Morgan Pecoraro celebrates after her 35-yard twister tucked under the crossbar and got Ramapo even at 1.
Northern Highlands and Ramapo are the two most storied public school programs in the state and every game these two sides play means something. The teams are in the same league, they sometimes play in the same state sectional tournament bracket and Saturday's result most likely earned Highlands (6-0), winner of five of the last six Bergen County Tournament titles and five of the last six Group 3 state titles, the No. 1 seed in this year's county tourney. Ramapo, playing under a head coach not named Paul Heenehan for the first time in program history, will likely be the No. 2 seed.
Under first-year head coach Sara Francini, Ramapo had won five straight to start the season, but Highlands quickly put a halt to that momentum. The Highlanders came out on the front foot and got no more than they deserved less than five minutes in when Dipasupil, with the lethal left-foot, got in up the left side and had a go at Ramapo keeper Natalie Kologrivov (6 saves) with a low liner across the face of goal. Kologrivov probably had her far post covered with her dive, but before the ball could find its way over the endline, junior striker Katie Murray ran and roofed the ball from in close to give Highlands the early 1-0 lead.
With Kelly winning balls all over the midfield, with quick 1-2s and with multiple opportunities to get forward in the first 10 minutes especially, it looked like only a matter of time before the Highlanders created some more separation. It did not go that way, however, as Ramapo started to match the tempo behind seniors Nikki Butler and Lauren Goodrich and started to get back some of the play.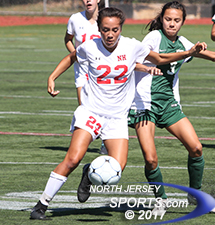 Claudia Dipasupil assisted on borth of Northern Highlands' goals, one early and one very late.
"The Ramapo and Highlands rivalry is certainly something that soccer fans or any coach or athlete can appreciate. Today was another display of two top teams going against each other and I thought both sides played well," said Highlands head coach Tara Madigan. "Scoring so early, I thought that propel us to play better after that, but we didn't really get in our groove. That probably says more about Ramapo and the way they played us today. They didn't get down after giving up an early one and it was a very competitive game."
Ramapo's growing confidence showed late in the first half when sophomore Mary Clare Langan ran onto a ball that was left dangling after a collision and took a rip that was bending before Highlands keeper Sara Ghorashi made a sure-handed grab.
There was nothing Ghorashi could do, however, just about eight minutes into the second half at the back end of a brilliant effort by Ramapo's Morgan Pecoraro. The Green Raider senior played a short throw-in from the left touch line and then stepped in bounds and received a touch pass back. Pecoraro then hit a twisting shot from about 35 yards out that became unsavable when it squeezed between the bottom of the crossbar and the outstretched glove of Ghorashi, who got a good read and was in good position.
"Like it has been in all of our games, when we settle down, when we get the ball on the ground and controlled, we can be dominant. For us it's about keeping that focus for the full game and keeping possession," said Francini. "Morgan's goal was tremendous, a great shot, and we had other opportunities, but if you give a team like Highlands even an extra inch, they are going to take it and they are going to bury it in the back of your goal. We gave them an inch at the end and, in a game like this, every second counts."
Ramapo freshman Mia Suchora more than held her own in the midfield against the stiffest of competition.
But before Highlands beat the buzzer and a worthy opponent, both teams had other chances. Highlands' Reagan Klarmann made a brave run into the area before she was nudged off by two defenders in the 62nd minute and Butler went up with purpose after an Ella Onal corner kick before the final result flew the bat in the 65th. Mischler somehow got a reverse volley to threaten the net with 15 minutes to play and Cass McCabe forced Kologrivov into her best save with just over two minutes left as the Ramapo keeper held her ground to take McCabe's lunging effort in the midsection at close range.
But it was that hard step in the middle of the field that set off the chain of events that led to Mischler's game-winner right at the death. Now a senior who has grown up in a program that only knows winning at the highest level of state-wide soccer, Kelly was the just doing what is expected from a player of her caliber, in that position on that team.
"Coach always says, 'Don't dive in, Don't dive in,' so when their player was dribbling down the field I knew that I just had to stay back and wait for my moment. I timed it right and I won the ball. It deflected off of me, went right to Misch[ler] and she started the whole play that led to the goal," said Kelly, one of just four seniors on the Highlands roster. "When I was younger I always looked up to the upperclassmen. They always pushed us to give our all for every minute and that is the mentality of Highlands soccer. We always work hard and we always play right to the last second no matter if we win or lose."
Highlands rarely loses and it has yet to do so this season. It is in customary spot as the team to beat in Bergen County and beyond, but Ramapo showed that it can play at that level too. Far from being run off the pitch, the Raiders were just 23 seconds from overtime with a roster that includes four freshman and five sophomores, many of whom contributed heavy minutes against Highlands. Freshman midfielder Mia Suchora acquitted herself quite nicely against the toughest off competition and Langan was running hard right through to the end.
Despite the defection of a few players who traded high school soccer for the anonymity of the Academy structure, Ramapo is 5-1 and a threat in every playoff competition that it will enter.
"We lost a bunch of players, but we can more than make do because we have a whole bench full of good players. We have lost some talent, but we still have a lot of talent and I personally think that we have a deeper bench than anybody," said Francini. "Those particular goals are the ones that burn the most. You are in the last minute of a game and you give up and nice ball across and a finish like that and it hurts. But we did a lot of good things out there as well and we will grow."
TO BUY A COLLECTOR'S PRINT OF THIS STORY PLEASE VISIT 4-FeetGrafix.com. FOR MORE PHOTOS FROM THIS GAME CLICK HERE!