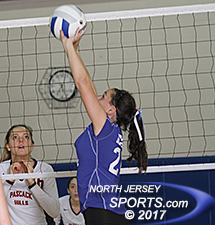 Junior setter Alicia Iafrate handed out 23 assists and was also effective behind the service line for NV/Demarest, which swept Pascack Hills in the semifinals of the Bergen County Tournament.
OLD TAPPAN – It was September 29, Northern Valley/Demarest's football team was in the midst of a blowout victory at Bergenfield and a local reporter was looking for someone to talk to when he saw Demarest volleyball head coach Beth Powell and her trusted assistant Jerry Hill standing along the fence ringing the field. The conversation turned toward the prospects for and the progress of the Norsewomen on the volleyball court and the tone was positive.
The conversation was not recorded therefore it can only be paraphrased, but Powell saw then a good group that still had work to do, but also had no limits on how far it could go. She liked the work ethic, the camaraderie and saw the potential for a special season.
Fast forward to Friday evening and that vision is starting to come to fruition. Still unbeaten on the season, second-seeded Demarest moved to within one win of its first Bergen County Tournament title since winning four straight from 2004 through 2007 with a 25-20, 25-8 sweep of seventh-seeded Pascack Hills.
"I thought originally that we looked pretty good, but I did not know how good we could really become until I am seeing it happen in person," said Powell. "Every day I think we get a little bit better and that is one of the goals I set with every team I coach. What I am most proud of is that this is a team made up of a whole group of people that can play and also one that is willing to work hard to improve every single day."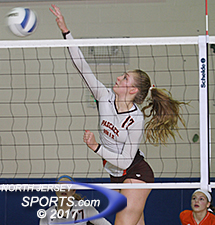 Erin Hendrick had a team-high 11 kills for Pascack Hills, the No. 7 seed that was playing in the semifinal round for the first time since 2009.
Pascack Hills, coach by Lindsay Runge, a stand out player in her high school career while playing for Powell at Demarest, was the interloper in the semifinals after ousting second-seeded and defending champion River Dell in the quarterfinals. The Cowgirls were in the Final 4 for the first time since 2009 and scored the first point of the match on Alexa Belnick's opening serve. Erin Hendrick stuffed an over-pass to give Pascack Hills its only other lead of the night at 3-2 as Demarest got it going soon after that.
Two Pascack Hills errors allowed the Norsewomen to take a 4-3 advantage and they went on a 5-0 run with the last four of those points coming on the serve of Erin Pah. She had two clean aces during that flurry, the second of which put NV/D up 7-3.
Pascack Hills hung in there as it pulled even at 9, 10, and 11, but was never able to nudge in front, which might have made Demarest feel the pressure of being the decided favorite in the do-or-die setting of a county tournament semifinal. The Cowgirls were able to get off to a fast start and build a big early lead against River Dell, which cranked up the nerves, but Demarest never succumbed.
Instead, the Norsewomen just ran their offense through junior setter Alicia Iafrate, who had plenty of options to cycle through. With Ellen Hamlin, Sedona Gaard, Sydney Woods, Ohr Yahalomi and Gianna Arias all making their presences felt up front, Iafrate could go anywhere to find a point.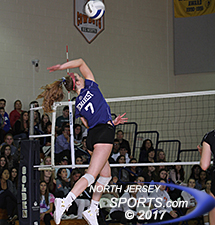 Junior Sedona Gaard had a team-high 9 kills for Demarest, which will play top-seeded IHA in the county final on Sunday.
Woods scored from the middle and from the outside on consecutive points to kick off a 7-0 run that took Demarest from even at 11 to up 18-11 and never let Pascack Hills get closer than three points for the remainder of the first set. Hamlin knocked one off the dig to give Demarest a game-point and Yahalomi stuffed a 50/50 ball at the net to give her team the 1-0 advantage.
"It's really fun because you can control the game with your setting and we have some many good players to get the ball to," said Iafrate. "We have a great offense because we have worked really hard to improve it from last year. I have complete trust in every one of my hitters. It makes it great for me as a setter to not have to just get the ball to the same player over and over. I can mix it up and that is when we are the most successful."
Because Pascack Hills had so many hitters to worry about, it could not afford to run two blockers at any of them and leaving players like Hamlin and Gaard in one-on-one situations is going to lead to trouble.
"We have some much trust in every one of our players. We know that if we hit one off a block that there is going to be someone right behind us getting the ball back up. We always talk about playing together as a team as one unit and we did that tonight," said Gaard, a junior. "We work on keeping points alive, staying in the long rallies and when we are all focused and doing that is when we are playing our best."
Demarest raced out to a 4-1 lead in the second game and scored three straight points in the serve of Madison DeMartini to go up 9-3. Pascack Hills got a brief reprieve when Hendricks hit a boomer down the line, but then Hamlin hit a hammer from the back row to give Iafrate the serve and she ran off six straight points to break the game open. Hamlin had three kills in that spurt, including the one from the outside that gave the Norsewomen an insurmountable 16-4 lead.
Gaard led the way with nine kills and 15 digs and Hamlin also had a stellar two-way game with five kills and 12 digs. Iafrate finished with 23 assists, senior libero Rachel Suter had a team high-18 digs while Yahalomi (5 blocks, 3 kills), Woods (3 kills, 2 blocks) and Arias (1 kill, 1 block) all were solid in the middle of the court. Hendrick had a team-high 11 kills, senior setter Kaitlyn McCluskey finished with 12 assists and junior libero Madison Valko had 11 digs to lead the defense for Pascack Hills (18-3), which lost for just the third time this season.
Demarest, the No. 2 seed, improved to 18-0 heading into Sunday's Bergen County championship match against top-seeded IHA, which looked explosive in a straight sets win over Old Tappan in Friday's other semifinal match.
"Last year we lost in the quarterfinals and we weren't happy about that. Now we are in the finals, we are so close and we want to take it home," said Hamlin, Demarest's senior outside hitter. "We know it is going to be a tough match, but this is what we have been working so hard for, for this chance to win a county title."
TO BUY A COLLECTOR'S PRINT OF THIS STORY PLEASE VISIT 4-FeetGrafix.com. FOR MORE PHOTOS FROM THIS GAME CLICK HERE!