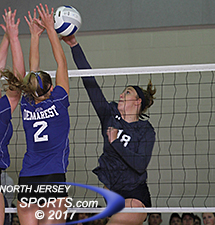 Anna Morris had 9 kills to lead IHA in a 25-23, 25-18 victory of NV/Demarest in the championship match of the Bergen County Tournament on Sunday in Old Tappan.
OLD TAPPAN – For Northern Valley/Demarest to have a shot against top seed Immaculate Heart Academy in the Sunday's championship match at the BCWCA Volleyball Tournament, the Norsewomen were going to have to play just about a perfect match. They could not give away points with serves into the net and had to not just receive serves consistently, but be able to use them to start their offense.
Demarest pretty much did just that. The Norsewomen played clean…and it still wasn't enough against an IHA team that not only is stocked with high-level players, but also does the little things well. Not only do the Blue Eagles swing hard and swing often, but they also pass well, cover the court well and they stay away from unforced errors that might hand an opponent looking to gain some momentum.
"That is going to be on my tombstone, 'It's the little things that matter.' I talk about that all the time," said IHA head coach Maria Nolan. "It's tough playing here [at Northern Valley/Old Tappan High School]. The gym fills up, it is loud and, unlike when you play in the state tournament [at William Paterson University] where the fans are far away, they are right on top of you in here. This is a prestigious tournament, the fans are into it and it is not always easy to stay focused on what you are supposed to be doing on the court."
Demarest kept IHA's attention for sure and it was the Eagles that came away with the Bergen County title after a hard-fought 25-23, 25-18 victory in front of a packed house in Old Tappan. After falling in the finals in each of the last two years, IHA clinched its first county championship since 2014 and its fourth in the last eight years.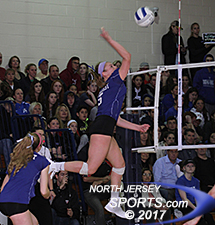 Senior Ellen Hamlin led Demarest with 11 kills and also finished with a team-high 19 digs,
"We have waited so long for this moment. The last two years we have been on the other side watching the other team lift the trophies and that is not a great feeling. That really powered us to want to win and this feels great," said Julia Morris, IHA's senior setter who passed the career milestone of 2,000 to make Sunday's outcome even that much sweeter. "Setting such amazing hitters and watching them put the ball down is the best feeling and I wouldn't trade the experience that I have had here for anything especially now that we got this win."
Demarest, which was unbeaten coming into the match, was certainly up for the challenge. The teams split the first 26 points of the opening set before a rare attack error allowed IHA to nudge in front at 14-13 and the Eagles then threatened to pull away. A 9-4 run that ended with back-to-back kills by Anna Morris from the middle of the court gave IHA a 22-17 lead. Another Anna Morris kill and an ace served by Erica Timpanaro made it 24-18 IHA, but it would need all five of those set points to close out the Norsewomen, who made a late bid to steal the game.
Ellen Hamlin pounded one off a block, IHA hit one out and Sydney Woods' block gave Demarest a quick 3-0 rally and force IHA into a timeout with its lead cut to 25-23 and, when the teams returned to the court, Sedona Gaard stuffed an over-pass to put the Norseman right on the brink of extending the set. Catherine Fazio, a first team All-County player last season and one of IHA's five seniors in the rotation, ended the drama from the outside to put the Eagles up 1-0.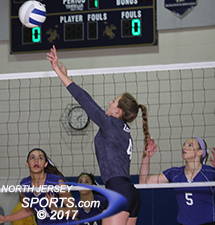 Julia Morris, IHA's senior setter, finished with 29 assists, including the 2.000th of her career.
While it was Demarest that was forced into comeback mode late in Game 1, it was IHA in that position for most of the second set as the Norseman got out quick and Hamlin's cross-court kill gave her team a 7-3 advantage. A Woods block made it 9-5 Demarest and when IHA closed to 10-9, Demarest responded with three straight points and four of the next five to maintain in four point edge.
It was not until Anna Morris got a block and a kill on consecutive points that IHA was able to finally able to draw even at 16-all, but the Eagles second and final service error of the entire match gave Demarest the lead back and Alicia Iafrate's ace put the Norsewomen up 18-16 as the second set seemed destined for a wild finish.
That never materialized, however, as Anna Morris hit another boomer, this time from the outside, and Demarest's missed long while clinging to its final lead of the match. Colette Petric's block gave IHA the lead for good at 19-18 and the Eagles swept the final nine points of the match to win the county title and move their record for the season to 33-1 with the lone loss coming by two points in a three-set thriller against national power Flint Hill (VA).
Demarest (19-1) lost for the first time this season, but not without putting a scare into IHA. Hamlin finished with 11 kills and 19 digs, Gaard added 3 kills and 15 digs Rachel Suter (10 digs), the senior libero, did her job well in the back row. Add in Iafrate's (14 assists, 10 digs) stats and they add up to just how well Demarest played defensively against the relentless pressure applied by an IHA team that never gets caught in a bad rotation because of all of its offensive options. Ohr Yahalomi (3 blocks, 2 Kills), Woods (4 blocks, 2 kills) and Gianna Arias (1 block, 1 kill) also played well for Demarest, which will head into the state tournament as the top seed in the loaded, state-wide Group 2 bracket.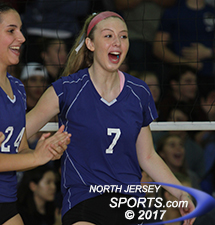 Sedona Gaard had 15 digs for Demarest, which will now turn its attention to the Group 2 state tournament in which it is the top seed.
Anna Morris, the sophomore middle blocker, led IHA in kills (9) for the second straight county for the second straight tournament match and Fazio finished with a double-double of 10 kills and 10 digs. Junior Sydney Taylor had 7 kills, Petric finished with 3 kills and 4 blocks, Timpanaro led the defense with 17 digs and Julia Morris handed out 29 assists to give her 2,011 for her career,
IHA, which is the top seed in the all-encompassing Non-Public state tournament bracket, has now snapped the string of two straight losses in Bergen County finals and hopes to do the same in the Tournament of Champions after falling on the last day of the season in each of the last two years against Northern Valley/Old Tappan.
"We really fought hard tonight and we were doing it for these seniors. Me and Anna are the only two underclassmen on the court and we really wanted to help get this win for them," said Taylor, who has already committed to play at Providence College. "I love these seniors and I just want to help keep this season going for as long as we can. This feels great, but now it is on to the next goal."
TO BUY A COLLECTOR'S PRINT OF THIS STORY PLEASE VISIT 4-FeetGrafix.com. FOR MORE PHOTOS FROM THIS GAME CLICK HERE!