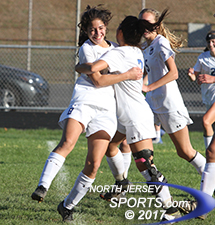 Alejandra Castillo (left) celebrates her game-winning goal which came with four minutes left in regulation in Hawthorne's 2-1 victory over River Dell in the opeining round of the North 1, Group 2 state sectional playoffs.
HAWTHORNE – Considering that the game was played on a natural grass surface the day after severe weather event blew through North Jersey, Tuesday's North 1, Group 2 state sectional tournament between Hawthorne and visiting River Dell in the 6/11 match was never going to be a high-scoring affair. In fact, through much of the first half a scoreless draw ultimately decided in penalty kicks felt like it was right around the corner. A couple of bad hops and some loose footing made coordinating any kind of attack a real challenge.
Instead, the last half of the last half was a shootout in itself, no penalty kicks needed.
River Dell turned one of those bad hops into a fortuitous goal midway through the second half before Hawthorne pulled off two perfectly executed set pieces in the final 15 minutes, the second one an Alejandra Castillo header off a corner kick in the 77th minute that gave Hawthorne its only lead of the game and the only one it needed in a 2-1 victory. The Bears earned a shot at Westwood, the No. 3 seed and a 4-0 winner over Pascack Hills, in the quarterfinals on Thursday night.
"As bad as we are defending set pieces, and we have had our trouble with them this year, we have scored quite a few goals with them as well," said Hawthorne head coach Gus Schell. "We work hard on the specials and luckily for us they went in today."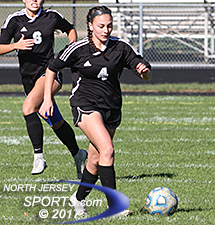 River Dell sophomore Jayne Manzelli came off the bench to score the game's first goal.
There is not much to report about the first half as Hawthorne keeper Rebecca Reilly touched the ball no more than five times and her counterpart, River Dell's Rebecca Perez even less than that. The teams split the only two scoring chances in the first 40 minutes as Reilly grabbed a header by Isabella Frost at the business end of a cross sent in by Jaclyn McCuskee in the sixth minute and Castillo's header off a Kayla Miller corner kick careened off the cross bar in the 25th.
"We did not get into a rhythm in the first half and a lot of that had to do with [River Dell]. They were just beating us to every ball, so one of our points of emphasis in the second half was to just touch the ball first," said Schell. "Whatever happened after that, happened, but we had to get there first and give ourselves some chances."
Hawthorne was just started to connect some passes early in the second half when River Dell used the conditions to its advantage. Senior Katelyn Gillies used a strong step to break up a play and then launched the ball forward. Because the sun was shining directly into Reilly's eyes and because nobody was really sure what was going to happen as far as bounces go when the ball came down from its orbit, it turned into one of those situations where the ball cleared all assembled near the top of the area on its way toward the goal. Sophomore Jayne Manzelli caught up to it just before the goal line and walked it in to give River Dell a 1-0 lead eight minutes into the second half.
Kayla Miller assisted on both goals for Hawthorne, which will play Westwood in the state sectional semifinals on Thursday.
Hawthorne got even in more conventional fashion as it won a free kick to the right of the penalty area about 25 yards away. Kayla Miller delivered a perfect diagonal service that Heather Bertollo stubbed in with her first touch to tie the game with 23 minutes left in regulation.
River Dell had half-a-chance to forge back in front when McCuskee sent in Colette Hanrahan, who took a bump from a defender and maintained her balance, but Reilly arrived in time to keep her from reorganizing her footwork.
Overtime was looming as the clock ticked below five minutes, but Hawthorne kept at it and won a corner kick from the left side. Again Miller put one in a perfect spot as the ball barely cleared the gloves of Perez, who came out to try to pick off the cross, and landed right on the head of Castillo, who redirected home the game-winner.
"Kayla Miller takes all of our corner kicks and she is so good at it. This has happened before where I just stand at the back post and the ball comes right to me. I just tapped it with my head and it went right in," said Castillo, a sophomore striker. "We kind of realized what was on the line. We want to keep our season going and we came out more aggressive in the second half when we were able to put a little more pressure on them."
Katelyn Gillies was effective in the midfield for River Dell, which finished the season with a 7-7-5 record.
River Dell's last hurrah was like a desperation three-pointer at the buzzer and McCuskee let one fly from near the midfield stripe that looked good in the air, but it sailed high just as the referee blew the final whistle.
Hawthorne improved to 15-4 on the season heading into the state sectional quarterfinals while River Dell saw it first season under head coach Adam Herman come to a close with a 7-7-5 record. The Hawks will lose six senior starters to graduation, but they had two seniors and three juniors in their starting lineup on Tuesday and every player who came in off the bench will be back next year.
"After we got the first one I thought we had a chance to win the game 1-0, but we knew what we were getting into. Hawthorne is a good team, they are well-coached and deep down I had the feeling that this was going to be a PK-type game," said Herman. "We had a lot of first-year starters. We graduated a four-year starter in goal [Alison Sorkenn] and her twin sister [Rachel] who was good for 30 or 40 goals, that was the hard part. Our problem this year was finding the back of the net consistently. The girls were great, they worked hard and did everything I asked, there were just a lot of times where we just couldn't finish."
TO BUY A COLLECTOR'S PRINT OF THIS STORY PLEASE VISIT 4-FeetGrafix.com. FOR MORE PHOTOS FROM THIS GAME CLICK HERE!