Senior Shane Kelly held down the midfield for Rutherford, which turned a halftime deficit into a 3-1 win over NV/Demarest and the first state sectional title in program history.
DEMAREST – In the 17 years that John Randazzo has been the head coach, Rutherford had never been in a state sectional final. Going deeper than that, the Bulldogs had never won a state sectional title in the history of its boys soccer program. So, on the road and down a goal at halftime inside Norsemen Stadium, it might have appeared that Saturday's North East D, Group 2-B state final was too big of a moment as the Bulldogs sat socially distanced around their head coach during the intermission.
Nothing could have been further from the truth.
The Bulldogs' nerves were not getting the best of them. There was no need for desperate tactics or an impassioned 'Win one for the Gipper' type inspirational speech. Nope, Rutherford just needed to get back on the field and get back to the work pressuring the Northern Valley/Demarest goal with the confidence that eventually it would pay off.
"There was not much to say other to tell them to continue to do what they were doing because we were playing well. We were behind, but the boys were good. They were taking the game to them," said Randazzo. "We really did not change much, but the results were much better in the second half."
Especially a six-and-a-half minute stretch of the second half that saw Rutherford vault into the driver's seat. Senior striker Steven Carino scored twice, once off a restart and once from open play, to turn the game around and Chris D'Ambrosio added some insurance as second-seeded Rutherford rallied for a 3-1 victory and the first state sectional title in program history.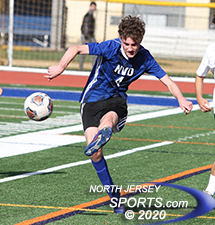 Skylar Bogdanowitsch's goal had given Demarest the early lead.
Having fallen behind when Demarest defender Sklyer Bogdanowitsch converted a header inside the first eight minutes of the game, Rutherford started to pull the action back in its favor through the work of senior Shane Kelly in the midfield. He was able to possess and pick out runners, which led to numerous chances at a first half equalizer, especially in the final 15 minutes.
Demarest's Andrew Tandler cleared a ball off the line after Rutherford's sustained pressure led to a miscommunication in the back in the 27th minute, keeper Casey Shea was forced into action at his near post to save a Kevin Alves effort in the 28th minute and, with nine minutes to go in the half, Kelly nearly made a connection with Carino, who found a sliver of space near the six but just could not lunge far enough to make solid contact.
Down a goal walking off, Rutherford was still in good spirits.
"We were all going to stick in there until the end," said Kelly. "We knew that, we just had to be a little patient."
Nine minutes into the second half Rutherford finally broke through as Carino was the target of a restart from the left side and he turned and fired into the lower right to tie the score. Four minutes later he put on a clinic as he split a few defenders on his way to a rip into the right side of the net to make it 2-1.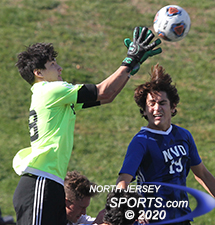 Keeper Cal Chase was a part of solid senior class that set Rutherford soccer on a new trajectory.
"On the first strike Kevin [Alves] just laid it off for me. I just hit it and it went in," said Carino. "The second one I just did a little flick to my left foot to get off the strike and it went in."
The last goal of Rutherford's special season came on a quick strike counter that started with a punt by senior keeper Cal Chase that targeted Alves, who took the ball down with a deft first touch, took a dribble to draw the defense and then picked out D'Ambrosio's diagonal run into open space from where he made it 3-0 with 24:32 to play in the game.
Rutherford's possession advantage and its organized defense left little path back for Demarest, which was also in the midst of one of its best-ever seasons, its first under coach Rob Romeo that ended with its first-ever trip to the state sectional finals.
"First, I commend Rutherford for that effort. They were resilient, they fought hard and they did not give up. We scored off our first opportunity, but there was a lot of pressure, some hiccups along the way and that it is the way it goes," said Romeo," whose team finished with a 9-4-2 record. "We fell short, but I could not be prouder of these boys. They set the bar so high. They did something that was never done here before. These boys care so much about each other and this is not the end of their journey. The large senior class that moves on will come back to support us and the underclassmen will get their chance to step up and pick up where we left off this season."
Job one of winning the program's first-ever state tournament trophy now done, Rutherford hopes this is just the start of a sustained period of success.
"It is just a matter of setting the standard for the guys coming up. This was definitely an unselfish group of guys that fought right to the end of the season amidst all that was going on," said Kelly, in his thoughtful postgame interview. "We wanted to create a winning culture where we are winning state championships, where we are winning tournaments. That is what we want to do going forward and it started here today."
FOR MORE PHOTOS FROM THIS EVENT PLEASE CLICK HERE. TO BUY A COLLECTOR'S PRINT OF THIS STORY PLEASE VISIT 4-FeetGrafix.com.