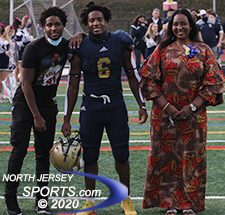 Jamil Mouehla (6) pictured with his family during Senior Night festivities. A couple of hours later he scred the go-ahead TD in Old Tappan's 16-6 win over Ridgewood.
OLD TAPPAN – Running back Jamil Mouehla, one of 16 members of the Northern Valley/Old Tappan Class of 2021 to be honored in a pregame Senior Night ceremony, burst into the end zone with a 3-yard run up the middle to break a 6-6 tie and propel the Golden Knights to a 16-6 victory over Ridgewood Friday night.
Mouehla finished with 47 yards on 11 carries, including 22 of those yards on the winning touchdown drive.
As Mouehla ran to the sideline after scoring he let out a scream of excitement.
"It was a big game for me," Mouehla said. "My dad passed away the other night. I played a little bad in the first half - I was a little nervous because I kept thinking about my dad not being here. I knew my team needed me so I had to step up. I had a couple of runs and I felt my dad was here. I lowered my shoulder, used my strength and kept running. I wanted to score for my team."
Mouehla's tally, which came with 3:32 to go in the game, was supplemented two minutes later by a 39-yard field goal by senior kicker Daniel Hwang.
"I should be more eager to pull the trigger and let him go. He's really good," said NV/OT head coach Brian Dunn. "I don't like kicking the ball; I don't like giving the other team the ball whether we get the points or not. I prefer to keep moving it. The kid came in and drilled it from 39. It would have been good from 50. He hit the heck out of the ball and it was dead on. We blocked it up well. We had one blocked (on the extra point) and the kid who let it up did a much better job [of blocking his guy]."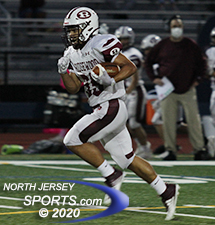 Sean Emmanuel breaking free on the 68-yard run that gave Ridgewood the lead.
The game was a tale of opposing running backs featuring Ridgewood's senior captains Sean Emmanuel, Collin Feeney and Liam Lennon and sophomore Tahir Kenyatta matched up against Knights' halfbacks Mouehla and sophomore Aidan Heaney and junior quarterback Charlie Amatrula.
"The running game was definitely key in coming out with the win today," Amatrula said. "We had a lot of guys step up. You saw a lot of guys go down. Our O-line was fantastic. We got the running game going and it ate up some clock."
Ridgewood scored first on a 68-yard run by Emmanuel, shortly after completing a goal line stand at the 5-yard line. Old Tappan had taken the opening kickoff and driven downfield, eating up more than half of the first quarter.
Emmanuel took a handoff from junior quarterback Dan Caiafa, shot through the middle and outran the Golden Knights defense. The Knights blocked the extra point and the Maroons led, 6-0.
Old Tappan tied the game on the ensuing possession, a 12-play, 74-yard drive made possible on a great play by seniors Dylan Heaney and John Carlo Baratta four plays into the drive.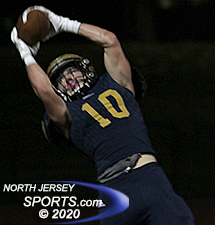 Graydon Scherer hauling in the TD pass that got Old Tappan even at 6.
The Knights were in punt formation with a 4th-and-6 at the Old Tappan 30-yard line. From his position of upback Heaney noticed that Baratta was uncovered at right end, so he audibled and tossed a pass to Baratta who gained 31 yards to the Ridgewood 39-yard line as the first quarter ended. 
"It wasn't a called fake," said Dunn. "They didn't cover the outside receiver so our upback, our personal protector, made a quick call. He was smart and the receiver was smart. We don't ever practice that. The center made the adjustment and snapped it to the upback and he threw it.
"Three kids had to execute - the center, the protector and receiver. They all got on the same page quickly. That was a great play and there was not much coaching involved. These kids just played and did a great job."
Amatrula finished the scoring drive by floating a pass to senior wide receiver Graydon Scherer, who made a spectacular grab in the left corner of the end zone.
"That was a great play call by coach Dunn," Amatrula said. "A little trickeration on the goal line and it ended up working for us. That was a great catch by Graydon in the back. He saved me."
The defenses took over the middle part of the game, forcing teams to go three-and-out and otherwise keeping the opponent off the scoreboard.
"I thought we were on point the whole game," said Dunn. "They hit us on the one trap. I think the kid got blocked out by the umpire. That's just part of the game. For us to hold up as well as we did and do the job we did meant there was a lot of disciplined playing as guys stayed focused on their assignments."
There were great individual plays along the way. With less than two minutes to go in the first half Knights senior punter Nikos Akos blasted a kick 66 yards, pinning the Maroons deep in their own territory. In the fourth quarter, after Old Tappan took the lead, senior defensive tackle Jack Renaghan stuffed a third-down running play for a 4-yard loss. An incomplete pass on fourth down gave the Golden Knights the ball and it led to Hwang's field goal which put the game on ice.
With a minute to go in the game senior defensive back Declan Ward intercepted a pass and two kneel-downs ended the game..
"Declan Ward struggled a little bit in the first half and I got on him pretty good," said Dunn. "He stepped up with some big plays. It was the type of game we need to play to win. We need a group effort - not rely on one guy. We have to make sure that everybody contributes and does some great things. I thought our seniors really stepped up and made some big plays. I'm proud of all these guys. They really stepped it up."
Old Tappan improved to 2-2 while Ridgewood fell to 1-3.
"All respect to those guys - they played us tough," said Amatrula. "It was a hard-fought game; we just happened to come out with it. It definitely gives us confidence going forward. It shows that when you put in a good week of practice and translate it to the field you can be successful."
"It was a great game for my whole team," added Mouehla. "We played well in the second half. We always come back in the second half. I love my team. I did it for my dad. I love him so much."
FOR MORE PHOTOS FROM THIS EVENT PLEASE CLICK HERE. TO BUY A COLLECTOR'S PRINT OF THIS STORY PLEASE VISIT 4-FeetGrafix.com.