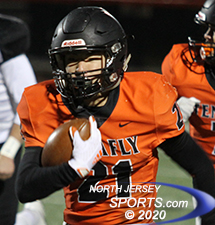 Kenny Uchida scored four TDs in the first half for Tenafly, which won the Ivy Division championship and finished off a perfect season with a 48-6 victory over Memorial.
TENAFLY – When a defense spends as much time on the field as Tenafly's did on Friday night it is usually an ominous sign. In most instances, a defense that can get off the field means that the opposition is having its way, chewing up yardage and moving the chains. This time it was different and it was just part of the celebration in one of the best-ever seasons in the history of Tenafly football.
The reason that the Tigers' defense spent so much time on the field was because their offense scored on the first play from scrimmage on three different drives, two of them in the first half of a 48-6 victory over Memorial (West New York) on Friday night.
With the win, Tenafly clinches the first-ever Ivy Division championship. Because Dumont sports are a casualty of Covid, there will be no Thanksgiving Day game, which means Tenafly ends its season at 8-0, just the fourth undefeated season (1932, 1962 and 1967) in the 97-year history of the football program.
Think that means something to the current crop of Tigers?
"I have been playing Tenafly football since third grade and I have never had a winning season," said Ethan Libien, a senior two-way lineman. "This is the first time and it feels great because we have defeated all of the odds. We didn't even know if we were going to get to play this season, but then we came out here, went undefeated and won a championship. Sure, we would love to play Thanksgiving, but if this has to be the end then it is a pretty good way to go out."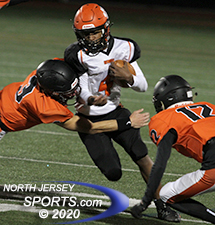 Joshua Marrero scored the TD for Memorial, which fell to 3-3 on the season.
Tenafly took control right from Jump Street as it received the opening kickoff and got right to work on a 62-yard drive that culminated in a 34-yard Kenny Uchida touchdown run. Uchida also kicked the extra point to give Tenafly the lead for good just 2:28 into the game. After forcing Memorial to punt on its first offensive possession, Uchida gashed the defense again on a 25-yard TD jaunt. His own extra point put Tenafly up 14-0 with 3:34 to go in the first quarter and he scored on 68-yard run on the first play of the Tigers' third possession.
With 8:26 left in the first half, Uchida had already accounted for 21 points and had nearly 150 yards rushing with Libien, the left tackle, left guard Will Mangaser, center Evan Armas, right guard Eddie Cobos and right tackle Barrett Abramowicz blowing holes wide open.
"Obviously I have to thank the linemen. I trust them with all of my heart and I just follow their blocks," said Uchida, a junior. "It has been such a crazy year and nobody could have really expected all of this, but I kind of did. We have basically the same team back from last year, we knew what each player was capable of and we just grinded."
Memorial (3-3) got on the board with a 5-yard TD run by Joshua Marrero with 8:11 to go in the first half, but Uchida took a toss from senior quarterback Holden Goldberg and went 57 yards untouched for his fourth TD of the game.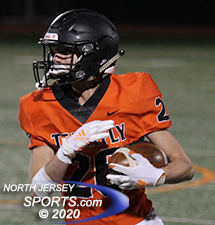 Dylan Meissner scored the final points of the fourth undefeated season in the 97-year history of the Tenafly football program.
Tenafly had a 28-6 lead at halftime, got an interception from Sam Powell to set up a Goldberg to Leo Gregory 60-yard pass play for a 34-6 score and Goldberg's three-yard QB sneak across the goal line made it 41-6 and set the clock into running mode with 1:48 left in the third quarter. Dylan Meissner scored Tenafly's final TD of the season with a 32-yard run 7:29 before the final whistle to wrap up one of the best seasons in program history.
Tenafly head coach Peter Toale was asked to put it all into words.
"I don't think that there are words. I don't know how we got to play in eight games. It's incredible. I don't know how we got through the season with every player essentially being healthy for the majority of the season. It is something that I am at a loss for words to explain," said Toale. "I could not be more thankful that we did have this entire experience together and that it was not cut short. My heart goes out to all of those teams that had games cut out and seasons cut short. For us, this is something magical. I think the kids feel it right now and I feel it right now. That is for certain."

The kids definitely did feel it.
"This is amazing. It's been a long time since this program reached a level like this," said Cobos, a two-way lineman and one of 10 seniors on the Tenafly roster. "It's great that we were able to have a season like this, to be able to bring it home for Tenafly and it's something that none of us will ever forget."
FOR MORE PHOTOS FROM THIS EVENT PLEASE CLICK HERE. TO BUY A COLLECTOR'S PRINT OF THIS STORY PLEASE VISIT 4-FeetGrafix.com.