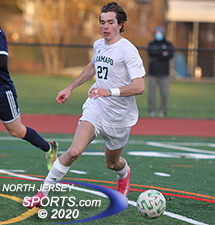 Aidan Bennett-Jones scored twice in the second half for Ramapo, the No. 7 seed, which knocked off No. 2 Old Tappan, 3-0 in the North East E, Group 3-A quarterfinals.
OLD TAPPAN – For the first 36 minutes of Tuesday evening's North East E, Group 3-A state sectional tournament it was a toss-up. Ramapo, the No. 7 seed playing on the road, might have had the slight edge in possession, but No. 2 Northern Valley/Old Tappan was dangerous on the counterattack, turning changes in possession into daring forays forward.
"We had a lot of the ball, but when they would get it they would drive it in and get restarts," said Ramapo head coach Evan Baumgarten. "They are very dangerous on those. They have a good long throw and are organized in their set pieces.
There was an entertaining ebb and flow that ended abruptly.
With slightly less than four minutes left in the first half of a still scoreless match, the whistle blew as Ramapo's Alim Lita was felled by a challenge while driving into the penalty area. A penalty kick was awarded and senior Ian Chesney came up from his central defender's position to take the spot kick.
Despite the best effort of Old Tappan keeper Evan Chrenko, who chose the proper side to spring his dive, Chesney's thumper was un-savable. It rolled inside the right post and changed the trajectory of the game. Ramapo got two second half goals from senior striker Aidan Bennett-Jones and held firm in the back against Old Tappan's increasingly desperate attempts to claw itself back into the game.
When all was said and done, Ramapo advanced to the sectional semifinals with a 3-0 victory and will play at sixth-seeded Millburn, a 1-0 upset winner over Tenafly, on Thursday.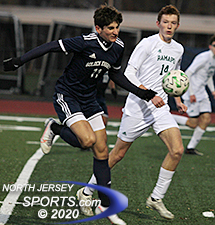 Adin Deljanin is one of seven seniors that have had a quality four years inside the Old Tappan program.
"In the beginning they were putting in some really good balls and it was definitely a challenge for our defense," said Tommy Curcio, a senior starter in Ramapo's back three centered by Chesney and including Matthew Albino on the other flank. "After we got the penalty we really stepped up as a group. We had a lead to protect and we really jelled as a group."
While the PK was a lift for Ramapo (9-1-1), it had the opposite effect on the home team.
"I don't know about that penalty kick. It was a small boy up against a bigger boy and they go in shoulder to shoulder," said NV/OT head coach Mark Torrie. "They get a penalty with three minutes to go in the first half and we go into halftime thinking, 'How are we down right now?"
The Golden Knights were almost back even shortly after play resumed in the second half. Senior Jack Jaeger took a free kick from the left side and set up Jon Mangano, the senior striker who made a diagonal run to the skinny post and foot-flicked the ball off the framework.
The backbreaker came just over six minutes later when Bennett-Jones made it 2-0. Off a long throw by Colin McKenna, Bennett-Jones got up above the crowd and got the slightest piece of the ball, which ended up inside the back post for a 2-0 Ramapo lead with 31:57 left in the game.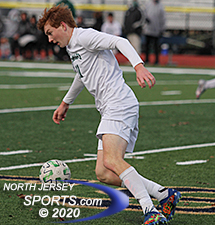 Ian Chesney converted a PK and anchored a Ramapo defense that kept a clean sheet.
"I don't even know how much of that ball I even got, I don't really remember, but it was a great throw-in by Colin," said Bennett-Jones, the senior striker. "Our defense, our midfield and our attack all stepped up and did their jobs. We knew what they were going to try to do against us and we tried to adapt to it in our training and it clicked tonight, obviously."
Bennett-Jones scored his second goal of the game from inside the area with 14:11 to go in the game and in with Old Tappan pushing numbers forward. The Knights would have made it interesting down the stretch had any of their near-misses turned out just slightly differently.
Ramapo keeper Robert Achter went low to smother a Max Caunedo effort in the 70th minute, Mangano hit the post a second time on a redirected restart with just over five minutes to go and Max Caunedo redirected a Jaeger corner kick on frame that was saved by Ramapo keeper Robert Achter and he then piled on the rebound just before it reached the foot of Adin Deljanin, who was hovering near the goal line.
The loss brought an end to a wild season played in a pandemic by Old Tappan, which managed to make some history as it finished 10-4-1.
"I know it doesn't feel like it right now, but we have had a great year. We won a league title and we are still a relatively young side and this is all good experience for us," said Torrie, whose program won at least 10 games in a season for the seventh straight year. "There are seven seniors and they served the program well. They came in the year we won our last state sectional and they are going out as league champs. It was not easy, there were teams getting canceled [by COVID] left and right and at least we got to come here on the field tonight and go out on our sword."
Ramapo can put the sword back in its sheath for now and look ahead to Millburn on the road on Thursday.
"This is the most gratifying, not because of the win, but just being with the kids. Every team has had the same obstacles and to see kids on all teams get the chance to compete under the circumstances is so important," said Baumgarten. "There are a lot of smiles tonight and it is not just the starters or the guys who play a lot. It is everyone in the program, everybody that is a part of this and I am happy for them."
FOR MORE PHOTOS FROM THIS EVENT PLEASE CLICK HERE. TO BUY A COLLECTOR'S PRINT OF THIS STORY PLEASE VISIT 4-FeetGrafix.com.