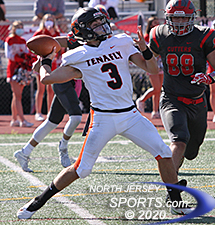 Senior QB Holden Goldberg threw for one score and ran for another as Tenafly opened its season and the new Ivy Division with a 27-0 win on the road at Fair Lawn.
TENAFLY – Sometimes Tenafly senior Will Mangaser is a skill player and flies around the football field sporting the No. 10 jersey. Sometimes, after a well-rehearsed and efficient process in which the No. 51 jersey is pulled over his head, Mangaser runs back out to take a position on the interior of Tenafly's offensive line; a wardrobe change in the middle of a football game.
"That is the beauty of having a small team. We have to juggle all the time. That is the position we have been in for the last two years," said Tenafly head coach Peter Toale. "It's a juggling act, but these kids take it in stride. They are accustomed to it by now. It's been great and we practice it all the time. We call a timeout, slip [the jersey] on him and put him at guard."
It is because of such situations that the New Jersey Super Football Conference came up with the Ivy Division. It is a perfect fit for a school like Tenafly, which is running with a roster barely over 30, but all of them devoted to high school football.
After Week 1, it looks like a perfect fit as Tenafly kicked off its season and the newly-created league with a dominant performance, a 27-0 shutout at Sasso Field in Fair Lawn on Saturday afternoon.
"I think we were ready as a team from the start," said Holden Goldberg, Tenafly's senior quarterback. "We condition hard, we practice hard and that just transitioned into the game. It showed today."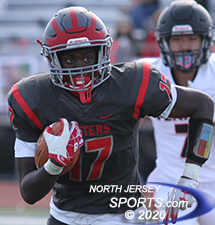 Tommy Kabiawu was Fair Lawn's biggest offensive threat and also made some big hits from his safety spot.
Actually the start was not exactly what Tenafly was hoping for as, on its first play from scrimmage, there was a fumbled exchange. Fair Lawn's Christian Tapia pounced on the loose ball to set the Cutters up on Tenafly's 19-yard line. It was shortly thereafter that Tenafly asserted control of the game by forcing Fair Lawn back 16 yard and then into a punt.
And then junior Kenny Uchida kicked off his big day with a 50-yard run through the center of Fair Lawn defense for the touchdown that put Tenafly in front for good with 5:50 left to play in the opening quarter.
Uchida ran for more than 100 yards, totaled more than 100 receiving yards and scored three times, twice on the ground and once through the air. Uchida took a screen pass 61 yards on a third-and-19 to set up Tenafly's second score, a three-yard Goldberg sneak 22 seconds into the second quarter. Uchida kicked the extra point to make it a 13-0 game.
"That was a big day for Kenny and I think this is his statement game," said Goldberg. "The teams in the league should look out for him because he is a real threat."
At this level, Tenafly has a real balance on offense. Left tackle Barrett Abramowitz is the only new starter on an experienced offensive line that blew open holes all game long. Center Evan Armas, guards Jong Hun Jeong and Eddie Cobos and right tackle Ethan Libien gave ball carriers like Uchida, Mangaser and Dylan Meissner room to run. Sophomores Will Zinna and Alex Plotkin also moved the pile with a few late game carries.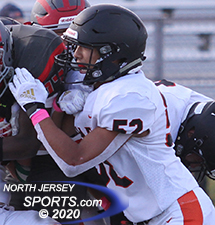 Junior Jong Hun Jeong, a captain and Tenafly's middle linebacker, was a stalwart as the Tigers notched the shutout.
"A couple of injuries last year put a lot of those guys into starting roles so now we have four returning lineman and Barrett [Abramowitz]," said Toale. "I am very happy with the way they performed today individually and as a unit."
Tenafly (1-0) did all of its damage in the first half as Uchida scored on a 37-yard run and kicked the extra point out of Goldberg's hold to make it 20-0 with 5:48 left in the second quarter. Uchida's 50-yard catch and run put up the Tigers up 27-0 with just 12 second to go before the halftime break and the second half was all about the respective defenses.
Tommy Kabiawu was the Fair Lawn's most dangerous player. The Cutters tried to get him the ball in space on the offensive side even if, without a consistent passing attack, Tenafly was able to key him on every play and slow him down. And every few plays on the defensive side, a Tenafly runner was knocked backward with a thud as Kabiawu flew up from the secondary to make tackles.
It was a second half stalemate, which was just fine with Tenafly, which had all the points it needed.
"All the starters we all watched film. We studied hard during the week, worked hard in practice, too," said Jeong, a junior captain and Tenafly's starting middle linebacker. "It was all about the gang tackles. Everyone was in on the tackles. It wasn't just one body, it was all of us."
Backup quarterback Emmet Goldberg took a couple of knees to end the game and Tenafly (1-0) is on to preparation for its first road game, a Friday night affair in Oakland against Indian Hills, while Fair Lawn will look for win No. 1 on Friday night on the road at Dover.
Every game in this crazy season takes on added importance as there is a chance that it may not play out to its natural conclusion. No one can predict what will happen next, so it is on to the next one as quickly as possible.
"I think every day there is a sense of urgency with us and it's about the kids understanding that everything is an unknown. From our practices to our games, everything is an unknown," said Toale. "This is a very tightknit group of kids that has spent the entire summer together and being very responsible off the field. They are making sure they are not interacting with people they don't need to be interacting with, so I think the urgency is definitely there for us. Whether it is an injury, whether it is disease, you never know when it is going to strike so you just have to play it like it is your last."
FOR MORE PHOTOS FROM THIS EVENT CLICK HERE. TO BUY A COLLECTOR'S PRINT OF THIS STORY PLEASE VISIT 4-FeetGrafix.com.