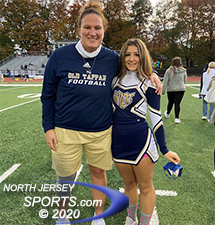 Angie Mercado was accompanied by her history teacher Christine Massaro, who authored this story to provide some perspective in these crazy times.
OLD TAPPAN -- Perspective. It's something we all need a dose of every now and then, especially during this pandemic time. For a healthy dose of it, look no further than last Friday night's football matchup between perennial playoff contenders and MetLife regulars Ridgewood and Old Tappan. On paper, it was a rematch of a league game that has become a date you circle on the calendar, and this rendition of the rivalry certainly didn't disappoint (Old Tappan won 16-6).
Disappointment, however, has been a common sentiment throughout this pandemic-shortened season: disappointed parents who want more tickets to games for family members; disappointed students who don't get to come watch their classmates compete in games; disappointed players, particularly seniors, who don't get to showcase their talents in front of a packed student section of peers (remember what that was like?)
But what if you think about the fact that two seniors honored at Northern Valley/Old Tappan's Senior Night, the ceremony for which took place before the Ridgewood game, had lost either one or both of their parents?
Would that enlighten you, as a parent, to just be happy that you get to see your kid play? Or you, as a student-athlete, that you get to play in front of your parents in person, even if your siblings and friends have to follow along via live-stream? Or you (and me) as a coach, that even though we won't have "playoffs," at least we have a league championship season for which to play?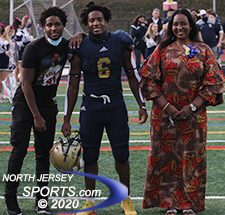 Jamil Mouehla (6) lost his father in March. He also scored the winning TD on Senior Night in Old Tappan.
None of this is ideal in 2020, and I'm not here to minimize anyone's feelings and losses; I'm fully aware that we have endured losses outside of sports, and within the sports world. The 2020 spring sports season was cancelled, which robbed seniors of their final season and juniors of their chance to showcase their talents for college coaches. That being said, Friday night was a good victory in the fight against the pandemic. Even if it didn't make up for the loss of a spring season, it served as a reminder of what we have to be grateful for this fall.
Senior Night in Old Tappan was about gaining some perspective and being grateful that we even have a fall season of sports (minus volleyball, which we hope to see in February).
Last Friday night Jamil Moehla, an NVOT senior football player, scored the eventual winning touchdown that put his team ahead 13-6 in the waning minutes of the matchup against Ridgewood. On that same night, Angie Mercado, an NVOT senior cheerleader, cheered on her brother, Robert, who had multiple big plays on defense. Neither one of them complained about students missing in the bleachers, because in their hearts and minds, the people missing most won't be back next season, or the season after that.
Jamil's father passed away suddenly this past spring, and Angie endured the loss of both parents long before she even stepped on the NV/OT campus. These are unfathomable losses for young people to endure, and both Jamil and Angie have handled themselves with grace, grit, and gratitude.
To see Jamil score the go-ahead touchdown, and then run the entire sideline in a full sprint to have a solitary moment to bow his head and take in what had just happened and what it meant in real time and in the bigger picture, was nothing short of a Hollywood sports-movie-ending. The parents in the stands, especially Jamil and his brother Kamil's mom, Khuraira Musa, erupted in applause and cheers for the young man who carried his team into the endzone, and carried the memory of his father with him down the sideline after.
The cheers were just as loud for Angie Mercado as she was announced on the field with her senior teammates before kickoff. For Angie, though, she didn't have a parent to walk her out, like the other 16 senior football players and the other 11 senior cheerleaders.
She instead asked her brother, junior cornerback Robert, and myself, her history teacher, to walk her out. How about that for humbling?
On a night like tonight, a dose of humble pie and some perspective could do us all some good. Congratulations Jamil and Angie, and thank you for the fine example you set for all us and for providing us with some perspective.
---
Christine Massaro is a faculty member and assistant girls basketball coach at Northern Valley/Old Tappan High School.
TO BUY A COLLECTOR'S PRINT OF THIS STORY PLEASE VISIT 4-FeetGrafix.com.