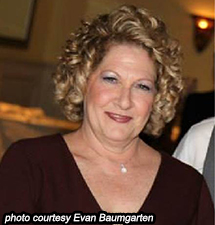 Suzanne Murphy, the long-time office manager at SportsTime in Norwood, was lost to the coronavirus in April.
NORWOOD – Park at the rear of the building, head up the back stairs of the SportsTime manufacturing joint in Norwood and get ready. The voice was unmistakable not only for its pitch and tone, but for its passion. Suzanne Murphy occupied the office to the left of the top of the stairs and the greeting was genuine, heartfelt and welcoming.
For me it was, "Caw-Ree. Oh-my-God. It's good to see you, hon." There was conversation first, business second and then business became pleasure.
Suzanne Murphy was and will always be the heart of the operation at SportsTime, the roots system of a company grounded in the North Jersey Sports community from the youngest recreation soccer players to the strongest varsity high school athletes on their journeys to the next level.
She passed away in April from complications brought on by the coronavirus. More than 200,000 in the United States have died in the midst of this pandemic, but numbers do not tell the story of the people behind them.
Suzanne Murphy was way more than a number, so much more than a statistic.
She was so many things to so many people. A proud mother to two loyal sons, the lynch pin and den mother of a successful business, the liaison to countless coaches and sports directors from the humming brother and sisterhood of community-based athletics.
"Suzanne was the heart and soul of SportsTime and put her heart and soul into everything she did, and all the people she touched were the beneficiaries," said Evan Baumgarten, the owner of SportsTime who spent 21 years working in tandem with Murphy on projects large and small. "She was one of a kind—a very special person who I will sorely miss. However, I have such fond memories, too many too list but all of which I will cherish forever."
Murphy and Baumgarten got to enhance their relationship on a day to day basis. It was no boss/employee setup, either, as Murphy would speak truth to the SportsTime power and do so emphatically, often times punctuated by one of her patented zingers.
To know just how much of an impact Murphy made on the community at large it is more relevant to ask someone like Jim Fucci, a former head varsity coach in two different sports at Cliffside Park High School who later took over the recreation department in Little Ferry.
Fucci's recollections of Murphy are vivid and beautiful.
"Suzanne made everyone feel like family. If you ever walked into her office and took a glance to your right you would've seen a wall filled with high school sports clippings and articles about teams that she followed because of the relationships she formed running the Sportstime office. Suzanne cared about everyone that crossed paths with her, she made you feel like family and made you feel as if everything was going to be ok whether it was about a discontinued jersey or just about life," said Fucci.
"Suzanne was the type of person that went above and beyond for anyone. It seemed as if her job on earth was to make everyone smile even if she was having a tough day/overwhelmed or even if you were a pain in the ass. And if you were a pain in the ass, trust me, she would call you out in the way only Suzanne can with her distinct voice and choice of words leaving you with a smile knowing everything was going to be alright," Fucci continued. "I made it a point to reach out to her just to check in one summer. I hand delivered her favorite bottle of wine to the office because of her kindness, honesty, and generosity to me and what I was doing. Suzanne was the best!!!!"
Another local coach that had frequent contact with Murphy is Dave Johnson, who has turned Demarest tennis into a state power.
"For years, she was the office manager of a company that has produced millions of articles of clothing that local athletes wore proudly. For those who knew Suzanne well, you know she had a hand in all of the production. Even though many athletes will wear those shirts and not know where they were created, every time I see one with a Bergen County crest it will always remind me of Suzanne.

"You never knew what was going to ever come out of her mouth but you always knew the love she had for her customers, co-workers, and Bergen County sports. Suzanne's office illustrated her life and her passion for sports. On one of the walls, there were clippings from the local newspapers on classic Bergen County icons and Bergen County sports memories and on the wall closest to her desk were the pictures of her family. On multiple occasions, she told me how proud she was of her sons and how happy she was to be a grandmother. When I would ask Suzanne how her grandchildren were, her face would light up and you could tell that she loved them so much. Suzanne was a one-of-a-kind and is truly missed by everyone involved in local athletics."
Suzanne Murphy is irreplaceable. SportsTime is still churning our athletic apparel, the local community has rallied behind her family and the sport of soccer, which she loved so much, will hopefully play in her honor.
The pandemic has forced the cancellation of the Bergen County Boys Soccer Tournament and its original replacement, a Big North Conference Tournament, has been waylaid by friggin' COVID-19. Enter the Suzanne Murphy Cup, which will begin on Halloween and continue through November 10.
It would be better if Suzanne Murphy was here, better if this virus had never taken away someone so vibrant and universally well-liked and better if the traditional soccer schedule was in place with no interruptions.
But we don't get to choose, so we carry on and we honor those we have lost along the way.
For more information on the 1st Annual Suzanne Murphy Cup, please CLICK HERE.
TO BUY A COLLECTOR'S PRINT OF THIS STORY PLEASE VISIT 4-FeetGrafix.com.