Senior striker Jon Mangano scored twice, once in each half, for NV/Old Tappan, which overturned its first result against Demarest with a 3-2 win on Saturday.
OLD TAPPAN – The Bergen County Tournament was scrapped before this much unusual and shortened season even began. It was to be replaced by a Big North Conference Tournament, which fell by the wayside last week when its allotted place in the revamped calendar was replaced by makeup games for programs that have been or potentially will be shut down by COVID protocols.
There are plans for a scaled down tournament, the inaugural Suzanne Murphy Cup, in the works and the state tournament is still a go for now, but nothing is for certain. So every time a whistle blows and a game starts, it takes on all the more added importance.
"I feel like we can't take any game that we get to play for granted. We don't know what is going to happen tomorrow," said Northern Valley/Old Tappan senior striker Jon Mangano. "Teams are getting shutdown left and right and you never know if we might be next. We are just hoping to get a full season out of this or as close as we can to it. If we do, we want to win a league [title] or maybe the state tournament and get as much as we can out of the time we have on the field."
Mangano expressed that sense of urgency that everyone involved in high school sports is feeling and out that energy to good use to help keep his team on the fringes of the league title race. Mangano scored just over four minutes into the game and his second goal, a classy flick off a free kick, midway through the second half stood up as the game-winner as Old Tappan nipped rival Northern Valley/Demarest, 3-2, on a brilliant fall Saturday.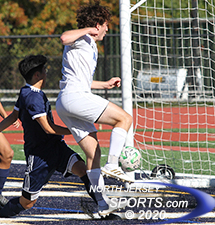 Senior Adam Weiss scoring the goal that got Demarest to within 2-1 early in the second half.
Demarest won the first matchup between the two rival programs back on Opening Day and with Old Tappan now returning the favor, both are in hot pursuit of Tenafly, which has yet to drop a decision this season. Being that all games to this point have been league games, both Demarest (4-1-1) and Old Tappan (4-2) have some catching up to do.
"I am just happy for the boys. To put three goals in is good to see. When we lost to Tenafly we had 16 shots and their keeper only made two saves. We did not put enough shots on frame," said Old Tappan head coach Mark Torrie. "Three goals today is the positive and the level of training this year has been so good. Our technical ability and our training sessions are at such a high level. We have lost a couple of games, so people my look and say this must not be [our best team], but this is probably, technically, the best team I have even coached at the high school level from top to bottom."
For all of Old Tappan's clean ball movement and connected passes, it was a Demarest mistake that gave the Golden Knights the lead. A wayward back pass toward the keeper came up way short and Mangano pounced on the gift and slotted home in a one-v-one against Demarest's keeper Casey Shea, who had no chance. That gave NV/OT the 1-0 advantage just 4:07 into the match. Just over four minutes later, Tyler DeGrandpre knocked in Dylan Pak's free kick to make it 2-0.
"We said we had to set the tone in the first two minutes. We had to win every 50/50 ball. We talked about it because we have had trouble getting started in games and we did again today," said Rob Romeo, who is in his first season as Demarest's head coach. "When we get going we are hard to stop, but we have to get going right when the game starts."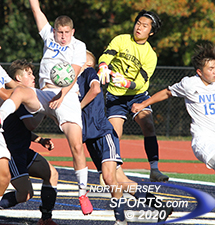 Keeper Jonah Kim withstood some late pressure on his goal to see out the win for Old Tappan, which improved to 4-2.
Playing against a stiff wind, Demarest finally started to find its way late in the first half when Jack Scuro made a winding run through the middle of the field, beating two or three defenders on his way to goal, but his shot rolled just wide of the right hand post of OT keeper Jonah Kim.
With the wind at is back in the second half, Demarest jumped right into comeback mode and got on the board less than two minutes after the intermission. Danny Beltran won the endline on the left and sent in a cross to Adam Weiss, who one-touched it home at the back post to make it a 2-1 game with still 38:14 to play.
One pretty one-touch goal begat another as Mangano used his boot to restore Old Tappan's two-goal lead. Pak lined up a free kick from the left side and, as it made its way toward the box on a diagonal, Mangano cut in front of a defender and redirected the ball under the crossbar and in with 24:14 to play.
Old Tappan survived a penalty kick won and converted by Kai Maor in the 58th minute and then some concentrated pressure on Kim's goal in the waning minutes to hang on for its fourth win of the season.
"This one felt really good. The first time we played them it was a close game and both teams played well and I thought today was kind of the same thing," said Tommy Curko, Old Tappan's junior midfielder. "It was a really good fight out there with both teams working hard, so it was good for us to rebound from the loss we had to them the first time and win here."
It was an entertaining matchup between two quality sides and now both will set off in their continued pursuit of Tenafly at the top of the division.
"We are lucky to be out here playing high school soccer on a beautiful day and we did so against a really tough team. I commend OT and everybody else that we play in this group and we just have to keep fighting," said Romeo. "Our guys work really hard and it shows. Our first half was a little sloppy, but the second half we picked it up. We had a few opportunities that we could have connected on, but we ran out of time."
FOR MORE PHOTOS FROM THIS EVENT CLICK HERE. TO BUY A COLLECTOR'S PRINT OF THIS STORY PLEASE VISIT 4-FeetGrafix.com.