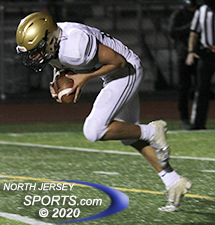 Dylan Heaney scooping up the fumble that changed the momentum in NV/Old Tappan's 20-0 shutout on the road at Hackensack on Friday night.
HACKENSACK – It was nearly six quarters into the new season and Northern Valley/Old Tappan's football team was still trying to find some sort of positive momentum. The Golden Knights had lost their season opener last week at home against Wayne Valley and were locked in a scoreless game against Hackensack on Friday night, but the Comets were driving late in the second quarter.
"We really needed something to kickstart our season and get it going in the right direction," said NVOT head coach Brian Dunn. "We laid an egg last week in the opener and we weren't really looking out here to start, but that play really got us going."
"That play" that Dunn referred to was the turning point. Hackensack's Jaden Wimberly had just taken a pace in the right flat, broke a couple of tackles and then raced up the sideline before being knocked out of bounds. He brought the Comets to within seven yards of the Old Tappan goal line with just over one minute left in the second quarter of the still scoreless game.
But before Hackensack could seize control just before the half, Aiden Heaney knocked the ball out of a ball-carrier's hands. It fell to the turf and the fumble was scooped up at the eight-yard line by Dylan Heaney, who took off in the opposite direction and broke into the open field.
"I saw the ball on the ground and I had to make a play. We needed all of the momentum we could get because we started off really slow. We needed some type of play to get us going and that was it," said Dylan Heaney, NVOT's senior defensive back, who came up 13 yards short of a scoop-and-score. "I saw the kid who eventually tackled me coming and I thought I was going to get a block then cutback, but the kid hit me from behind."
Jaden Wimberly's catch and run had put Hackensack in position to score the game's first points.
Quarterback Charlie Amatrula converted a fourth-and-2 with a keeper three plays later and plunged in from a yard away to break the deadlock with just 10 seconds left in the first half. Full of confidence for half No. 2, Old Tappan surged to a 20-0 shutout that evened its record at 1-1 on the season heading into next week's showdown on the road at Wayne Hills.
"It feels amazing, so much better than I felt walking off the field last week, I can tell you that," said Amatrula. "Our defense came up huge all night and then Dylan Heaney got the fumble recovery and flipped the field over. That got it rolling for us right when we really needed it."
Once it finally broke through Old Tappan (1-1) kept it rolling by scoring points on four straight possessions. Daniel Hwang made field goals of 32 and 26 yards to end the Knights' first two possessions of the second half to up the advantage to 13-0 and the senior kicker also kept Hackensack from responding on special teams by putting his kickoffs into the end zone for touchbacks.
That gave OT the field position advantage and the defense helped turn that into points in the waning seconds of the third quarter. The Knights' rotating defensive line that includes Jack Reneghan, Jake Smith, Patrick O'Neill, Jon Rubano and John Fleming penetrated the Hackensack backfield all night and rarely let Hackensack quarterback Jayden Robertson set his feet.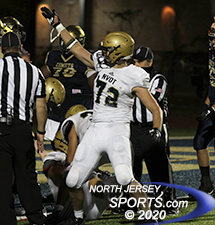 Jake Smith and that Old Tappan defensive line controlled the trenches all game long.
With just over 30 second left in the third quarter three or four Old Tappan defenders converged on Robertson near his own goal line and forced a fumble that was recovered by Reneghan at the 1. Junior Matt Olivo plowed in on the next play from scrimmage and Hwang poured another PAT through the uprights to close the scoring at 20-0 with 25 seconds left in the third quarter.
The fourth quarter passes unevetfully.

"The defensive line did a great job. The kids just kept coming after [Robertson], putting him back on heels and making him bounce outside. [Robertson] is a real good player, he made some big plays last week against [Northern] Highlands and we were able to force him to hurry," said Dunn. "Our linebackers came in and cleaned up a lot of plays, but the guys that rotated on the 'D' line did a great job."
Hackensack, which lost to Northern Highlands on opening day, will travel to Ridgewood next which is a must-win for both, who have each started the season at 0-2. Old Tappan will head to Wayne next Friday night with some confidence, which beats the alternative.
"We had to get a win on the board any way we could. If we did not get this done tonight we would have been in a lot of trouble. There are no easy games on this schedule and this was no easy game either. That is a good Hackensack team with a lot of good players and a good coach," said Dunn. "They had some physical and tough kids, it was a tough grind but we forced some turnovers, took advantage of them and no we have to keep it going."
FOR MORE PHOTOS FROM THIS EVENT CLICK HERE. TO BUY A COLLECTOR'S PRINT OF THIS STORY PLEASE VISIT 4-FeetGrafix.com.